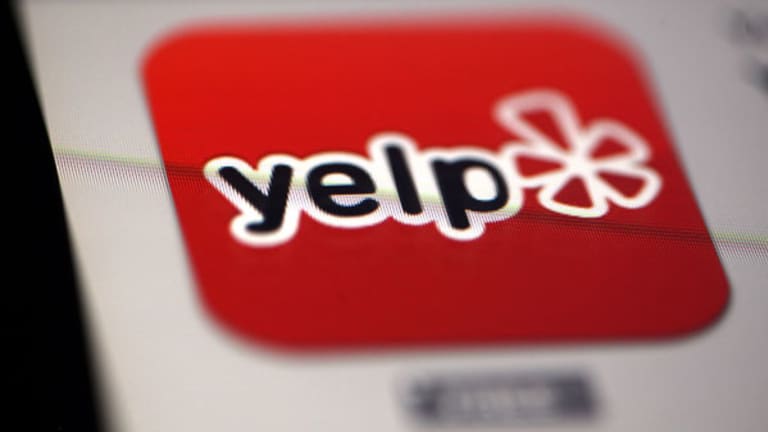 Marissa Mayer Is Screaming for Yelp
Yahoo! CEO Marissa Mayer didn't exactly take my suggestion on buying Yelp. However, she's reportedly done the next best thing: partner with it.
Updated from 8:36 a.m. to include thoughts from FBN Securities in the tenth paragraph.
NEW YORK (TheStreet) -- "Help, I need somebody/Help, not just anybody/Help, you know I need someone, help" -- The Beatles
In light of the 50th anniversary of The Beatles' arrival in America, I thought it was only appropriate to start this article off that way. Yahoo! (YHOO) CEO Marissa Mayer didn't exactly take my suggestion on buying Yelp (YELP) - Get Free Report. However, she's reportedly done the next best thing: partner with it.
Over the weekend The Wall Street Journal reported that Yahoo! is going to partner with San Francisco-based Yelp for local search, incorporating Yelp's listings into Yahoo!'s search engine. Yahoo! currently partners with Microsoft (MSFT) - Get Free Report on search, and is the only part of Yahoo!'s core business that is currently growing.

WATCH: Yahoo! Teams up With Yelp on Reviews
In the fourth quarter of 2013, Yahoo! noted search was the standout performer, as revenue excluding traffic acquisition costs, or TAC, rose 8% to $461 million. Paid clicks, excluding Korea, rose 17% year over year, but the price-per-click fell 3% compared to the fourth quarter of 2012.
By comparison, Yahoo!'s Display business continues to falter. Display revenue fell 6% from last year to $491 million during the fourth quarter, as the number of ads rose 3% year over year but prices continued to decline, falling 7% from the fourth quarter of 2012.
Mayer has previously said she expects that turning core Yahoo! around (excluding the 24% stake in Alibaba and 35% stake in Yahoo! Japan) will take at least three years, if not more. Partnering with Yelp is certainly a step in the right direction, though it is not the be all end all, despite Yelp's presence on mobile, a key focus area for Mayer.
Last year, I had suggested that Yahoo! buy Yelp, as Yahoo! has continued to focus on local and mobile, making it more of a priority. By parterning with Yelp, which is seeing advertising revenue explode, Yahoo! differentiates itself from Google (GOOG) - Get Free Report. Currently, Google incorporates Yelp reviews into its own search, and it is not known at this time whether the deal is exclusive or not, though I suspect it's not.
Shares of Yelp were running in early Monday trading, gaining 3.9% to $92.92, while Yahoo! was gaining 0.19% to $37.30.

Yelp had an exceptionally strong fourth quarter, as cumulative reviews climbed 47% year over year to 53 million, and average monthly unique visitors surged 39% during the same time frame to about 120 million. The company still isn't profitable, however, losing 3 cents a share in the quarter on revenue of $70.7 million, up 72% year over year. Analysts polled by Thomson Reuters were looking for a loss of 2 cents a share on sales of $67.22 million.
By partnering with Yahoo!, Yelp is taking advantage of all the data it has, and can now start putting that to work. FBN Securities analyst Shebly Seyrafi noted Yelp has a lot of potential ahead of it, following announcing fourth-quarter earnings last week. As the company is still only scratching the surface of the tremendous local advertising market opportunity ahead, it is investing aggressively," Seyrafi wrote in the note. Seyrafi rates Yelp "outperform with a $110 price target.
Yahoo! spokeswoman Lauren Whitehouse declined to comment on the speculation. Yelp not be reached for comment on this story.
Not only does the deal make sense from a partner standpoint, it also makes sense from a revenue sense. With revenue from Display meandering, Mayer has mentioned doing revenue accretive deals if they make sense. "Factoring contacts into our Search offering opens up tremendous opportunities to better answer our users' curiosity and make their daily habits easier," Mayer said on the fourth-quarter earnings call. "This is a new area of experimentation with lots of room for rapid innovation and we will be investing here."
This isn't the first time Mayer had made a run after Yelp. In 2009, while she was still at Google, she was involved in a deal that tried to buy Yelp for roughly $500 million, though that deal proved unsuccessful.
Yahoo! already provides a load of content to Apple (AAPL) - Get Free Report, including stocks and weather. Yelp partners with Apple on Apple Maps, so not only does this boost Yahoo!'s search business, it also brings the company closer to Apple. Mayer has previously said partnering is the key to Yahoo!'s future, and a closer integration with Apple certainly couldn't hurt.

--Written by Chris Ciaccia in New York
>Contact by Email.