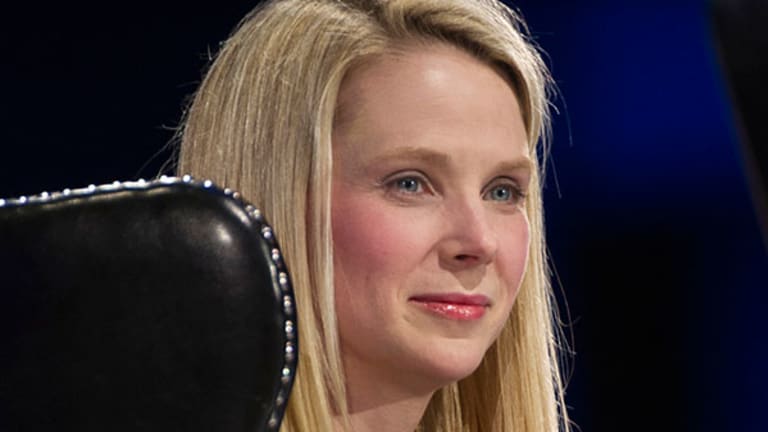 Publish date:
[video] Marissa Mayer Gets Another $1 Billion to Play With
Yahoo! raised $1 billion in a convertible debt offering with the proceeds going towards general corporate purposes. What will CEO Marissa Mayer buy next?
Yahoo! raised $1 billion in a convertible debt offering with the proceeds going towards general corporate purposes. What will CEO Marissa Mayer buy next?
NEW YORK (TheStreet) -- Yahoo! (YHOO) raised another $1 billion, this time in a convertible debt offering, giving CEO Marissa Mayer plenty of additional ammo to play with. What Mayer plans to spend it on is less clear. Judging from her string of recent acquisitions, she probably has something in mind.
The convertible debt offering, due in 2018, will be used for "general corporate purposes, including, but not limited to, acquisitions or other strategic transactions, additional repurchases of common stock and working capital." In addition to that,Yahoo! announced a $5 billion buyback, as it continues to reward shareholders, largely due to the pending initial public offering of Alibaba, which Yahoo! owns a 24% stake in.
However, with Yahoo! raising additional money, it means Mayer isn't done shopping, though I don't expect another Tumblr-sized acquisition. In fact, she'll likely continue to do more acqui-hires, like Summly, Jybe, Stamped, Snip.it, OnTheAir, and others. These are not done just with boosting revenue in mind, but adding to its mobile team.
I don't expect Yahoo! to go out and acquire companies like Snapchat, even though it would be the ultimate play in mobile, with more than 350 million users.  It's too expensive for Mayer at this point, despite the company earning no real revenue.  If I had to guess on a more well-known company that could potentially come under Mayer's wings, it would most likely be Foursquare.
There's been questions about how Foursquare, run by Dennis Crowley can generate revenue, but the company recently raised $41 million in financing, so investors must see something in the location-sharing app.  
Everything Mayer has done since she took over the top spot at Yahoo! in the summer of 2012, has been done with mobile in mind.  On stage at the Dreamforce conference yesterday, Mayer noted that Yahoo! has 400 million mobile users, with about 400 engineers working on mobile products.  That number is up from Sept., when she said the company had 350 million mobile users.
Since that time, Yahoo! has updated Yahoo! Finance, particularly for mobile, and Yahoo! Screen has continued to evolve, with mobile in mind.  Yesterday, Apple added Yahoo! Screen to its set-top box.
With all that in mind, the company isn't going to be turned around over night, or even with one big acquisition, save for another Tumblr-like deal.  Mayer has said in the past she thinks it'll take around three years to turn the company around, and really get revenue going in the right direction.
Mayer has built up enormous amounts of goodwill on Wall Street, and has turned the perception of the company around, not just with investors, but the tech community as well.  On Yahoo!'s last earnings call, Mayer said the company received more than 17,000 resumes in a single week. "This is up from 12,000 in August, 10,000 in May and 2,000 in January, a more than 8x increase year-to-date," Mayer said on the call.
Though she's turned the perception of the company around, Mayer hasn't been able to get the core function of Yahoo! turning in the right direction from a revenue perspective. Page views have started to turn around, with Mayer having said before that page views ultimately equals revenue. 
With another $1 billion or so (underwriters have the option to purchase an additional $150 million in notes, though $200 million of the offering may be used to buy back stock from the purchasers of the notes) to play with, it'll be interesting which mobile-focused company Mayer acquires next. You know that money isn't just sitting around for a rainy day :)
--Written by Chris Ciaccia in New York
>Contact by Email.