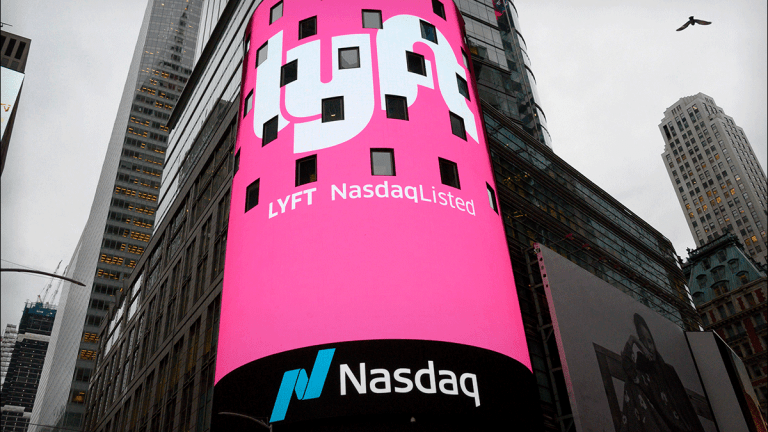 Lyft's Still Not Reporting Bookings, but it Doesn't Seem to Bother Wall Street
Bookings, a key indicator of the health of Lyft's business, has disappeared from its financial reporting, and no one seems to care.
The art of selective disclosure has always been an important tactic for Internet companies, and the arrival this year of ride-sharing competitors Lyft (LYFT) - Get Free Report and Uber (UBER) - Get Free Report brings interesting new wrinkles to what will and will not be disclosed. 
Wednesday's report by Lyft of its second-quarter earnings contained no information about the total bookings the company made in the quarter. Bookings is the total economic value of the rides that Lyft enables. In the company's prospectus for its initial public offering, back in March, it offered bookings as a key metric to understand the economic value the company is creating. 
But in both of its first two quarters as a public company, Lyft has declined to talk any more about bookings. 
It hasn't mattered for the stock. Lyft shares rose roughly 7% on Thursday following better-than-expected results in the report. And the stock got two upgrades, from Atlantic Equities and Wedbush Securities. On Friday, shares dropped 4.8% to close at $59.12.
Lyft responded in an email that the absence of bookings data had been addressed in May by the company and was not expected by analysts this quarter. The company further pointed out that CFO Brian Roberts had remarked on Wednesday's call that revenue as a percentage of bookings increased during the quarter, without disclosing the amount of the increase.
Wall Street seems willing to give management the benefit of the doubt that only metrics it currently wants to disclose matter, and to give them a pass on the reduced disclosure, but that's probably a mistake. Bookings is an important indicator, and its omission is a bad direction for financial reporting from Lyft. 
But first, the good news: Lyft was able to handily beat analysts' expectations, reporting revenue of $867 million, and a net loss of 68 cents a share, both better than the consensus for $810 million and a net loss of $1 per share. The forecast for revenue, and for Lyft's adjusted loss on an EBITDA basis (earnings before interest, taxes, depreciation and amortization) is also above consensus for this quarter, and Lyft raised its year outlook again versus what it forecast last quarter. 
What's working is that Lyft is collecting more revenue per rider, on average, a result, the company said, of the fact that it is focusing on more high-value rides, and on things such as its enterprise business, courting less price-sensitive business travelers. 
The bigger surprise, to the delight of analysts on Wednesday's call, was that Roberts said that the way things are going, it looks like 2018 was the high-water market for the company's spending, a big improvement from the company's prior expectation that this year would be the "peak in investment." 
That was all that many needed to conclude that Lyft is now solidly on the path to profitability.
But there's still the matter of the bookings. Lyft only makes money to the extent it continues to expand the pie by selling more rides. It can become more efficient, as it clearly has, but a growth company has to continue to expand its market. By omitting the bookings number, which the company once said was key, investors have no idea how rapidly it is expanding is market, or even whether it is expanding at all. 
A second important implication comes with that omission. Having bookings reported allows one to calculate the so-called take rate, which is simply the amount of Lyft's total revenue divided by the bookings. It's a measure of how much Lyft is able to retain for itself of the economic value it is creating. And as such it's a guide to how competitive things are with Uber, given that in periods of extreme competition, Lyft and Uber have to increase incentives to drivers -- basically, reductions in the percent Lyft takes from the total fare, thereby reducing take rate.  
Lyft's management made vague remarks that indicated it has had to be less competitive on pricing of late, which is good. But without letting investors know how much total economic activity Lyft has to generate to make its revenue, a key lever of its business is being obscured, an element that the company insisted back in March was a important to understand how things worked. 
Everyone forgives such omissions when other data points are going in the right direction, as they mostly did last quarter. But investors deserve more than just the good news management selectively discloses. They deserve the full picture. Time will tell whether investors demand such or are comfortable being kept in the dark. 
Tiernan Ray neither trades nor owns any shares of companies discussed in this article.