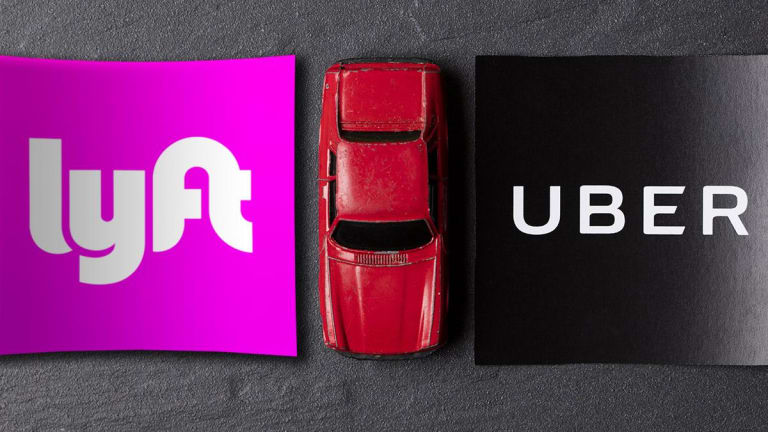 Lyft's Uber Shock Means It's Time to Separate IPO Wheat from the Chaff
Lyft's soggy performance and Pinterest's slowing growth suggest investors will draw a clear divide between tech IPO winners and losers this year.
The excitement of IPOs fades fast as the offerings hit the market and reality sets in.
It took less than two weeks for the IPO euphoria to cool. Shares of Lyft (LYFT) - Get Lyft Inc. Report are now down 31% since their opening trade on March 29. The decline began the second day of trading but was accelerated by the announcement after Thursday's close that Uber, its much larger rival, finally filed its own offering with the Securities and Exchange Commission. Lyft fell 1.8% in Friday to a new closing low of $59.90. 
Uber is probably the name investors in the sharing economy have really been waiting for, and so they can be expected to swap out of Lyft as Uber shares become available. There will likely be similar expressions of preference as the year grinds on.
On the numbers alone, Uber certainly appears the stronger bet. Uber had an operating loss of roughly $3 billion on revenue of $11.3 billion in 2018, versus Lyft's loss of nearly a billion dollars on revenue of just over $2 billion. 
Uber's massive loss looks better in another respect: its accumulated deficit of roughly $7.9 billion is just over two times the $3.6 billion deficit with which Lyft came to market. Thus, Uber's loss has been more efficient.  
Pinterest, the photo-sharing service, has yet to price, and could find it rough sailing when it finally does despite decent economics. It seems highly likely the company is going to fall into the Twitter (TWTR) - Get Twitter Inc. Report trap of being merely a niche in social. 
Pinterest's "monthly active users," or MAUs, an average of how many people are logged into the site, probably rose by 22% in the March quarter, to 291 million, the company anticipates. That's down from a rate of growth of roughly 27% in 2018, and down from growth of 36% in 2016. 
Twitter had difficultly sustaining growth when it hit that level. Twitter had 230 million MAUs when it went public in the spring of 2014, but Twitter was growing by almost 40% at the time. Twitter usage has plateaued at 321 million in the December quarter, and the company will stop disclosing the number after the March quarterly report. 
Pinterest actually is seeing meaningful financial improvement. Its net loss for 2018 was down sharply from 2017, at $63 million versus $130 million. And it has a very healthy gross profit margin of 70%. 
At the high end of the proposed range, $17 , the company's going to be worth $9 billion, or 11.9 times trailing revenue. If you regard Pinterest as an advertising play, it certainly has a much higher multiple than either advertising giants Alphabet (GOOGL) - Get Alphabet Inc. Report and Facebook (FB) - Get Meta Platforms Inc. Report , or publishers such as the New York Times (NYT) - Get New York Times Company (The) Report .
Will investors sit tight to see how that MAU growth scales? There is, after all, another, possibly more interesting story in advertising, that of Amazon (AMZN) - Get Amazon.com Inc. Report , which is just getting started taking share from Google and Facebook. 
Based on very few data points, investors in the tech IPO market are more comfortable with companies that sell software tools rather than those that have disruptive ambitions like Lyft or Pinterest. 
On Friday, the two tech debuts from the day before, PagerDuty (PD) - Get PagerDuty Inc. Report and Tufin Software Technologies (TUFN) - Get Tufin Software Technologies Ltd. Report , continued to add nicely to gains. PagerDuty vaulted out of the gate on Thursday, opening 53% above its offer price. It was up another 3.3% on Friday to $39.50. Tufin opened a slightly less-impressive 30% from the IPO price but gained another 10% on Friday. 
Both look like good companies, but both are still fairly small from a revenue standpoint. In the case of Tufin, tech investors have likely been jonesing for a security technology offering since last year's Zscaler (ZS) - Get Zscaler Inc. Report , whose shares have more than doubled since last spring's debut.
Tufin has a stellar 85% gross profit margin, and it was almost profitable in 2018 on a net basis. The company should be highly profitable as revenue continues to rise, though at $85 million in revenue for all of last year, Tufin has a ways to go to prove it can become a major force. 
PagerDuty can be thought of as a kind of mash-up of Twilio (TWLO) - Get Twilio Inc. Class A Report and enterprise software, capturing "signals" that come from data and routing it to where the data can be used effectively. There is a hunger for anything with a whiff of artificial intelligence, and PagerDuty has it. PagerDuty had just $100 million in revenue last year, growing at 48%. 
Of course, there is one big factor that may displace any talk of winners and losers: M&A. The tech giants remain flush with cash and easy credit. They could certainly pay a premium for any young public company, whether it's a winner or loser in trading terms.
Never count out the acquisition effect for these new issues.
Amazon, Facebook and Alphabet are holdings in Jim Cramer'sAction Alerts PLUS Charitable Trust Portfolio. Want to be alerted before Cramer buys or sells these stocks? Learn more now.
Tiernan Ray neither trades nor owns any shares of any companies mentioned in this article.