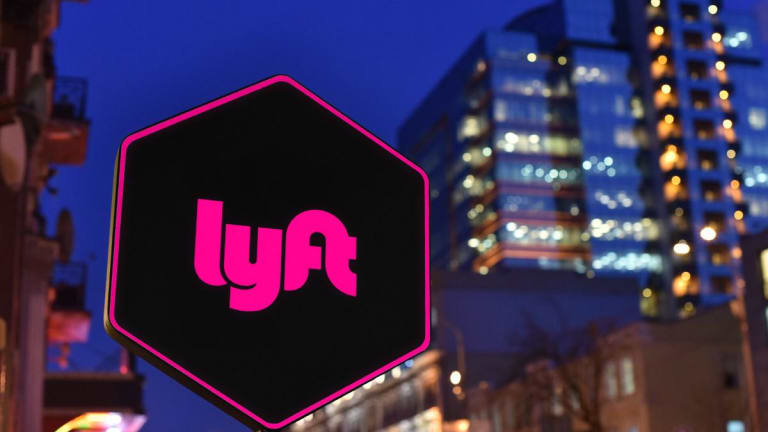 Lyft Slides After Its First Earnings Report: 6 Key Takeaways
The ride-sharing firm beat revenue estimates and reported strong active rider growth. But its profit and spending forecasts are weighing on shares.
Lyft's (LYFT) - Get Lyft Inc. Report first earnings report as a public company featured solid top-line numbers and rider metrics, along with plenty of red ink.
Results and Guidance
On Tuesday afternoon, the ride-sharing firm reported Q1 revenue of $776 million (up 95% annually), topping a consensus analyst estimate of $740 million. Officially, GAAP EPS was negative $48.53 and non-GAAP EPS was negative $9.02, but these numbers rely on share counts very different from the ones Lyft has following its IPO.
On a GAAP basis, net loss was $1.14 billion thanks to major IPO-related stock compensation expenses. Non-GAAP net loss, which excludes stock comp and certain other expenses, was $211.5 million. That's slightly improved from a year-ago level of negative $228.4 million, and above a consensus of negative $274 million.
Lyft also guided for Q2 revenue of $800 million to $810 million (up 58% to 60% annually) and full-year revenue of $3.275 billion to $3.3 billion (up 52% to 53%), above consensus estimates of $782 million and $3.24 billion. At the same time, the company forecast a Q2 adjusted EBITDA loss of $270 million to $280 million, and a full-year adjusted EBITDA loss of $1.15 billion to $1.175 billion.
Lyft's shares fell 2.9% in after-hours trading to $57.65. They continue trading well below both their $72 IPO price and an opening trade of $87.24. Here are some notable takeaways from Lyft's Q1 report and earnings call, which comes ahead of an Uber IPO due later this week.
1. Rider Growth Was Strong...and the IPO Apparently Helped
Lyft's active riders grew by 10% sequentially and 46% annually in Q1 to 20.5 million; annual growth was nearly on par with Q4's 48%. Meanwhile, ride growth, price hikes carried out in Q2 2018 and a higher take rate on ride bookings helped Lyft's revenue per active rider grow 5% sequentially and 34% annually to $37.86. Interestingly, CFO Brian Roberts said on its earnings call that Lyft thinks the publicity surrounding its IPO boosted its Q1 active rider count.

Lyft's active riders grew strongly again in Q1. Source: Lyft.
However, he also cautioned that Lyft's revenue per active rider growth might be more flat in the summer and fall as warmer weather provides a boost to its bike and scooter-sharing businesses, which produce less revenue per ride. In addition, Roberts forecast that cooler weather will result in its bike/scooter revenue dropping sequentially in Q4, possibly leading Lyft's Q4 sequential revenue growth to "exhibit more meaningful seasonality." And as expected, the passing of the one-year anniversary of the Q2 2018 price hikes will impact annual revenue growth rates.
2. No Bookings Figures Were Shared
Though Lyft provided quarterly and annual bookings figures in its IPO filing, the company didn't share its Q1 bookings. On the call, Lyft insisted it thinks revenue is a better metric for tracking the health of its business than bookings. It did disclose that its take rate (defined as the percentage of bookings that converted into revenue) rose sequentially and annually in Q1, but didn't provide a number.
3. Some Operating Leverage Was Achieved...
As revenue grew 95% annually, Lyft's non-GAAP costs and expenses rose 58% to $1.01 billion (still 30% more than its revenue). Cost of revenue, which covers things such as insurance costs, payment processing charges cloud hosting expenses and depreciation expenses for Lyft's bike and scooter-sharing fleets, were 50% of revenue, down from a year-ago level of 65%. And its non-GAAP operating expenses were at 79% of revenue versus 95% a year ago, thanks in large part to the fact that sales and marketing spend fell to 29% of revenue from 45%.

Though growing strongly in dollars, operating expenses fell as a percentage of revenue. Source: Lyft.
Going forward, insurance might be an area where Lyft can see additional operating leverage. The company says it has numerous programs underway to lower its insurance costs; ones mentioned on the call include the use of telematics to monitor driver behavior, and the use of predictive analytics to detect insurance fraud.
4 ...But Lyft Expects Spending Growth to Pick Up a Bit
On the call, Roberts forecast Lyft's contribution margin, which is strongly tied to its cost of revenue growth, will be "negatively impacted by 2 to 3 percentage points" relative to Q1 during the remaining quarters of 2019, thanks to investments in its bike and scooter-sharing fleets, which face stiff competition from scooter-sharing startups Bird and Lime.
The company also expects its operations and support spending, which was 17% of revenue in Q1, to rise as a percentage of revenue due to investments in bike/scooter fleets, the ExpressDrive car-rental program for Lyft drivers and Lyft Driver Centers, which provide maintenance/repair and car wash services for drivers. R&D spend (14% of revenue in Q1) is also expected to rise as a percentage of revenue, while sales and marketing spend is expected to improve to 28% of revenue in Q2 and remain around that level for the rest of the year.
One silver lining: Lyft says it thinks 2019 will be its peak year for losses.
5. Lyft Thinks the U.S. Ride-Hailing Market Has Become More 'Rational'
In comments that also have implications for Uber, Lyft says it thinks "competitive pressure in terms of rider incentives has recently receded." The company also claimed that the U.S. ride-hailing market is currently "the most rational" it has ever been.
6. Lyft Has a Number of Consumer and Driver Service Projects Underway
Q1 saw the launch of both Lyft's first Driver Centers and Lyft Direct, a no-fee bank account and debit card solution for drivers that allows them to instantly access their driving income and get cash back on various purchases. The company also recently launched a service called Shared Saver, which lets consumers willing to share a ride with another Lyft customer get a lower price if they're willing to walk a few blocks or wait a few minutes.
In addition, Lyft recently rolled out a new matching platform for drivers and consumers that Green says has resulted in better matches and fewer cancellations. And earlier on Tuesday, Lyft and Alphabet's (GOOGL) - Get Alphabet Inc. Report Waymo announced a partnership through which Lyft customers will be able to hail rides from self-driving Waymo cars. Initially, the partnership covers just 10 cars -- each with a "safety driver" on board -- in the Phoenix area, where Waymo recently launched a driverless taxi service for select consumers.
Alphabt is a holding in Jim Cramer's Action Alerts PLUS member club. Want to be alerted before Jim Cramer buys or sells GOOGL? Learn more now.