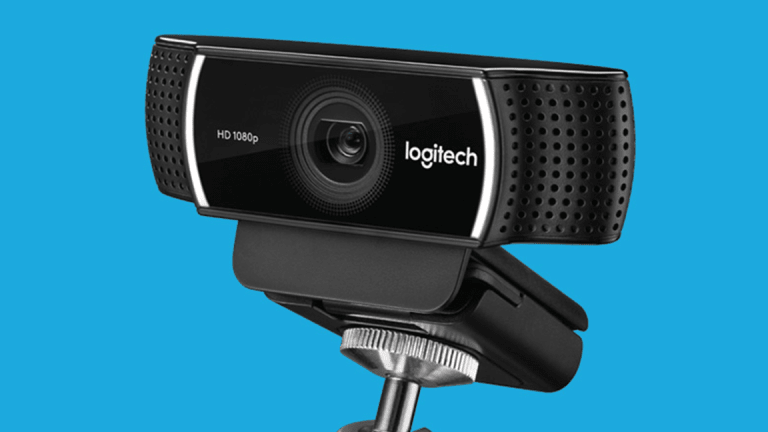 Logitech's CEO Talks About Gaming Demand, Apple Accessories and More
During a talk with TheStreet, Logitech CEO Bracken Darrell struck an upbeat tone about his firm's gaming and videoconferencing businesses, and suggested smart home products remain an area of interest.
Though still off last summer's Fortnite-fueled highs, Logitech's (LOGI) shares are up about 150% over the last three years, as the company's bets on gaming peripherals, videoconferencing systems and other hardware have steadily paid off.
The peripherals giant rallied earlier this week after it delivered a solid June quarter earnings report -- revenue rose 6% in dollars and 9% in constant currency (CC), and EPS rose 15% -- with the help of better-than-expected tablet accessory and mobile speaker sales. Logitech also reiterated guidance for fiscal 2020 (ends in March 2020) revenue to grow by a mid-to-high single-digit percentage in CC, and for operating income to be in a range of $375 million to $385 million (up 7% to 9%).
Following Logitech's report, I talked with Bracken Darrell, who has been Logitech's CEO since 2013, about several of his company's businesses as well as the firm's strategic thinking. Here's a look at some interesting things that were shared.
Logitech's Gaming Peripherals Business
Darrell remained pretty upbeat about the prospects for Logitech's gaming peripherals business, which accounted for slightly over 20% of last quarter's revenue and is benefiting from growing eSports activity. This business saw revenue drop 1% last quarter, but that was only because its sales were up 68% in the year-ago quarter with Fortnite's help.
Darrell claimed Logitech's gaming mouse business, which has gotten a lift from the May launch of a wireless version of the company's G502 gaming mouse, is taking share, and that a revamped version of Logitech's G Pro headset (built with eSports players in mind) that features technology from its Blue Microphones unit is also doing well. He also hinted that Logitech is prepping new gaming keyboard offerings.
When asked about whether Logitech's expects to get a boost from Microsoft  (MSFT) and Sony's undefined expected 2020 console launches, Darrell noted consumers don't necessarily upgrade their console accessories at the same time that they upgrade their consoles. At the same time, he admitted Logitech hasn't before participated in this space in the middle of a console upgrade cycle, and is thus "waiting to see" how it should forecast demand.


Logitech's June quarter sales at a glance. Source: Logitech.
Non-Gaming PC Peripherals
Darrell noted sales for Logitech's age-old, non-gaming, PC peripherals businesses, which still account for over 40% of its revenue, aren't tied to new PC sales, but to Logitech's ability to drive peripherals purchases within a massive PC installed base.
"PC shipments are such a small part of the installed base, that they don't move it very fast," he said. "We're the leader in every segment we're in, in PC peripherals. So in that context, it's all about what innovation we bring." Logitech's non-gaming PC peripherals sales fell modestly last quarter, but the company thinks it can drive low-single digit growth for the business over the long run.
Accessories for Apple Products
Whereas its PC peripherals business is decoupled from new PC sales, Darrell states Logitech's tablet peripherals business, which saw sales grow 18% last quarter to $38 million, has been getting a boost from the strong demand Apple  (AAPL) is seeing for its latest iPad Pros. He noted Logitech's Slim Folio line of Bluetooth iPad keyboards/cases has been doing well, and that it has also seen some traction for its Crayon iPad stylus (it's cheaper than the Apple Pencil, but lacks pressure-sensitivity).
And at a time when Apple continues seeing strong Watch sales growth, Darrell left the door open to creating accessories that work with the Apple Watch, albeit while adding Logitech has nothing to share for now. "I agree the Apple Watch is pretty big," he said. "So are the AirPods."
Videoconferencing System Sales
Darrell asserted that Logitech's videoconferencing business, whose sales skew towards smaller conference rooms (i.e., huddle rooms), is bigger than that of the next two players in the space combined. He added that competition in the market will continue to increase given its growth, and that Logitech has been investing in both growing its enterprise salesforce and creating device management software for IT pros.
Logitech's video collaboration segment sales rose 25% last quarter to $73 million, with the company reporting strong demand for both its MeetUp system for huddle rooms and its newer Rally systems for larger rooms.
Plans for Smart Home Products
"We are frequently looking at what else we can do in the home," Darrell said When asked about Logitech's plans for its smart home business, which for now accounts for less than 2% of revenue. He stated Logitech labels businesses as "trees," "plants" or "seeds" depending on their size and maturity, and that the smart home business is firmly in the seed category.
One example of an experimental smart home offering shared by Darrell: A baby-monitoring system created with Procter & Gamble's (PG) Pampers unit. The system relies on a Logitech camera, an app and a pair of activity sensors for diapers to let parents track a baby's activity.
Given that Logitech beat June quarter sales estimates, is the company's decision to leave its full-year guidance unchanged a sign of caution about near-term conditions? Darrell insisted that's not the case. He noted the December quarter (Logitech's fiscal third quarter) is a seasonally bigger one than its June quarter, and declared that it would "really rare" for the company touch its full-year guidance following the June quarter.
Tariffs
While Intel (INTC) , Microsoft  (MSFT) and some others in the PC supply chain have reported seeing orders/shipments get pulled in due to worries about the arrival of new tariffs, Darrell stated Logitech has seen "very little" activity along those lines. He did say Logitech "brought a little bit of product over during one of the tariff rounds," but added most of this inventory has already been sold.
Logitech has reported seeing some margin pressure from both China tariffs and currency swings. However, its non-GAAP gross margin still rose slightly last quarter to 37.8%.
Potential Acquisitions
In addition to deploying funds towards dividends and "opportunistic" stock buybacks, Darrell said Logitech is up for making additional acquisitions to expand its product line. He noted Logitech typically makes one to three acquisitions per year, and (though declining to say which markets Logitech is currently eyeing) declared his company has "a lot of good options" for potential deals.
"If we're not in a category we're looking at externally, we're working on it internally...we don't buy into things we don't know about." Darrell cautioned. However, he added that thanks to Logitech's mindset regarding creating "seed" businesses, the company is working on a lot of things the public doesn't know about.
Last year, Logitech spent $117 million to buy Blue Microphones, which makes premium mics and headphones for consumers and professionals. On Logitech's June quarter earnings call, Darrell said Blue grew at a double-digit clip with the help of strong demand from podcast creators.
Apple and Microsoft are holdings in Jim Cramer's Action Alerts PLUS member club. Want to be alerted before Jim Cramer buys or sells AAPL or MSFT? Learn more now.