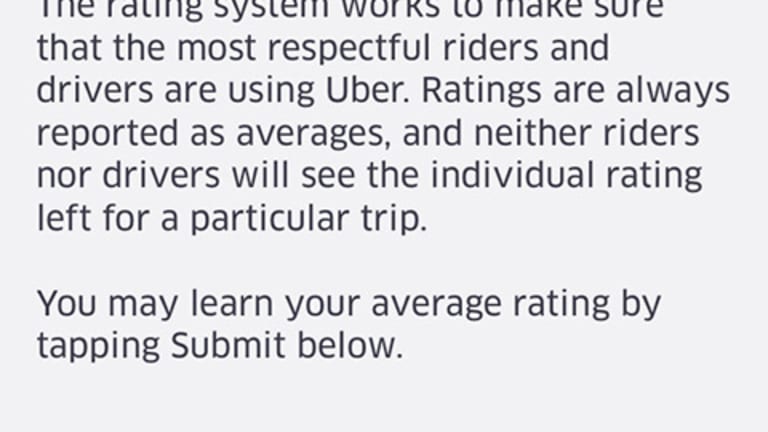 SAN FRANCISCO (TheStreet) -- Scanning the San Francisco streets for the quickest route, Steven spoke of how the fares he earns for driving for Uber will mostly go toward his teenage son's college fund.
Steven -- he and many other Uber drivers preferred to only give their first names to protect their jobs -- wakes in his Berkeley, Calif., home most days just as the sun is rising. He's at his computer at 6:30 a.m. for the opening bell of the New York Stock Exchange. A securities trader for his personal account, he trades by day and drives for Uber in the afternoons, after the exchange has closed. Around sundown, he heads home to his family.
Being an Uber driver, he said, has taken off some of the financial pressure that come with the fluctuating tides of being a day-trader. "It's made the trading go a lot easier because I know I'll have at least some income," he said.
Steven is one of a small army of contracted drivers for Uber, which started in 2009 in San Francisco. Since then, the company has grown into a behemoth, having recently raised money at a $40 billion valuation. Not stopping there, Uber is in talks for another funding round which would value the company at $50 billion.
Investors in Uber include Goldman Sachs (GS) - Get Goldman Sachs Group, Inc. (GS) Report and Google (GOOGL) - Get Alphabet Inc. Class A Report, through its venture capital arm, Google Ventures.
By contrast, Lyft, a competitor to Uber, was valued in March at $2.5 billion after a new Carl Icahn-led funding round, according to a report from Bloomberg. As of September, smaller competitor Sidecar had raised $35 million, according to Re/Code.
Uber now has more than 160,000 drivers in the U.S., a massive increase from a year ago, when the company reported to have about 75,000 drivers, according to an Uber study covering its driver demographics and earnings released in January.
That success hasn't come without trouble, however. The company has had to contend with pushback from unions that represent taxi drivers, U.S. municipalities and international officials, all of whom argue that Uber is sidestepping the rules of the regulated taxi industry.
Uber's model is simple: A personal driver anywhere, anytime. The fares are generally cheaper than a taxi would charge.
Some drivers said working for Uber has been perfect for them. Flexible hours, the ability to drive for fares anywhere, and high rider demand have given some drivers "freedom," said Fassil, a 43-year-old Oakland photographer.
Fassil said his days are much more flexible than when he towed broken-down cars for a living. Now, he can take a fare down to South San Francisco, take an hour off to take pictures of the Pacific waves rolling onto the beach, and then hop back in his car to catch another fare.
For Steven, working for Uber meant it was no trouble to put his workday on pause when he found out his wife had broken her wrist. He picked her up and drove her to the hospital himself.
Pedro, a 25-year-old Pacifica resident, can afford to take a month off every now and then to travel to Brazil to see his family. Sometimes, he'll fly to Memphis to see his mother. He plans to start classes to become an app developer later this year, and he'll pick up fares when he isn't studying or in school. He typically works six hours, takes a two-hour break, and then hits the road for another six hours.
"I don't have to be on anyone's time," he said.
But beneath the glossy surface is a growing frustration about how much drivers are paid. There are also questions about how much personal risk they assume, and how the company treats drivers in general as Uber moves into technological preeminence -- particularly for those who see driving as their full-time career.
As is the case with many ridesharing businesses, Uber's drivers are contractors, not employees. They do not receive benefits, and they are responsible for providing their own car insurance, medical insurance, and paying for auto maintenance and gas.
"After a while, I began to realize my vulnerability and how much risk I was assuming," said Kelly Dessaint, a former Uber driver who quit to drive a taxi. "When it comes to Uber, it's all about how you do your math, and how you factor your risk."
Last year, Uber drivers in San Francisco made $1.50 per mile. Now, they're making about $1.10 per mile, with Uber taking 20% to 25% of their fares, drivers said. Passengers can also take shorter rides -- as low as a $5 minimum -- that several drivers said they abhor because the fares are rarely worth the time. Then there's the ongoing debate about how Uber discourages tipping, even though the lower rates don't cover the price of a tip, Dessaint said.
Even so, Pedro said he is able to make between $25 and $30 an hour on a good day; he just has to work harder than he did a year ago.
Dessaint, who writes columns on driving and the ridesharing industry for the San Francisco Examiner, said changes in the price structure and a massive influx of new drivers who saw Uber as the promised land of quick jobs made making a living much more difficult. Plus, he said, the push from some customers for drivers to go as fast as possible led to more financial risk and stress than he cared to endure.
Even with the changes, though, Dessaint said drivers can probably make "$50,000 [to] $60,000 a year" if they drive full-time -- before taxes or expenses.
Uber did not respond to repeated requests for comment for this story.
This article is commentary by an independent contributor. At the time of publication, the author held no positions in the stocks mentioned.