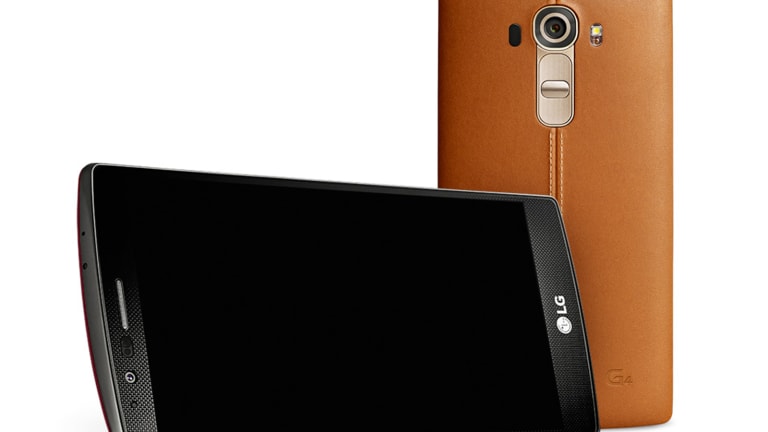 LG G4 Smartphone Review -- Incremental Improvements for LG's Flagship Phone
The new LG G4 has added faster overall performance, better cameras and longer battery life than last year's G3.
The new LG G4 has added faster overall performance, better cameras and longer battery life than last year's G3.
NEW YORK (TheStreet) -- Last year's LGG3 handset was a terrific phone -- and this year's G4 is even better. But, as good as it is, the question remains whether it's good enough to compete with other improved flagship models like Samsung's (SSNLF) Galaxy S6 and Galaxy S6 Edge, HTC'sOne M9, the upcoming third-generation Lenovo/Motorola X and Apple's (AAPL) - Get Report iPhone 6.
The new G4, announced last month and first made available in its Korean home market, will finally be available in North America beginning this week. It's a premium phone made to compete with all the other big-deal Android smartphones.
The updated design features a great-looking, 5.5-inch, quad HD (2560 by 1440 pixels) IPS touchscreen, a 64-bit, 1.8 GHz Qualcomm (QCOM) - Get Report Snapdragon 808 processor, 3 GB of memory, a 16 MP camera (with a fast, f/1.8 lens) on back, an 8 MP camera up front, the latest versions of Wi-Fi, Bluetooth and GPS connectivity. The G4 runs on Google's (GOOG) - Get Report Android 5.1 operating system, codenamed Lollipop.
On the outside, LG offers an array of back panels with six different colors (including black, gold and ceramic white), as well as different materials, such as hand-stitched leather. The leather back is beautiful, but I wonder how it will hold up after a few months of constant handling and use. There are plastic back covers too.
This time around, LG focused its attention features buyers really want -- great overall performance, high-quality cameras and long battery life.
In our our brief testing, we think LG has done a good job of delivering the goods. The HD display offers crisp and clear views, the cameras produce high-quality stills and videos and the battery should last power users an entire day on a full charge.
The G4 retains its unique volume up/down rocker control in middle of the curved back cover just beneath the camera lens and flash. If you're coming from most other brands of smartphone, it will take a little getting used to. Sound quality from the phone was good.
As far as the phone's overall feel, everything seemed to work quickly and smoothly. Then again, that's exactly what we expect from a new, high-end, quality smartphone from any manufacturer. Software bloat in the very early test unit seemed to be well under control. Overall, we liked what we saw.
You can buy an LG G4 from AT&T (T) - Get Report, Sprint (S) - Get Report, T-Mobile (TMUS) - Get Report, U.S. Cellular (USM) - Get Report and Verizon (VZ) - Get Report, as well as from retailers Best Buy (BBY) - Get Report and Amazon (AMZN) - Get Report. It will will cost you somewhere in the $650 range for an unlocked model.
But, the real question is whether you want to spend that much money for a LG, Samsung, HTC or any other luxury Android model. With phones like the AsusZenfone 2 and a wave of other high-quality designs which could be coming to the U.S. from Asia, the current top-of-the-line, $500 to $800 front-runners could soon be priced out of the marketplace.
The next big smartphone competition will be in the $200 to $300 range. So, while the LG phone is truly a wonderful device, the bulk of the world's smartphone buying public will soon be looking at less-expensive but high-quality handsets.
Overall Score: 8.6/10
This article is commentary by an independent contributor. At the time of publication, the author held no positions in the stocks mentioned.