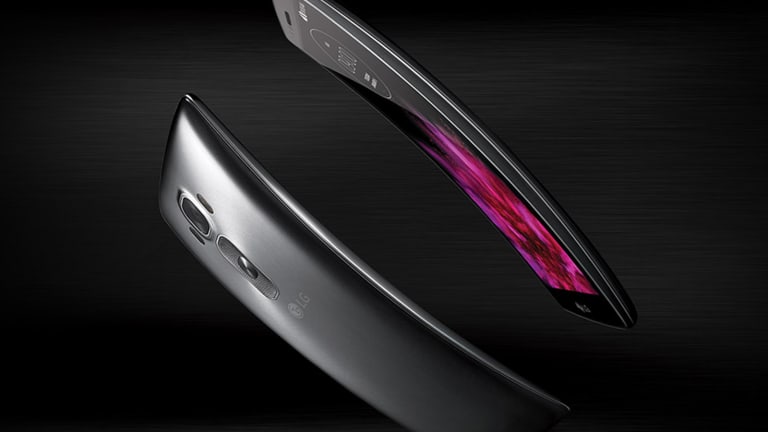 LG G Flex2 Review: Curved Phone Offers More and Less of a Good Thing
Faster processors, a better camera and -- believe it or not -- a smaller screen help improve a terrific smartphone design.
Faster processors, a better camera and -- believe it or not -- a smaller screen help improve a terrific smartphone design.
NEW YORK (TheStreet) -- This is LG's second attempt at a curved-screen smartphone. This new LG G Flex2 keeps all the good things from the original, and has taken the somewhat unusual design to the next level.
LG introduced its first G Flex curved phone back in the fall of 2013. Unlike the side-to-side curved phone rushed to market by rival Samsung (SSNLF)  (and, thankfully, quickly forgotten), the LG's screen curved from top-to-bottom. We liked that first generation handset and the only complaints we had were that while the LG screen flexed a very small amount, the phone was otherwise very similar to the G2 -- the company's flagship design at that time.
There are a number of important changes designed into this new model. The second-generation 'Flex' has a curved, 5.5-inch OLED (Organic LED) display capable of resolutions up to 1080 by 1920 pixels (403 ppi pixel density), a 2 GHz Qualcomm (QCOM) - Get Report Snapdragon 810 with eight cores, either 2 GB of RAM and 16 GB of storage or 3 GB of RAM and 32 GB of storage. There's also a microSD expansion card slot.
Our test unit was a 3 GB/32 GB model running on Sprint's (S) - Get Report 4G wireless network. We found the phone to be impeccably finished in what is called "Volcano Red." LG says the back cover finish is "self-healing" (for minor scratches and nicks), but we didn't try to maim the phone for fear of leaving any sort of mark on such an attractive device. But, it's nice to know LG is thinking about it.
In addition to all the usual features that we now expect in smartphones, such as Wi-fi (802.11 a/b/g/n/ac), Bluetooth (4.1), NFC, GPS, etc.) and a big (3000 mAh) battery, the new Flex has a 13 MP camera on the back and a 2.1 MP shooter right above the front screen. Google's (GOOG) - Get Report Android 5.0.1 (Lollipop) is the installed operating system.
The G Flex2 is much lighter (5.4 ounces) than it looks. The body is curved so it fits easily in your hand. The entire phone still flexes slightly when you apply pressure on the top and bottom edges, but the movement is barely perceivable. In other words, don't expect the handset to wobble or fold in half. It's quite sturdy.
LG places the power switch and volume buttons on the back just below the camera lens. You'll get used to finding the controls there within minutes. Otherwise, handling the phone is similar to any other Android smartphone in most ways. And it feels great when you're holding it to your ear.
The biggest change from the first Flex model is the size of the display. It's actually smaller -- and better. It had been 6 inches in the previous mode. This time it's 5.5 inches. But, it's now an OLED design, and the quality is top notch. Color and brightness intensity are adjustable as well. But, right out of the box, this screen is a pleasure to look at -- one of the best, if not THE best, looking smartphone displays to date.
Audio quality is well above average too, even considering there's only one speaker "port" on the back for the sound to escape from. Many other premium smartphone designs have figured out how to include stereo speakers on their handsets. As for wireless connectivity, we found our links to Sprint's network and also our home Wi-fi system to be fast and solid.
The other big improvement for the G Flex2 over the previous model is the camera. This time around, LG used the much improved photo system from its G3 phone. Needless to say, the photos we took on the new phone looked sharper and better balanced than what we remembered from the prior model's photo system.
As for battery life, we've been able to squeeze more than 12 hours of very active use from the built-in power source. That includes constant checking of four email accounts, a number of other personal communications accounts, some video viewing on YouTube, Time-Warner (TWC) Cable and SlingTV as well as music streaming via Spotify and TIDAL. LG claims the G Flex2 battery pack can be charged from zero to 100% in about two hours. We never allowed the battery run down that low, so we couldn't test that claim.
Overall, we really like LG's new G Flex2 smartphone. It's a great combination of a large (but not too large) screen and modern features in a great-looking, ergonomically curved wrapper. Sprint offers the G Flex2 for $200 with a two-year service agreement. Different versions are also available from AT&T (T) - Get Report and U.S. Cellular (USM) - Get Report. No announcement concerning the handset has been made by T-Mobile (TMUS) - Get Report (though they sold the original Flex model) or Verizon (VZ) - Get Report.
Overall Rating: 8.7/10.
This article is commentary by an independent contributor. At the time of publication, the author held no positions in the stocks mentioned.