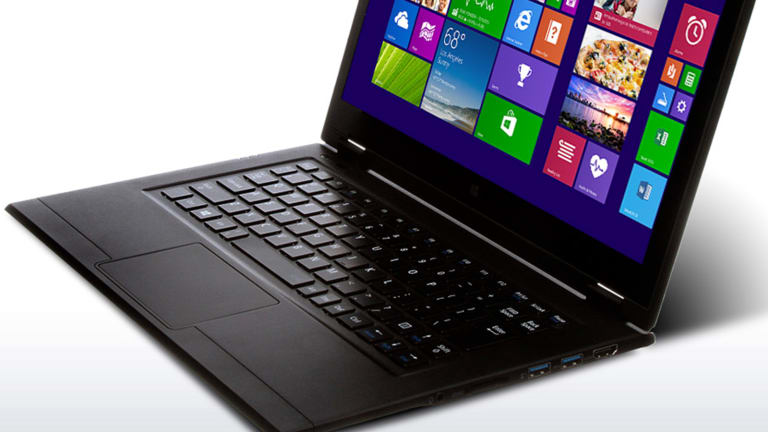 Lenovo LaVie Z 360 Review: A Lightweight, Powerful, Slightly Flawed Jewel
You won't believe how light it is until you hold it or how fast it is until you use it. But you'll realize it's not perfect when you start typing.
NEW YORK (TheStreet) -- There are a number of words we can use to describe Lenovo's (LNVGY) amazing new LaVie Z 360 notebook/tablet computer. The descriptive terms that immediately come to mind are "beautifully designed," "super lightweight," "amazingly powerful" and "unbelievably fast."

Unfortunately, we can also use words such as "underwhelming keyboard" and "half-baked tablet mode."
The Z 360 was designed jointly by Lenovo and NEC (NIPNF)  . The two companies have been partners for the past four years marketing Lenovo designs in Japan. This is NEC's first computer to be sold outside of its home market.
This "ultrabook" computer has lots of things going for it. For instance:
Design: The LaVie 360 is nearly a work of art in its simplicity. It is an all-black, squared-off slab with simple lines. Measuring 12.56 by 8.35 by 0.67 inches the LaVie Z 360 has enough room for a 13.3-inch (2560 by 1440 pixels) HD touchscreen inside, plus two USB 3 ports, a full-sized HDMI port, and a full-sized SD card reader on the outside.
Lightness: Lifting this computer is a revelation. It weighs just 2.04 pounds. That's in the same neighborhood as Apple's (AAPL) - Get Report newest, non-touchscreen, 12-inch MacBook (2.03 pounds). Lenovo offers a non-touchscreen version of the LaVie too. It weighs 1.76 pounds. But you shouldn't judge laptops by weight alone. There's a lot more to the Lenovo than good looks and a svelte body.
Power: This is not your grandmother's ultrabook. It's the real deal. This device has a 2.4 GHz, Intel (INTC) - Get Report Core i7 processor (not the lesser Core i5 you might find in some other designs), 8 GB of RAM and 250 GB of fast, solid-state storage. My current laptops and two-in-one devices have i5's and 4 GB of operating memory.
Speed: With all that power and memory comes raw speed. This Lenovo is in a different universe when it comes to this category. Programs install and open faster than on any other computer we've tested recently. The LaVie Z 360 just does everything at a noticeably more rapid pace than other two-in-ones we've tested.
Battery life (yes, there really is a battery inside this super lightweight design) was pretty good. I averaged between seven and eight hours of real use on a full charge. Lenovo claims up to nine hours though. Other ultrabooks do better.
Most ultrabooks use low-voltage Intel i5 processors because they run cooler than i7 chips. Because of that, I expected the LaVie Z 360 to run very, very hot. It didn't. Under heavy use (downloads, streaming video, etc.) the bottom of the computer became warm but never dangerously hot. That said, I'm not sure I'd want to work with it sitting on my lap for long periods of time. The internal fan kicked in and kept everything within acceptable limits for such a compact i7 design.
The keyboard stayed cool too. That's pretty much the nicest thing I can say about the Z 360's keyboard. I'm guessing it was designed by NEC, because Lenovo makes ThinkPads which come with some of the best notebook keyboards on the planet. The LaVie has little "chicklet" keys that have a slightly stiff feel, not much up and down range, and are spaced too close together. It's usable, but only by a small margin. For me, it produced even more typos than usual. The keyboard's flaws are among the things Lenovo engineers will have to address in future-generation models.
Also, please upgrade the sound quality. At the moment, there's very little of it. Lenovo uses the Yamaha AudioEngine system -- not something to brag about. The stereo speakers on the computer's underside sound tinny and (thankfully) don't play very loud. Use headphones for acceptable audio.
Then, there's the screen. Not the quality -- that's very good. It's what happens when you fold it back to use the Z 360 in the tablet mode. When you fold the screen all the way back (against the keyboard half) the screen image automatically rotates 180 degrees. If you want to "tent" the screen, or folding it back less than all the way, say to watch a video without having to hold the computer, the image does not rotate. It stays upside down. I'm hoping this a something Lenovo is able to address with a software update. And soon.
Overall, Lenovo's LaVie Z 360 is a flawed jewel -- but a jewel nonetheless. And, as you know, jewels can be expensive. So is this two-in-one. Base price for the only available configuration (the one we tested) is $1,699. That's a premium for super-thin, fast and powerful. C'est la vie!
If you don't need or want that touchscreen feature, Lenovo also makes the LaVie Z and sells it for $1,499. Both models currently run Microsoft (MSFT) - Get Report Windows 8.1 OS and are eligible for free updates to Windows 10 beginning in late July.
Overall Score: 8.5/10
Must Read: 
Microsoft Surface 3 Review -- A Less Expensive, Real Windows Tablet
This article is commentary by an independent contributor. At the time of publication, the author held no positions in the stocks mentioned.