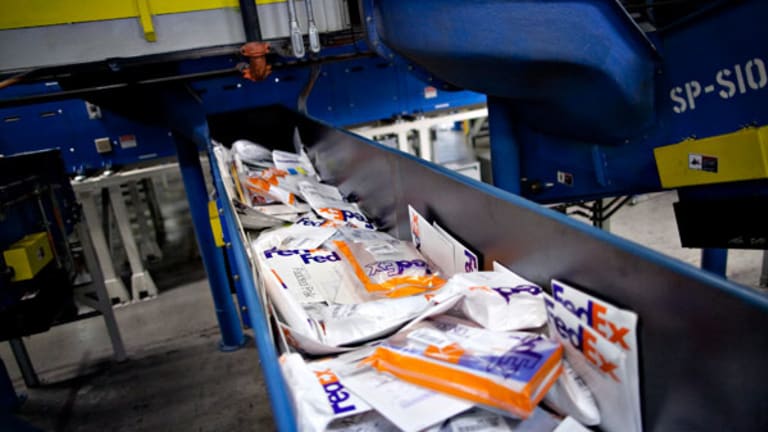 Publish date:
Leave the Driving to Us Robots
A highway of driverless, computer-operated trucks may be in your future.
A highway of driverless, computer-operated trucks may be in your future.
NEW YORK (TheStreet) -- By now, most people have heard about Google's (GOOG) - Get Report driverless cars with spinning "top hats" on the roof. Nevada was the first state to authorize such vehicles, and at least four others have followed. The reason why you're not likely to see a car with full driverless capability in 2014 is cost.
According to
USA Today
, installing the equipment needed to enable your car to leave your driveway without a driver costs more than $100,000.
The driverless price tag continues to fall, while auto manufacturers including
Toyota
(TM) - Get Report
, Audi, and Mercedes Benz are beginning to announce cars that take a step forward to a world of fully driverless cars.
A bigger impact for consumers may come from within the trucking industry.
Also see: Office Depot, OfficeMax, or 'Dunder Mifflin'>>
Transportation companies that might benefit from reduced employee costs include
UPS
(UPS) - Get Report
,
FedEx
(FDX) - Get Report
and
Roadrunner Transportation Systems
(RRTS) - Get Report
.
The highest-paying truck-driving jobs go to long-haul drivers, the truckers who may come home only once or twice a week, sleeping in their trucks on other nights. Compensation is relatively higher, because they are away from home longer.
I talked at length to industry veteran Larry Weidenhoeft, a driver with more than 25 years of experience, about costs, challenges, regulations and pay in the industry. As our discussion progressed, it became increasingly clear that the days of the making-a-living-by-driving-a-truck are numbered. Wage compression and job losses for truckers are as likely as blacksmiths shoeing horses were 120 years ago.
According to Weidenhoeft, an average over-the-road driver makes about 38 cents a mile and drives about 140,000 miles a year. That works out to just over $53,000 a year in wages. Unfortunately for truck drivers, a company doesn't need to save $53,000 a year to make replacing people economically feasible. Here's why:
There are a lot of rules and regulations for truck drivers. For example, a driver is only allowed to be on the clock up to 70 hours over an eight-day period. They're also allowed to be on the clock only up to 11 hours before taking a mandatory 10-hour break.
It's hard to argue that drivers shouldn't be forced to drive tired, but the rules that make drivers and other motorists safe also make it more cost-effective to replace humans with computer systems.
The distance between Los Angeles and Chicago is about 2,000 miles. If a trucker averages 65 miles an hour during the trip, it takes about 31 hours on the road, plus 20 hours of mandatory breaks. If a computer drives the load, it might take a total of 35 hours on average, after stopping for fuel along the way.
A truck leaving LA early enough could deliver the goods to Chicago by the end of business the next day. That's much faster than the three-day average travel time with a person driving.
Also see: PayPal Founder Invests in Bitcoin>>
Driverless trucks can carry more weight per shipment, too. A truck with a sleeper cab can easily weigh 22,000 pounds or more, compared to 13,000 pounds without a bunk. Because weight, not size, often limits loads, a driverless truck on average can haul more product.
Return on investment and size of investment must be considered, too. A sleeper cab can easily cost more than $200,000 new, while a truck without one may cost under $150,000. Once a driverless system falls under $50,000 extra per truck, the driverless version may not even cost more than one built for a human pilot.
If you can have a driverless truck on the clock an extra 12 hours a day, essentially cutting the fleet cost in half, the total investment may be lower than for a driver-truck fleet, even with a higher cost per truck. Also, for air-and-land carriers like UPS and FedEx, some packages can travel by land that now have to fly to arrive on time.
Weidenhoeft isn't worried that he'll have to look for another job soon. He points out that weather conditions often make driving as much art as it is science. It's easy for a computer to handle perfect conditions, but in the real world, trucks are not always able to drive in perfect conditions. Snow, ice and mountain passes don't play well together. If you don't have a driver, it may be difficult to pull over and attach chains to the tires.
Solutions and workarounds to tires and snow will have to be worked out, as I am sure they will be. It's clear to me that the economics make sense with a breakeven point under $100,000 extra per truck. In my view, bigger hurdles to overcome are political and legal.
Interstate trucking requires approval at the state and federal level. You can expect unions and driver associations to put up a fight over any changes in legislation. They know they can stop neither progress nor time, but they can slow it down. For consumers, the price of goods will fall, and trucking companies will have greater opportunity to profit.
At the time of publication, Weinstein held no positions in stocks mentioned.
This article is commentary by an independent contributor, separate from TheStreet's regular news coverage.