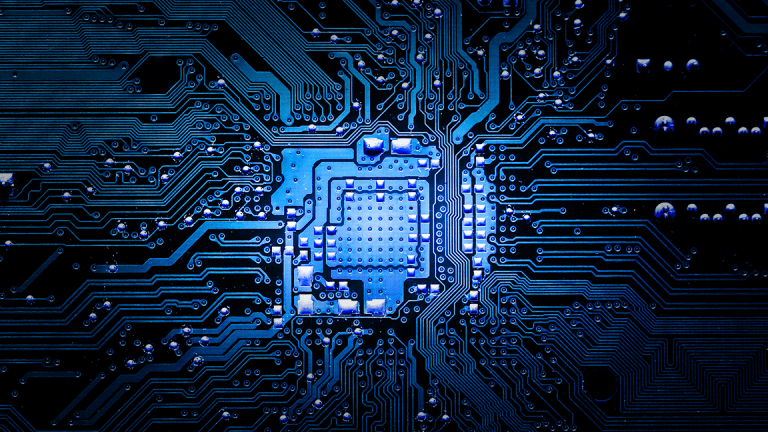 Lam Research and ASML's Outlooks Suggest Bad Chip Equipment News Is Priced In
While not perfect, Lam and ASML's sales outlooks suggest fears of a major chip equipment spending downturn currently look excessive.
Lam Research's (LRCX) - Get Lam Research Corporation (LRCX) Report upbeat sales outlook looks a little less strong once management's commentary about it is digested. Likewise, ASML's (ASML) - Get ASML Holding NV ADR Report solid guidance has a qualifier attached.
Nonetheless, considering how much the shares of Lam, ASML and many other chip equipment firms have sold off in recent months on worries about weakening demand, the outlooks have to be considered encouraging.
Lam Research
In addition to beating September quarter estimates, Lam guided on Tuesday afternoon for December quarter revenue of $2.5 billion, plus or minus $150 million, and non-GAAP EPS of $3.65, plus or minus $0.20. The guidance is above a pre-earnings consensus for revenue of $2.31 billion and EPS of $3.22, and fits with Lam's July prediction that its sales would bounce in calendar Q4 after falling in Q3 due to softer orders from memory makers and foundries (chip contract manufacturers).
In spite of the positive guidance, Lam signaled that capital spending among NAND flash memory makers is under pressure. The company forecast that its sales to NAND makers, many of whom have been paring back their capex plans as 3D NAND production increases yield heavy price pressure, would drop in the first half of 2019 relative to the second half of 2018. It's worth noting here that 51% of Lam's September quarter system revenue came from non-volatile memory makers.
But on the flip side, Lam is forecasting that its sales to DRAM, logic (processor) and foundry clients will all be "incrementally higher" in the first half of 2019. It also reported seeing strong demand from China (25% of system revenue), where both domestic and foreign chip manufacturers are expected to ramp production in the coming years.
And overall, Lam still expects the chip industry's wafer fab equipment (WFE) spend to be up slightly this year, albeit by a "modestly reduced extent." NAND and foundry expectations are now a little weaker than before, while logic expectations are a little stronger. The revised logic outlook likely has something to do with Intel (INTC) - Get Intel Corporation (INTC) Report , which has been pulling out all the stops to deal with a PC CPU shortage.
There could be some downside risk to Lam's early-2019 DRAM outlook, given recent announcements and reports about firms paring their near-term DRAM capex as prices soften a bit following a big 2-year rally. The DRAM industry, which to a large extent has consolidated around Samsung, SK Hynix and Micron, has been pretty disciplined as of late with regards to keeping DRAM supply growth from meaningfully outpacing demand growth.
But even in such an environment, the DRAM and NAND industries' growing capital-intensity -- the amount of capital spending needed to drive a given percentage increase in supply -- should help prop up sales for the likes of Lam, Applied Materials (AMAT) - Get Applied Materials, Inc. Report and KLA-Tencor (KLAC) - Get KLA Corporation (KLAC) Report . Micron, which spent $8.2 billion on capex in fiscal 2018 (it ended in August), is less than a month removed from setting a fiscal 2019 capex budget of $10.5 billion, plus or minus 5%.
ASML
ASML slightly topped Q3 estimates and guided for Q4 revenue of 3 billion euros ($3.45 billion), above a consensus of 2.9 billion euros. The Dutch firm also reported its bookings rose 13% sequentially to 2.2 billion euros, and that it shipped five cutting-edge EUV lithography systems during Q3, one more than it did in Q2.
At the same time, ASML also said it now expects 18 EUV systems to ship in 2018, two less than previously expected. On the earnings call, CFO Roger Dassen attributed this guidance change to the push-out of a pair of shipments into early 2019. However, in spite of the push-out, ASML is forecasting 30 2019 EUV shipments, after having previously forecast "at least" 30.
Still, the stage remains set for EUV, whose adoption is seen as critical for extending what's left of Moore's Law in the coming years, to see a major deployment ramp in 2019 and 2020. In 2019, both Samsung and Taiwan Semiconductor (TSM) - Get Taiwan Semiconductor Manufacturing Co., Ltd. Sponsored ADR Report plan to mass-produce chips that rely on a manufacturing process that makes use of EUV. Others, including Intel, will follow in time.
Research firm Semiconductor Advisors argues that EUV adoption will benefit not only ASML, but also providers of metrology and yield management systems, such as KLA-Tencor and Nanometrics (NANO) - Get Nanometrics Incorporated Report . On the other hand, it thinks EUV will somewhat reduce the need for deposition and etching systems provided by the likes of Lam and Applied Materials.
The Big Picture
Valuations have gotten quite low for many chip equipment firms -- low enough to imply that markets are forecasting a steep industry downturn that will cause giant estimate cuts, rather than a moderate one. Lam now trades for about 10 times its expected fiscal 2019 (ends in June 2019) EPS consensus. Applied trades for less than 9 times its fiscal 2019 (ends in October) consensus, and KLA for less than 11 times its fiscal 2019 (ends in June) consensus.
Though not perfect, Lam and ASML's results and guidance offer reasons to be cautiously optimistic that fears of a major plunge in chip equipment spend won't play out -- even if the industry could see a bit of additional bad news in the near-term.
And between China's semiconductor ambitions, the rising capital-intensity faced by some major chip manufacturers and the long-term demand drivers that exist in chip end-markets such as cloud data centers, cars and IoT devices, the chip equipment industry still has the catalysts in place to deliver moderate growth in the coming years, at least provided that macro conditions remain healthy.