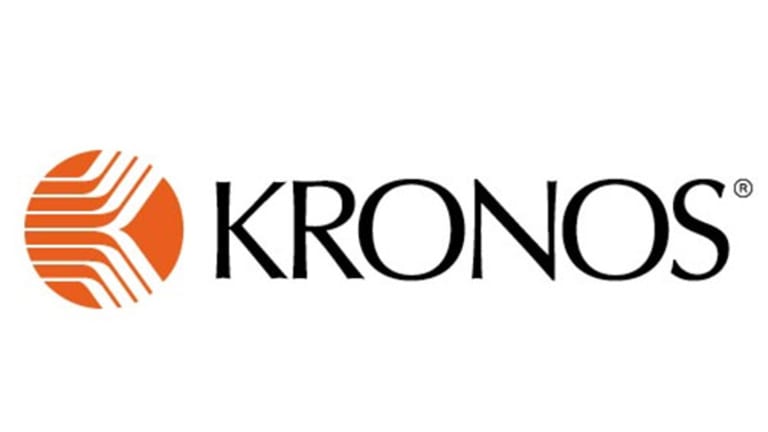 Kronos Reaches $1B In Revenue Amid Subscription Push
Kronos, a fast-growing cloud HR specialist that patented the first microprocessor-based time clock to record employee hours in 1979, said on Wednesday the company has reached $1 billion in revenue
NEW YORK (TheStreet) - Kronos Incorporated said on Wednesday the company has reached $1 billion in annual revenue, a milestone for the company after taking on Blackstone Group (BX) - Get Free Report and Singaporean sovereign wealth fund GIC as investors earlier in 2014.
Private Equity Owners Not Ready to Punch Out of Kronos
The Kronos's revenue milestone comes as the company is working to convert its customers from software licenses to a subscription model, while expanding its cloud HR offerings. "It gives us confidence in our strategy," CEO Aron Aid said of the revenue mark, in a telephone interview with TheStreet.
He also said that Kronos has seen no signs of an economic slowdown in United States and cited strong trends among the company's automotive, pharmaceutical, energy and healthcare customers. Many of those sectors are either rebounding from a sharp downturn from the Great Recession, or are in the grips of cyclical tailwinds created by new technologies or government policy.
"We actually don't notice any negative trends in the economy," Ain said. "Our retail customers seem to be doing well, our hospitality customers are doing well," he added.
New Investors
Earlier in 2014, Kronos agreed to a recapitalization of the company through a $750 million equity investment by Blackstone Group and GIC. The minority equity investment by Blackstone and GIC will allow Kronos's long-time investors, PE firms Hellman & Friedman and JMI Equity, to maintain a controlling interest in the company.
Chelmsford, Mass.-based Kronos, during its time in private equity hands, has effectuated a shift in its business towards cloud-based solutions. That transformation is driving top-line growth at Kronos and strong operating margins for the company at a time when IT giants such as Oracle (ORCL) - Get Free Report, IBM (IBM) - Get Free Report and Hewlett-Packard (HPQ) - Get Free Report are working to boost their cloud offerings.
The recapitalization of Kronos valued the company at about $4.5 billion when counting its debt. Blackstone and GIC purchased a stake worth approximately 44% of the company from Hellman & Friedman and JMI Equity.
A Subscription Push
Kronos CEO Ain said in interview earlier in the year the company is now able to offer its HR services on the premises of its clients or through its Kronos Cloud because it had broken its offering into components such as license and subscription, or hosted and un-hosted offerings. That flexibility has allowed Kronos to retain customers as they move toward the cloud, and it has helped the company pick up market share from vertically integrated players like Oracle.
Stock market investors have seen similar transformation to subscriptions at Adobe (ADBE) - Get Free Report in recent years, and Microsoft (MSFT) - Get Free Report also appears to be focusing on a similar strategy under newly appointed CEO Satya Nadella.
Ain joined Kronos more than 30 years ago, when the company was pioneering computer-based time clocks to record employee hours, adding innovation to a specialty business that had been invented by IBM in the early 1900's. Kronos was founded by Mark S. Ain in 1977. Mark turned over the CEO role the company over to his brother Aron in 2005, though Mark remains chairman.
On Wednesday, CEO Ain said he was optimistic Kronos's new private equity partners Blackstone Group and GIC could help the company further grow its sales. Both Blackstone and GIC have helped put Kronos in touch with executives of some of their other portfolio companies. Meanwhile, Kronos has also begun to see a benefit from being a part of Blackstone's global purchasing organization.
Ain said that in the long-run an initial public offering remains a possibility, though that decision will come in the future. For now, the company appears intent on trying to grow beyond $1 billion in revenue.
-- Written by Antoine Gara in New York.