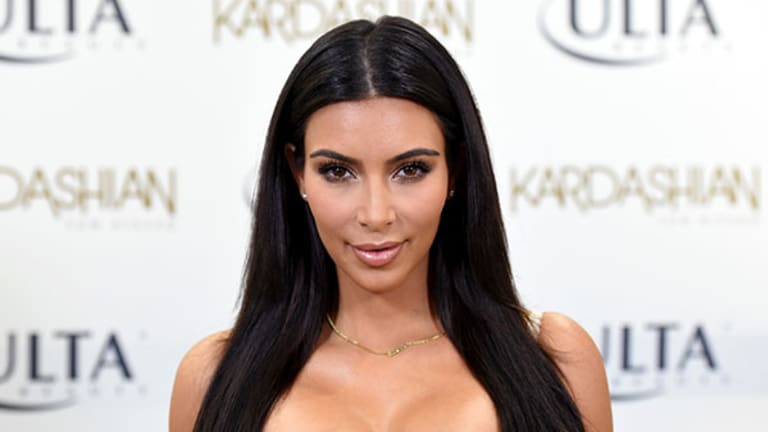 Kim Kardashian Didn't Break the Internet, but She Did Set a New Benchmark
After posing nude for Paper magazine and taunting haters, the reality television star can say she upped the ante on the social media stunt. Internet, it's your move now.
SAN DIEGO, CALIF. (TheStreet) -- If power and influence can be measured in tweets and social capital, then Kim Kardashian was rewarded handsomely for her "Break The Internet" campaign, despite reportedly going unpaid.
The reality television personality who posed completely nude for the most recent issue of Paper magazine, earned herself 578,000 mentions on Twitter (TWTR)  in the two days following her full posterior and frontal reveals, according to data provided to TheStreet by social media platform Spredfast.
Kim also bumped her Twitter mentions per day average by a factor of 28, according to Spredfast, which measured Twitter data between 8 p.m. CST on Nov. 11 and 11:30 a.m. CST on Nov. 14. The hashtag "#BreakTheInternet" also netted more than 360,000 mentions on Twitter, and Kim's Instagram butt shot accrued more than 833,000 likes. 
With her social media coup, Kim not only brought new meaning to the idea that all exposure is good exposure, but also padded her resume of famous-for-being-famous achievements with the most notable yet: upping the ante on the social media stunt.
What's more, the moment, which will no doubt be studied by anthropologists, is perhaps a watershed moment in pop culture. At the very least, Break the Internet, as a type of marketing campaign, has already become a social media benchmark by which all others will be measured against, Altimeter Group Principal Analyst Brian Solis told TheStreet.
"The true state of pop culture, media, and the Kim Kardashian stunt is actually reinforced by the ability to monetize this moment," he said, adding that Paper will make money from additional magazine sales and ad impressions, while Kim will benefit from new business opportunities. "We are basically building a society that if we can't capture attention the way BuzzFeed grabs attention, then we can't necessarily monetize it. So what's happening is this sensational form of exploiting monetization opportunities."
The point of baring it all, at least according to the now famous catchphrase, was to break the Internet. To that end, the campaign was unsuccessful: the Internet as Kim knows it -- Twitter, Facebook (FB) , and Instagram -- proved quite resilient, though that worked out quite well for her. The Internet carried her taunting dare to audiences far and wide. 
You may hate her, but odds are you viewed the photos or shared one of the ensuing memes. 
"At the end of the day, the [haters] are going to share and consume and become part of the media network that feeds her popularity and relevance," Solis observed.
He's right. Even large corporations and brands such as Southwest, TBS, and Nissan jumped on the KK awareness bandwagon to reap the benefits of residual mentions and retweets. Not even the Metropolitan Museum of Art could pass up the chance of riding, like the infamous champagne glass, on the back of the celebrity. By and large, these brands walked away winners.
Nissan, for instance, saw more than a 22,000% increase in retweets and 15,000% increase in favorites versus what it usually sees, Spredfast Director of Analytics and Research Chris Kerns told TheStreet. On average, for the 11 brands that repurposed the #BreakTheInternet hashtag, they saw a 5,200% bump in retweets and 3,800% bump in favorites, Kerns said.
"We're fueling the machine," Solis said, "which means we're only going to continue down this path." 
Surely some anthropologist or data scientist will eventually attach a monetary sum to Kim's latest cultural coup d'état that will make dollars and cents out of it all. But just extra exposure isn't a bad thing for a woman who has businesses that depend on her exposure. Her hit mobile game, "Kim Kardashian: Hollywood," developed by Glu Mobile (GLUU) , has been downloaded nearly 23 million times since its June release. It raked in more than $43 million during the September quarter, according to the company's earnings report.
"Kim reflects all the things we hate about society and reality television ... but she is also widely successful at it," Solis said.
And so, as that final full frontal photo suggests, Kim is laughing at the Internet -- because we all care darn so much.
--Written by Jennifer Van Grove in San Diego, Calif.
>Contact by Email.