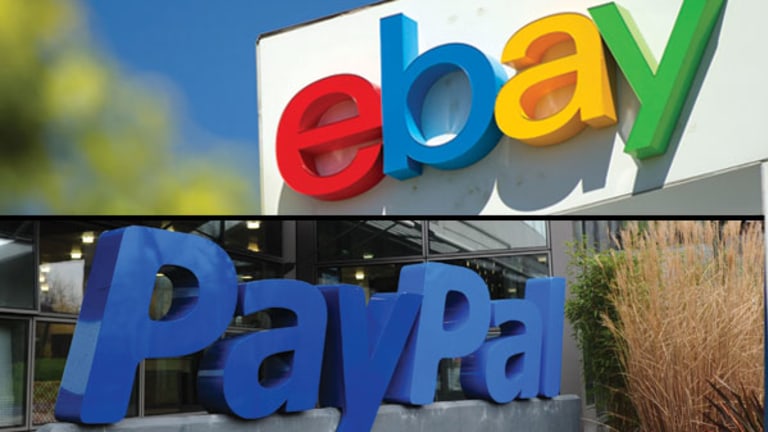 Just How Much Is PayPal Worth as an Independent Company?
That question apparently even baffles Wall Street. There's no consensus among analysts on whether spinning off PayPal from eBay will unlock additional value.
NEW YORK (TheStreet) – eBay (EBAY) - Get eBay Inc. Report  is set to spin off PayPal into an independent company by the end of the year, which begs the question, just how valuable is PayPal on its own?
For Baird Equity Research analyst Colin Sebastian, the answer to that question is obvious -- he believes PayPal is undervalued and that untethering it from eBay, which today has a market cap of around $65 billion, will reveal its true worth. 
"Benefiting from strong network effects and an early leadership position, PayPal is, in our view, a juggernaut in online payments, with a defensible position in an attractive and fast-growing market," Sebastian wrote in a research note.
Yes, PayPal faces competition from financial companies like Visa (V) - Get Visa Inc. Class A Report and MasterCard (MA) - Get Mastercard Inc. (MA) Report , as well as Amazon (AMZN) - Get Amazon.com, Inc. Report , Google (GOOG) - Get Alphabet Inc. Class C Report , Apple (AAPL) - Get Apple Inc. (AAPL) Report , and possibly even Facebook (FB) - Get Facebook, Inc. Class A Report . But PayPal certainly has promise. How much promise? Sebastian didn't specify how much he thinks PayPal is worth on its own, but Needham & Co analyst Kerry Rice came up with a figure: $49.6 billion. 
Like Sebastian, Rice believes there is a lot of inherent value in PayPal, and he is optimistic that the spinoff will only benefit that value.
"As a component of an organization, it probably doesn't reach its full valuation," Rice said.
PayPal revenue increased to $7.2 billion at the end of the second quarter last year from $100,000 in 2002. Rice believes that the spinoff will result in additional investment, innovation, and partnerships which could yield 27% year-over-year revenue growth in 2015.
"Independence allows them to be more flexible with partnering," Rice said. Once it is no longer tied to eBay, potential partners will "see it as less of a competitive threat and more as a true partner."
Beyond pure revenue, one of the things that makes PayPal a valuable partner is its wide network of consumers. As of the fourth quarter of 2014, 161.5 million PayPal accounts were active worldwide.
These numbers have led to much conversation about the possibility of an acquisition of PayPal once the spinoff is finalized.
However, these numbers haven't totally convinced Portales Partners analyst Lily Peabody.
"At its core PayPal is a payment processor," Peabody said. "A lot of people want to view it as a tech valuation, but I would just say personally I think a payment processor essentially processes payments. I don't think they're disrupting anything, they're just on a faster growing platform. [The space is] becoming a lot more competitive, so I don't know how much runway they have."
She worries that the large network fools investors and analysts into believing it's secure, while, in fact, PayPal will have to spend even more money to maintain those 161.5 million users in the future. It's becoming more costly to grow the brand and connect with consumers.
"I do recognize that is has decent growth when you're comparing it to payment processors out there, but I think we're beginning to see that pricing pressure from competition and the need to spend more to maintain that customer base that they have been touting," Peabody said. "So, while those are assets currently, they're definitely having to invest in order to maintain those assets and maintain that growth. The speculation around will they get bought is kind of overlooking those fundamental issues."
--Written by Rebecca Borison in New York
>Contact by Email.