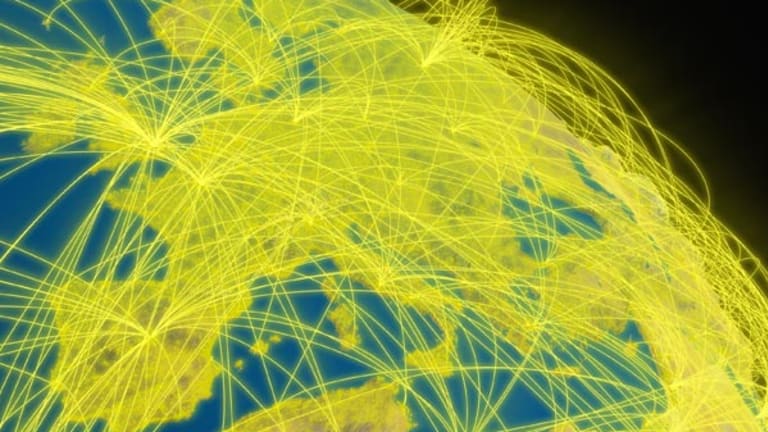 Juniper Nets Major NYSE Deal
NYSE Euronext picks Juniper to build new high-speed trading network.
NYSE Euronext picks Juniper to build new high-speed trading network.
Juniper Networks
(JNPR) - Get Report
has clinched a major deal to build a new IT infrastructure for the New York Stock Exchange, in what it describes as the world's fastest trading network.
"It's critically important to our go-forward strategy," said Duncan Niederauer, CEO of
NYSE Euronext
, during a press conference Wednesday. "This is hopefully more evidence that the NYSE Euronext group is really becoming more and more of this cutting-edge technology company."
The Exchange will place more than two hundred Juniper switches in two new data centers, one outside London and the other in New Jersey. NYSE predicts that the Juniper boxes will push the speed of its data center traffic from 150 microseconds to 50 microseconds when the sites go live next year.
"Clearly, in financial services, where time is money, every microsecond counts," said Juniper CEO Kevin Johnson, describing the NYSE sites as the "data centers of the future."
NYSE officials would not reveal the value of the deal, although they confirmed that Juniper faced plenty of competition.
"We went to all the major vendors, and some of the minor vendors," said Steve Rubinow, CIO of NYSE Euronext. "Juniper had the best response for where we saw our marketplace going."
Juniper's rivals include
Cisco
(CSCO) - Get Report
,
Alcatel-Lucent
(ALU)
and
Hewlett-Packard
(HPQ) - Get Report
, which is increasingly pushing its ProCurve products into enterprise data centers.
Cisco sent shockwaves through the tech sector when it entered the server market with its
Unified Computing System (UCS)
earlier this year, effectively
of its long-standing partners
IBM
(IBM) - Get Report
and H-P.
With the networking giant now selling servers, however, Juniper and H-P are ramping up their efforts to tackle Cisco in its back yard. H-P, for example, recently signed a 10-year
with Alcatel, and Juniper is closely involved in IBM's
strategy.
Juniper has also signed a carrier Ethernet
with
Nokia Siemens Networks
, and clearly beat some
to the NYSE deal.
Shares of the Sunnyvale, Calif.-based company have risen steadily since March, and gained 80 cents, or 3.66% during Wednesday trading, closing at $22.67.