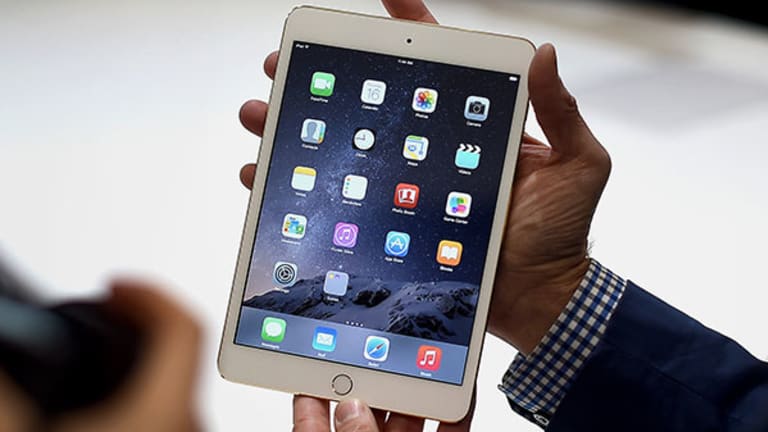 Jony Ive's Promotion Creates New Implications for Apple's Design
As Apple promotes Jony Ive, the company's longtime design guru, questions arise over what the move means for Ive, and for Apple's product-design operations.
NEW YORK ( TheStreet) -- Now that Apple (AAPL) - Get Report has promoted design guru Jony Ive to the newly created position of Chief Design Officer, speculation is likely to grow regarding the implications of Ive presumably giving up the daily handling of Apple's famous product-design operations.
So far, analysts appear to be taking a mixed view of Ive's promotion and the implications of what Ive's new role means for both his future with the company, and its product-development operations.
Tim Bajarin, of technology research firm Creative Strategies, said that by promoting Ive, CEO Tim Cook has made it easier for Ive to be more flexible when it comes to getting feedback from Apple customers and giving input into the design of all of Apple's products.
"This was a smart move by Tim Cook," Bajarin said. "Ive's center of the universe is design, not managing day-to-day operations. Making him a C-level executive frees him to spend more time on design. It is smart to put key executives under him that handle the nitty gritty of hardware and software design."
Exclusive Look Inside:
You see Jim Cramer on TV. Now, see where he invests his money and why he owns Apple in his multi-million dollar portfolio. Want to be alerted before Jim Cramer buys or sells AAPL? Learn more now.
In a statement on Tuesday, Jim Cramer said investors are trading the stock again, not owning as he's said before. "People are back to trading Apple again, and I say own it, don't trade it but if you can't stand the pain, go ring the register and move on," Cramer wrote. "We aren't budging for the trust."
Ive has been with the company for more than twenty years, first starting at Apple in 1992. His impact over the past twenty-odd years is enormous, both in terms of products and impact to the company, and ultimately, its shareholders.
Since Ive joined Apple, shares have risen nearly 6,000%, compared to a 400% rise in the S&P 500.
His first major design was the company's iMac desktop PC in 1997, shortly after Steve Jobs returned as Apple's CEO. Ive is also credited with being central to the design of the iPhone, iPad, many Mac computers and the Apple Watch. In the biography Jobs, by Walter Isaacson, Jobs described Ive's importance to Apple by saying, "He has more operational power than anyone else at Apple except me."
Rob Enderle, of the Enderle Group, said Ive's promotion is more like changing the curtains in the corner office than anything else, and likened the change to a move at another of the world's biggest tech giants.
"This is as much of a promotion as Bill Gates' move to the chief architect role at Microsoft (MSFT) - Get Report was," Enderle said.
On Tuesday, Cook said in a memo to employees that Ive had been promoted from his role as senior vice president of design, and would take on his new position with the company on July 1. Cook said that while Ive will continue to oversee the look of all Apple products, his new job reflects Ive's additional responsibilities of directing the design of Apple's retail stores, the company's new corporate campus in Cupertino, Calif. and even the packaging of Apple's products.
Apple said that Ive's everyday managerial duties for industrial design and user interfaces will be taken over by Richard Howarth, who becomes Apple's vice president of industrial design, and Alan Dye, who is now vice president of user design interface.
Ive, who is British, has wanted to move back to Europe for several years, according to Enderle. He noted Ive's promotion "should open the door to such a move," but that since Ive is so important to Apple's brand, the company was willing to do almost anything to show that his hands are still on the company's design controls, even as his role with Apple potentially diminishes.
"This appears to be a lateral move from a line to a staff job allowing others to move into his old role," Enderle said. "This kind of thing is to avoid the impression they are phasing him out while doing exactly that."
Disclosure: Rex Crum does not own stock in any of the companies mentioned in this story.