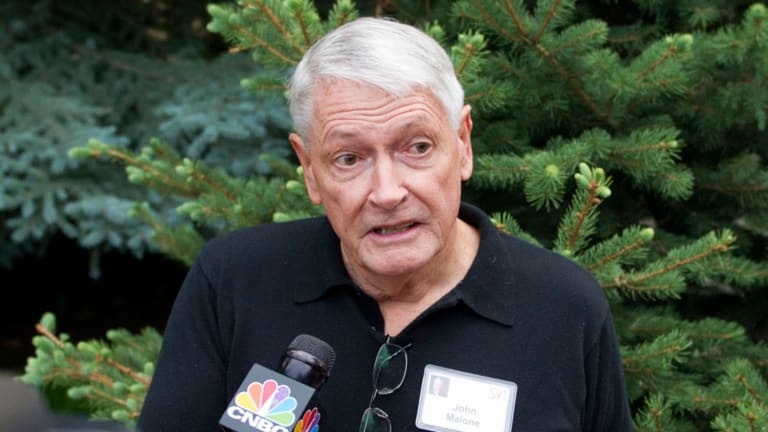 Publish date:
John Malone Rides High as Cable Cowboy Remakes Pay TV, Again
John Malone is back in the top ranks of pay TV as Charter Communications convinces Time Warner Cable to merge in a deal valued at $78.7 billion.
John Malone is back in the top ranks of pay TV as Charter Communications convinces Time Warner Cable to merge in a deal valued at $78.7 billion.
New York (TheStreet) -- John Malone just can't stay away from cable TV.
The man who all but invented the industry nearly 50 years ago is poised to return to the top ranks of U.S. operators at a time when pay-TV is being fast reshaped by consumer demand for Internet-based content.
Malone, 74, along with Charter Communications (CHTR) - Get Report CEO Tom Rutlege, is being credited with orchestrating the St. Louis-based cable-TV operator's $78.7 billion acquisition of Time Warner Cable (TWC) . Charter were gaining 2.4% to $179.44 on Tuesday extending its 12-month advance to  27%. Time Warner Cable was also climbing, adding 6.2% to $181.70.
A deal to buy Time Warner Cable, the country's second-largest cable-TV operator, is quite a coup, even by Malone's standards.
"There is no one better able to come back in right now, take the reins over, than this guy," Leo Hindery, who headed Malone's Tele-Communications Corp before it was sold to AT&T in 1999, said in a phone interview from New York. "You want Edison around when you come up with a new light bulb, and he's no different for the cable-TV business."
Two years ago, Malone's Liberty Media took a 27% stake in Charter, a pay-TV operator that held just 4.2 million subscribers. Since then, Charter has increased its size to 5.9 million subscribers. The Charter investment, Hindery said, fulfilled Malone's desire to have a vehicle to re-enter a cable-TV industry.
Back in the 1970s, the Yale and Johns Hopkins-educated Malone took a job at McKinsey & Company, a position that led to his hiring as president of Jerrold Electronics, which was selling equipment to retransmit broadcasters over-the-air signals to local antennas.
"John shows up in the 1970s and says, this can be a lot more," said Hindery, who credits Malone with coining the phrase "cable-television," and with the advent of ESPN, CNN and HBO, the term "multi-channel TV." "He was in his 30s, and he became an absolute visionary for an industry that at that point was nothing more than thew re-tranmission of poor broadcast signals." 
From Jerrold, Malone created TCI, laying the original groundwork for much of the country's cable-TV services. But while the industry grew, margins at TCI slowed, Hindery said, and by the late-1990s, Malone was being pressured by his shareholders to sell the company.
So, in 1998, at the top of the market, AT&T (T) - Get Report under then-CEO C. Michael Armstrong agreed to a $48 billion acquisition of TCI that was lauded as an historic foray into offering phone, Internet access and cable-TV. The triple-play was born.
Armstrong wanted to use TCI's cable wires to add local telephone service to a company which at the time was the country's largest long-distance phone operator. Distinctions between local and long-distance phone service seem quaint some 17 years later, and may serve to explain why AT&T struggled to integrate TCI's broadband assets.
By 2001, AT&T was forced to sell most of those operations to Comcast (CMCSA) - Get Report.
Malone, on the other hand, took profits from the TCI transaction to aggressively expand his international telecom holdings, largely held by Liberty Global (LBTYA) - Get Report. The company currently bills itself as the world's largest cable-TV operator with holdings in the U.K., Germany, Poland and Chile, among other countries.
Malone also diversified his media investments, buying stakes in Discovery Communications (DISCA) - Get Report, Starz (STRZA) and more recently Lions Gate Entertainment (LGF) .
"John is a shareholder's CEO," Hindery said. "He has done right by his shareholders again and again and again. He's also the greatest visionary of the multi-channel industry."
If regulators approve Charter's deal for time Warner Cable, and a separate agreement to acquire privately-held Bright House Communications, it stands to grow to 23 million customers nationwide, well within striking distance of industry leader Comcast at 27 million.
The Time Waarner Cable transaction, said Matthew Harrigan, a media analyst at Wunderlich Securities, is likely to be seen as a "career capping deal."
With Malone, though, you never know when he'll be back for more.