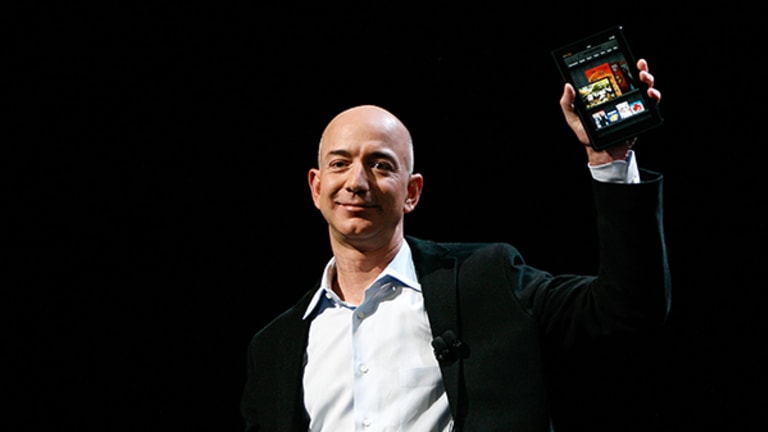 Jeff Bezos' Most Important Project Is Amazon Prime, and Everyone is Watching
Wall Street will judge Jeff Bezos's increasing number of projects by the success of Amazon Prime.
NEW YORK (TheStreet) -- Amazon (AMZN) - Get Amazon.com, Inc. Report CEO Jeff Bezos has a lot on his plate, whether it is the company's recent entrance into the smartphone market connected-TVs or his long-term plan to create a fleet of delivery drones and more personally, make the Washington Post really grow online.
However, Wall Street will ultimately judge Bezos's myriad of projects by the success of Amazon Prime.
A Prime membership was once simply a way for users to ensure the free two-day shipping of their online orders. Now, it membership includes access to over a million songs, Kindle book libraries, movies, TV shows and original programming. Amazon's release of its Amazon Fire TV and the upcoming launch of its Amazon Fire Phone, in addition to the company's line Kindle Fire tablets, all add to the prominence of Prime within Amazon's strategy.
Herman Miller Remodeling Continues in DWR Deal
Cliffs Natural Resources Heads to Shareholders

eBay Is Smartly Treating StubHub Like Uber
Amazon's goal, it increasingly appears, is to increase loyalty among its customers, making the company an increasingly sticky player in the e-commerce market. If spending on music or original TV programming translates into higher spending or purchase volumes among consumers, Amazon may recoup its costs. Meanwhile, e-commerce remains a market that is early in its development, giving companies like Amazon an incentive to sacrifice current profits for longer-term market share gains.
But, if Amazon is casting a wide net on its investments, Wall Street analysts might alternatively focus upon Prime membership figures to judge whether Bezos's efforts are succeeding.
"Prime is arguably the most valuable and important trend for Amazon," Deutsche Bank analyst Ross Sandler said in a Monday note that focused on the business.
With an estimated 32 million customers, Prime accounts for about 50% of Amazon's gross merchandising volumes, according to Sandler's calculations. Prime users also are forecast to account for 13% of Amazon's total users, with gross merchandising volumes (GMV) of around $2,500 per Prime member. While over Prime member GMV's may fall as membership accelerates, Sandler calculates that total members are growing 45% year-over-year.
Sandler says Prime may create a competitive "moat" around Amazon's e-commerce business, helping the company strengthen its market position. He forecasts Prime could reach 100 million members by 2020, causing the business to be the largest source of value for Amazon shareholders.
As with most of Bezos's new projects, Prime is expected to drag on Amazon's overall profits for the coming few years, however, it may be a tradeoff worth making for the company.
"Some investors are temporarily frustrated by Amazon's consistent philosophy in investing for the future at the expense of today's margins. However, we estimate a lifetime value for Prime customers at over $1000 in contribution profit, obviously a metric that the company is focused on versus near term margins. At current pace, Prime could reach 100 million customers by 2020, and even at 70% of the LTV capture it would amount to $70 billion in value, or nearly have of Amazon's market cap today," Sandler concludes.
Bottom Line: If Amazon isn't judged on profits or profit margins, Wall Street may increasingly focus on Amazon's overall Prime membership and disclosures the company makes on transaction activity per account.
-- Written by Antoine Gara in New York