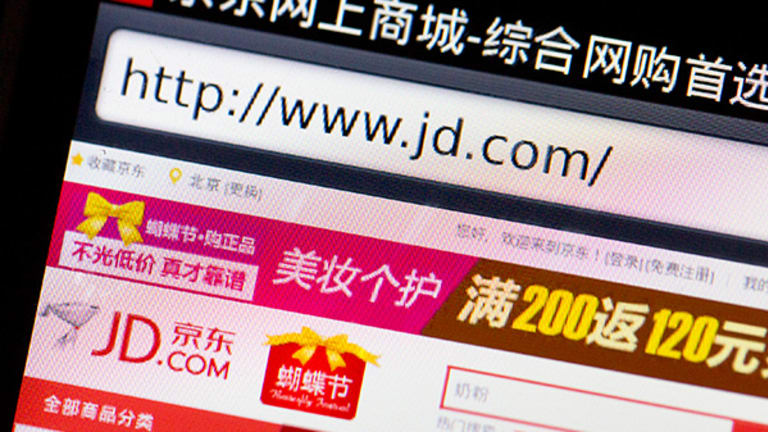 JD.Com Is Slowly Gaining On Alibaba With Chinese Consumers
A recent survey shows that JD.com is catching up to Alibaba in terms of popularity among Chinese consumers.
NEW YORK (TheStreet) -- JD.com (JD) - Get JD.com Inc. Report has long been known as Alibaba's (BABA) - Get Alibaba Group Holding Ltd. Report smaller rival in the Chinese e-commerce industry, but a new survey from the Financial Times research firm China Confidential shows that JD is making some progress.
The quarterly survey asks nearly 2,000 Chinese online shoppers which online sites they most regularly use and allows to them to select up to two answers. While Alibaba's consumer-to-consumer marketplace Taobao has maintained its lead over the past three years, JD is slowly but surely inching up.
Alibaba's business model can be compared to eBay (EBAY) - Get eBay Inc. Report in that it solely serves as a platform for third-party sellers, and JD can be compared to Amazon (AMZN) - Get Amazon.com, Inc. Report in that it sells both third-party products as well as its own products. Alibaba is made up of three different marketplaces, two of which were listed separately in the China Confidential survey--Taobao (which sells products from businesses) and Tmall (which sells products from individual consumers).
JD has surpassed Alibaba's business-to-consumer marketplace Tmall, with 44.9% of respondents saying they regularly use JD, and 36.3% of respondents saying they regularly use Tmall. This represents a jump of 8.3 percentage points year over year for JD and 7.9 percentage points over the last quarter. It also translates to JD's highest performance in the survey since 2011 when China Confidential first began conducting these surveys. Tmall, on the other hand, has dropped 0.7 percentage points in the last quarter.
And even though Taobao maintains its lead with 50.6% of respondents saying they use it regularly, it has dropped 4.2 percentage points year-over-year and 1.5 percentage points over the last quarter.
Taobao and Tmall combined show Alibaba's overall dominance, with 87% of respondents regularly using Alibaba marketplaces, but this still shows a slight decrease from 89.2% in the last quarter and Alibaba's peak of 90% in the second quarter of 2014.
Though Alibaba's market control is still unchallenged, the rise in popularity of JD is promising for the company and shows that even if it remains a smaller operation compared to Alibaba, it can still capture a large audience of Chinese consumers.
One of the factors that may be contributing to JD's growth is its success on the fulfillment side. Unlike Alibaba, JD controls the delivery of its products, similar to Amazon (AMZN) - Get Amazon.com, Inc. Report, which makes it easier for the company to ensure speedy, efficient delivery to more locations in China. As JD increases its delivery and pick-up stations, it increases its presence in lower-tier cities in China, improving the company's reach and efficiency.
More than 80% of JD deliveries took place on the same day the order was placed or the following day. It provides same-day delivery in 134 counties and districts and next-day delivery in another 866 counties and districts.
Alibaba, on the other hand, outsources its delivery through its logistics arm Cainaio's 13 partners.