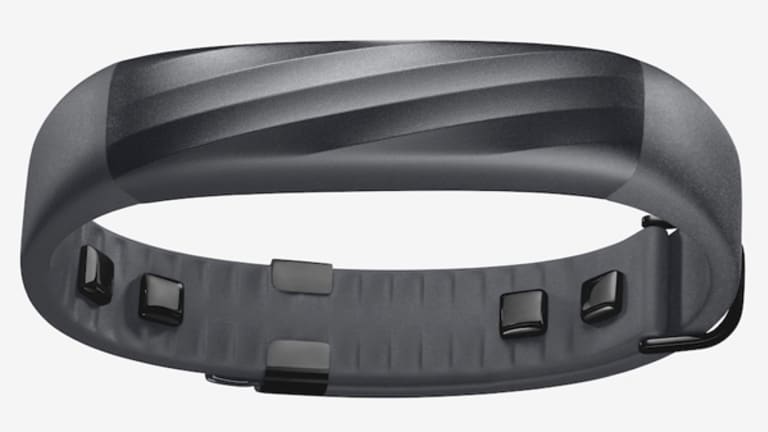 Jawbone UP 3 Activity Tracker: Good Hardware, Great Software
Deceptively simple on the outside but loaded with features to help you reach and improve your fitness goals
NEW YORK (TheStreet) -- The UP 3 is Jawbone's top-of-the-line, fitness-only band. It's a complex device with a very simple, almost non-existent, display. The real genius of the UP 3 is the excellent software Jawbone provides to control what it can do.
When it comes to its look and size, the UP 3 is surprisingly similar to the XiaomiMi Fit  fitness band. Both devices are thin, plain wristbands with three colorful LED indicators to alert you to specific functions. They will both measure the number of steps you take and monitor your sleep. However, the UP 3 does a lot more, as you might expect, since it sells for $180. The Xiaomi, in contrast, can be purchased online for as little as $12.
Not only can the UP 3 can track your exercise sessions, such as workouts as well as calorie burning, it can also track your sleep functions, ranging from rapid eye movement (REM) light sleep to deep sleep. The device can also measure your heart health like determining your resting heart rate and more.
The UP 3 can carry out these functions because it can be connected via Bluetooth and controlled with a best-in-its-class app to versions of Apple's (AAPL) - Get Apple Inc. (AAPL) Report iOS and Google's (GOOG) - Get Alphabet Inc. Class C Report Android devices. With the app, users can see what they've accomplished, as well as log the food that they have eaten. By following suggestions made by the software, users can stay on the road to better results.
The UP software is the best feature of all Jawbone fitness band products. It's the same software used with the company's $50 UP Move tracker. The software is capable of doing more with the Up 3 because that device can accomplish more. The app informs you of your fitness, encourages you to work harder and suggests options to consider to improve your results. The UP software even praises you when you reach your predetermined goals and the app is always upbeat - even when you fall short of your daily goals.
Jawbone's UP 3 is very comfortable to wear, but a pain to open and close. The complicated slide-out latch took a number of tries to figure out and remained a stumbling point even after weeks of getting used to operating the latch. This point is important because you need to remove the device to recharge UP 3's internal battery pack at least every six to seven days between charging sessions. Compare that frequency to every two days for the Microsoft (MSFT) - Get Microsoft Corporation (MSFT) Report Band, two months for the Xiaomi band, or six months for the Jawbone Jambox Move's user-replaceable button battery.
UP 3 comes with a 4-inch long USB charging cable to attach to a computer or an optional A/C charger. It connects magnetically to the back of the band although not as smoothly, or easily, as Microsoft's connecting system.
Unfortunately, the UP 3 doesn't tell time, while the Microsoft Band, Apple Watch, Android and Pebble watches and Fitbit's (FIT) - Get Fitbit, Inc. Class A ReportCharge do. It's a nice feature to have in a device that sits on your wrist. Having a time readout would keep users from fumbling for their smartphones to find out the time. The Microsoft and Apple watches can also advise users of incoming mail and phone calls.
So, there's a lot to consider. Overall, Up 3 is very comfortable to wear and does what it sets out to do with a minimum of fuss or bother. While the hardware is unobtrusive and mostly benign, with the exception of a need to consider a better latch design, it's the software that shines and makes this personal tracker worthwhile for your consideration.
Hardware Score: 8.3/10
Software/App Score: 8.8/10
Overall Score: 8.5/10
This article is commentary by an independent contributor. At the time of publication, the author held no positions in the stocks mentioned.