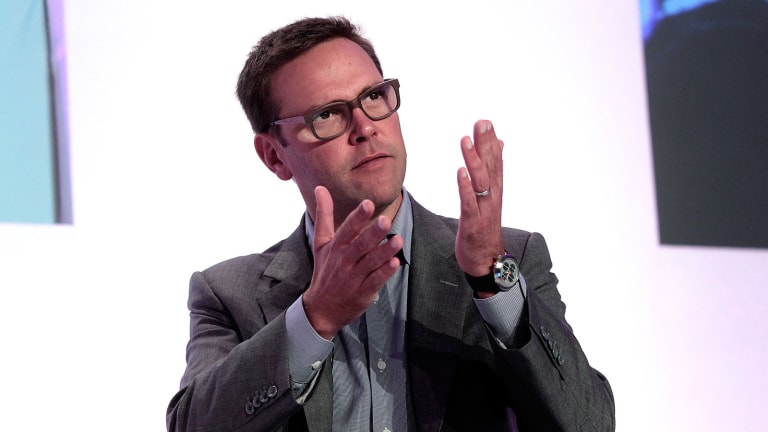 NEW YORK (TheStreet) -- James Murdoch is no longer a sidekick at 21st Century Fox (FOXA) - Get Fox Corporation Class A Report.
Wednesday's earnings announcement after the closing bell will be the first time James, the 42 year-old son of the mass media corporation's patriarch, Rupert Murdoch, headlines the Fox earnings call since officially taking over as chief executive on July 1.
James Murdoch and older brother Lachlan, 43, got promoted by their Australian-born father at a time when Fox has seen its advertising revenues slip along with the rest of the broadcast television industry. Fox's revenue was roughly flat in the quarter ending March 31, but advertising revenue at the Fox broadcast network dropped 7% due to lower ratings compared to the previous year.
Fox shares have lost 10.61% year-to-date, as of the market's close on Tuesday.
Fox has a "long, hard fight" ahead if it wants to reverse falling broadcast ad revenue, said Barton Crockett, senior research analyst at FBR Capital Markets. But James Murdoch is younger than other major media company CEOs, Crockett added, which might help him catch investor interest with an aggressive move into online media instead.
"It gives him credibility to speak about what's happening with the Internet and what that means with major media companies like Fox," said Crockett in a phone interview with TheStreet. "I haven't heard enough out of Fox to get people really excited about what they're doing online, so that's something to listen for on [Wednesday] night."
Cable television is Fox's biggest division and its movie studio remained strong last quarter. But poor advertising revenue on broadcast and rising production costs caused net income at Fox to fall to $975 million from $1.05 billion during the same period a year earlier.
Major events have boosted Fox this quarter. In June, the company enjoyed a $40 million windfall from advertising revenue during the FIFA Women's World Cup, more than double what the network had predicted. A competitive Republican presidential primary season likely spells higher demand for advertising space on Fox News, a cable channel.
But there has also been bad news for the networks this summer. Bernstein Research data found that the broadcast networks' audience from July 20 to July 26, 2015 was 10% lower compared to the same week last year. Fox was the largest share loser with an 18% fall.
"There are no excuses this week -- no major comparability issues to hide behind," wrote senior media Todd Juenger of Bernstein Research in the August 3 note, adding that absolute viewership among the broadcast networks had hit a three-year low, which is as far back as Bernstein keeps data.
Broadcast television lost $960 million in ad revenue to digital platforms from October 2014 to June 2015, according to an analysis by the Standard Media Index, an agency that tracks global advertising spending.
"We're not the first broadcast network to fight through a turnaround, and we are confident we are on our way," said Chase Carey, then Fox's president and chief operating officer on a call with analysts in May. Carey will remain as Fox's executive vice chairman for another year as the Murdoch brothers transition to their new roles.
James Murdoch, who was co-COO to Carey at the time, echoed the remark and said his team was "very, very confident" that Fox would continue to make great content as they face increasing competition.
"They've been executing very well," Murdoch said of Fox's creative talent. "But it's not really a question of a volume game, it's a question of how do you make stuff that's genuinely distinctive in that environment where you have so much consumer choice?"