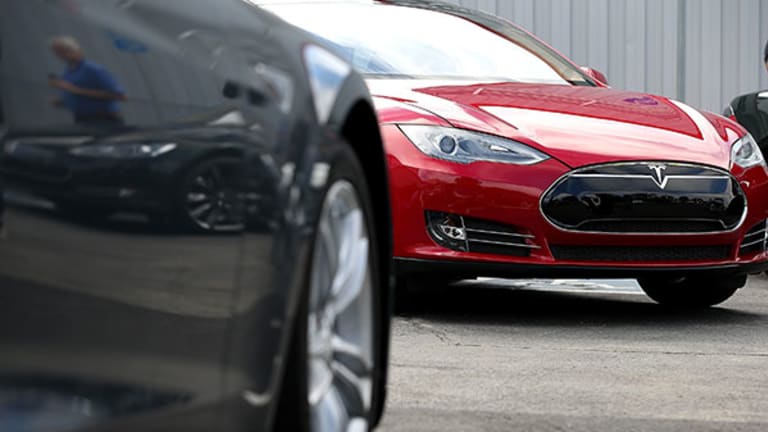 Dyson Will Start Making Electric Cars to Challenge Tesla's Elon Musk
Welcome to the electric car business, Sir James Dyson. The well-known inventor is throwing his hat into the ring.
Two big-name inventors are about to go head on in the business of electric cars. 
Dyson founder Sir James Dyson said Tuesday the company will start selling an electric car in 2020. About 400 people at Dyson's U.K. headquarters are working on the project, according to the BBC. Dyson will reportedly invest more than $1.3 billion initially in the project.  
The move shouldn't be a shocker by any means.
The vacuum and hairdryer maker hired Ricardo Reyes, Tesla's (TSLA)  former head of communications, to run public relations last year. 
Meanwhile, Dyson has been keen on trying to solve the problem of quickly dying rechargeable batteries for its cordless products. It plans to invest a whopping $1.42 billion in developing new battery technology over the next five years in order to increase the amount of time a consumer can use its cordless products without a charge. As part of that investment, Dyson acquired Michigan-based solid state battery technology outfit Satki3 in 2015.
"Some of the technologies we are working on, such as solid state [batteries], are a leap from today, and like all transformational technology it's all very challenging work -- if it were easy, somebody would have done it already," Dyson CEO Max Conze told TheStreet in an interview. "[Better batteries are] probably one of the most meaningful 21st century technology breakthroughs the world needs," Conze added.
Dyson told TheStreet last year he is far from done thinking up big ideas.
"I think technology is just starting," Dyson said to TheStreet in the below interview, adding, "We are employing lots of people to do vision systems, robotics, and interpreting pictures."
And now, that looks to include cars. 
Don't miss these top stories on TheStreet: