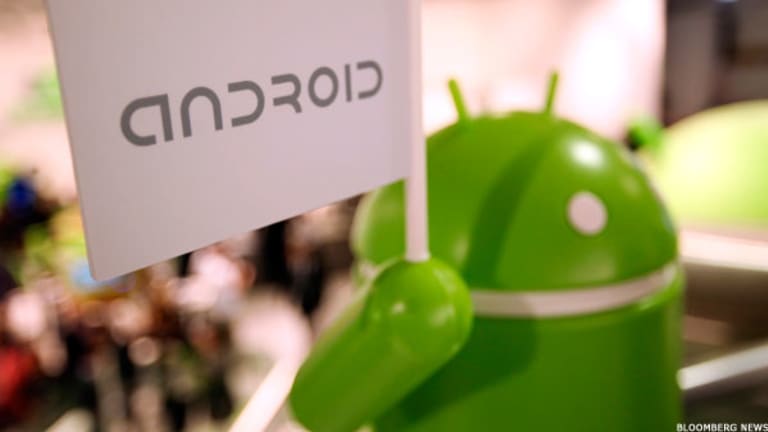 It's Google's Turn to Dazzle at This Week's I/O Conference
Expect an big upgrade to the Android OS, some new tablets and smartwatches -- and quite a few jabs at Apple.
NEW YORK (TheStreet) -- Now it's Google's (GOOG) - Get Alphabet Inc. Class C Report turn to brag -- Google's turn to dazzle us and let the world know what it's working on. This week, the annual Google I/O developers conference will be held in San Francisco and we expect to get a better idea what nifty ideas to expect from the company in the coming year and beyond.
Google's annual show and tell comes just a few weeks after Apple's (AAPL) - Get Apple Inc. Report similar World Wide Developers Conference, also held at San Francisco's Moscone Center. Expect many of the announcements to mirror, in many ways, what its chief rival is working on.
In previous I/O gatherings Google has introduced a number of new ideas and products which have gone on to mass acceptance such as Chromebooks, the inexpensive laptops and desktops based on the company's Chrome Web browser; Nexus tablets, especially the very affordable and successful Nexus 7; the $1,500 wearable computer Google Glass; and, of course, the newest features coming to its Android and Chrome operating system.
Some of the things Google will brag about are pretty easy to predict. Definitely expect a lot of talk about the next, greatest version of the Android operating system, Android 5.0, nicknamed "Lollipop." People in the know say 5.0 will be a big overhaul of the user interface and home screen possibly on the scale of what Apple has announced for the next version of its smartphone/tablet software iOS.
The new and improved OS is also rumored to support fingerprint recognition as well as multiple improvement to the Hangouts messaging environment.
But, as always, the flashiest news will come from hardware side of the announcements. This year is expected to be the year of Google smartwatches. Actually its an entirely new platform of wearable computing devices called "Google Wear."  For months, Motorola (soon to be part of Lenovo) smartwatch prototypes have been "leaked" on the Web. Others will join in on the fun. Expect Samsung and LG to be part of the new smartwatch brigade. Google Wear will make the third smartwatch operating system Samsung has tried within a year -- Android, its homegrown Tizen and now Google Wear.
Of course, the announcement will be timed to beat Apple and its iWatch to the punch. The iWatch is expected to be announced this fall.
As for Google's other wearable computer system, we should hear more about what's happening with Google Glass -- what features are being added and whether the price will ever drop from its lofty $1,500+ sticker price.

We also expect to hear about upgraded tablets -- maybe a successor (possibly made by HTC) to the Nexus 7, a Nexus 10 to challenge the iPad Air and a some new Chromebooks/Chromeboxes, including a super-exclusive, top-of-the-line, second-generation Pixel 2.
We might even hear about an in-car computer system to rival Apple's new Car Play, an upgraded Chromecast video dongle, and we're bound to see the first examples of Google's modular smartphone system called Project Ara, but nicknamed the Lego phone because of its looks.
And, Google should have a lot more to say about Nest the home automation experts as well as Google Fiber, Google Satellites, Google Drones and all of the other projects the company is working on.
Seth Shafer, an analyst at SNL Kagan says he has no "secret insight" into what Google has planned but believes we'll hear at least three important announcements coming out of Google I/O conference:

Launch of Android Wear, a Google operating system for wearable technology
Launch of Google Fit, a health tracking service that competes with Apple's HealthKit service that it unveiled at its recent WWDC conference
Update on the status of Google's smart home offerings and initiatives via Nest as well as the recently announced acquisition of Dropcam
In Q1/2014 Google announced earnings of $6.27 a share before costs (like the sales of its Motorola Mobility division to Lenovo) on gross revenues of $15.4 billion and net revenues of $12.19 billion after paying commissions to Web traffic partners but disappointing analysts who expected a profit of $6.33 a share on gross revenue of $15.6 billion.
Google is expected to release its second quarter numbers on or around July 17.
Apple's iWatch May Need FDA Approval - and That's a Good Thing
Oracle Inks $5.3B Deal for Micros
-- Written by Gary Krakow in New York.
To submit a news tip, send an email to tips@thestreet.com.
Gary Krakow is TheStreet's Senior Technology Correspondent.