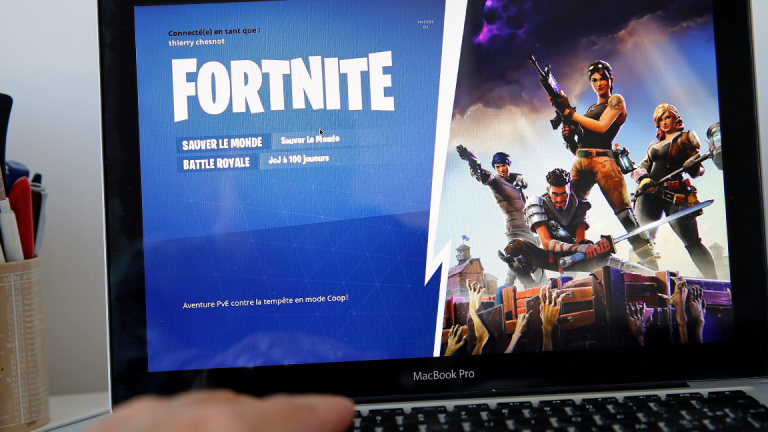 Publish date:
Fortnite Is Dominating the Video Game Industry: 5 Things You Must Know
E3 is a month away. What does that mean? Well, it's time to talk video games.
E3 is a month away. What does that mean? Well, it's time to talk video games.
Let's talk video games. Between Fortnite's domination and the market hitting Activision Blizzard Inc. (ATVI) - Get Activision Blizzard, Inc. Report , Electronic Arts Inc. (EA) - Get Electronic Arts Inc. Report and Take-Two Interactive Software (TTWO) - Get Take-Two Interactive Software, Inc. Report , there's a lot going on in such a small space. 
Oh, and let's not forget E3.
Rage 2: Why Bethesda?
Bethesda is slated to release a new game. And, no, it's not the next Elder Scrolls or Fallout.
On Monday, Bethesda Softworks LLC officially dropped the trailer for Rage 2. The gaming giant will be publishing the game—which is a sequel to a game of the same name that was released in 2011.
The game is produced by id Software. While game reporters were initially surprised at the teasing of a game that reaped lukewarm reviews, the game has been revamped. The trailer shows a world that looks very similar to Mad Max, but with cooler guns.
Sorry, Bethesda fans, sounds like any news about Bethesda's more popular games will have to wait 'til E3.
E3 2018 Is Coming.
The Electronic Entertainment Expo, aka E3, is a month away. 
The big (and little) gaming producers and publishers will come together in Los Angeles to show off the games that they've been working on. For gamers, it's a look at what's coming next year and for investors, it's a chance to see if any of the games look like they could take down Fortnite. 
No, but really, it's a chance to take a look at the game lineups for companies such as the big 3—Activision Blizzard, EA and Take-Two.
The gaming giants will have announced their earnings ahead of E3. So investors can take a look back at how they did this past fiscal year, and see what their next plans are. 
Take-Two to Announce Its Earnings.
Take-Two Interactive Software is set to announce its earnings on Thursday, May 17.
Analysts have predicted that Take-Two will announce revenue of $445 million for the quarter and earnings of 0.63 a share.
EA, Activision and Take-Two have seen dents in their earnings thanks to Fortnite, which has taken the world by storm.
The Loot Box Conundrum
Fortnite is huge right now. But it's not just the game that people are obsessed over.
And—cough, cough—EA, Activision and Take-Two, Epic Games designed its Battle Royale system to be profitable off of its battle passes instead of loot boxes. (Note: Fortnite's Save The World mode does include loot boxes, but the Battle Royale mode is more popular.)
Not quite sure why this is a big deal? Well, loot boxes in games have become a big deal in the news recently. In April, the Netherlands Gaming Authority found some publishers in violation of gambling laws.
U.S. states have also spoken out against loot boxes, stating that they violate state gambling laws. Some of the states include California, Hawaii, Minnesota and Washington. The Electronic Software Rating Board (ESRB) has publicly stated that it does not believe that loot boxes count as gambling.
Government bodies are not the only ones speaking out against loot boxes—players have also come out against loot boxes, stating that companies are giving players who are willing to shell out money an unfair advantage. And Fortnite, which has not had a problem making money without the classic approach, has proven that loot boxes are no longer necessary when trying to keep an online co-op profitable.
All the Cool Kids Are Playing Fortnite.
Fortnite has been a wild success and it has taken the world by storm for its unconventional approach. Despite the lack of loot boxes, it's also free-to-play. Most gamers have to drop $20-60 when a new game comes out, but not for Fortnite.
But why is the game such a phenomenon? Breaking away from finances for a minute, the game is a lot of fun to play. It's ridiculous in its nature, which is helpful to bring in new players. Currently, Fortnite is appealing to Marvel fans everywhere with its Avengers: Infinity War crossover. Perhaps the game's ability to appeal to such a wide variety of gamers—and perhaps non-gamers too—is where it has found an untapped niche. But, hey, I'm not here to speculate.
The shocking success of Fortnite has forced the stocks of major game producers to dip.
Activision held steady at $71.70 a share, EA was down 0.2% at $132.53 and Take-Two was down 1.5% at $114.40 when the market closed on Monday.