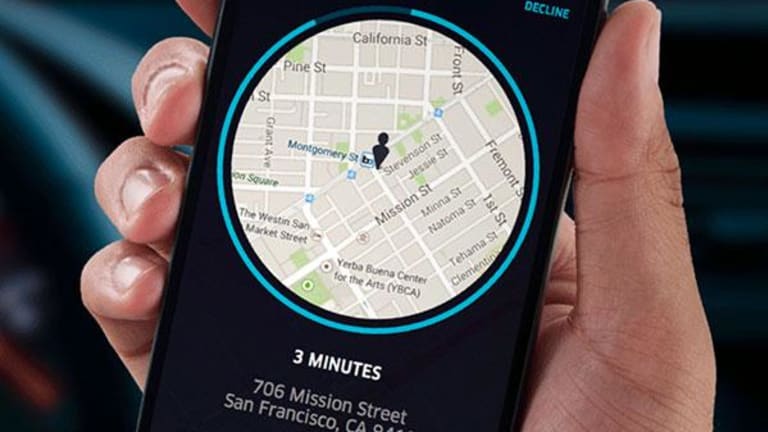 Is Uber Only Worth $28 Billion, Not $62.5 Billion? -- Tech Roundup
One analyst suggests Uber is worth more than 50% less than its most recent valuation. Do you know China's largest tech company? (Hint: it's not Alibaba).
Is this as good as it gets for Uber? Of course, a company is always worth what someone is willing to pay for it and given investors' craving for growth in a low-interest rate environment, Uber could command a higher valuation in its next funding round. 
After all, it has stated that it's profitable in many markets and is now making waves in the self-driving car market. 
However, that hasn't stopped at least one person from raising issue with its current valuation, which stands at $62.5 billion. Aswath Damodaran, a professor specializing in equity valuations at New York University's Stern School of Business, believes the company's true valuation is lower. 
While Damodaran acknowledged that it's hard to piece together all the necessary information from private companies, he still made the case that its true valuation was actually $28 billion, almost 55% below its most recent valuation.
He raised profitably concerns, posed questions about the business model and reasoned that its employee/contractor situation could change in the future. Those were among just a few of the concerns Damodaran mentioned in his reasoning. 
If an IPO is in store, it will be interesting to see if Uber will be able to command a similar or higher valuation than it currently has. Private investors like IPOs to exit their positions at a profit. But at more than $60 billion, the company is valued higher than 80% of the S&P 500. 
Trivia Question: What's China's most valuable tech company? 
Did you answer Alibaba (BABA) - Get Alibaba Group Holding Ltd. Report ? That's what I would have said, until I saw the financial news this morning. In fact, Tencent (TCTZF) (TCEHY) has actually overtaken Alibaba for the largest market cap among tech stocks in the country. 
The move actually (definitively) happened in May, but once Alibaba reported solid earnings results, the stock shot higher and reclaimed the helm this month. However, it's spot among the top was short-lived, after Tencent reported its own blowout quarter. The news propelled share higher to new all-time highs and edged Tencent's market cap toward $250 billion. 
For Alibaba's part, the tech titan sports a market cap around $240 billion. It wouldn't be surprising to see these two companies go blow-for-blow and alternate as the largest Chinese tech company. Will Alibaba have more gas headed into Single's Day though? Only time will tell.
Tencent reported 35.69 billion yuan in revenues, trumping estimates of 33.2 billion yuan and showing a whopping 52% year-over-year improvement. Operating profit of 14.33 billion yuan climbed 43% YOY. Talk about impressive. 
Shares of Alibaba closed at $97.00 Thursday, flat from the prior session. 
It's been an up-and-down world for Skullcandy (SKUL) investors since the company went public. Well, mostly down. After going public in 2011, shares are lower by more than 67%. And while the share price is down year-over-year, the stock is actually up 35% on the year. Part of that driving factor has been the M&A potential for Skullcandy. 
In June, it was announced that Incipio would buy the company for $5.75 per share. Then, three days later on June 27th, it was announced that Mill Road Capital came in with a superior bid of $6.05 per share. 
For its part, Mill Road, at that time, had acquired a 9.8% stake in the company. Upon further review, the company has now announced Mill Road has offered an even superior offer, coming in at $6.35 per share. 
Incipio now has five days - until August 23rd - to submit a revised offer. Depending on when investors got involved, the buyout price offers either a grand return on investment (the 52-week low is $2.75) or a terrible lowball, (its all-time high was north of $18). 
Shares of Skullcandy closed at $6.41 Thursday, flat from the prior session. 
This article is commentary by an independent contributor. At the time of publication, the author held no positions in the stocks mentioned.