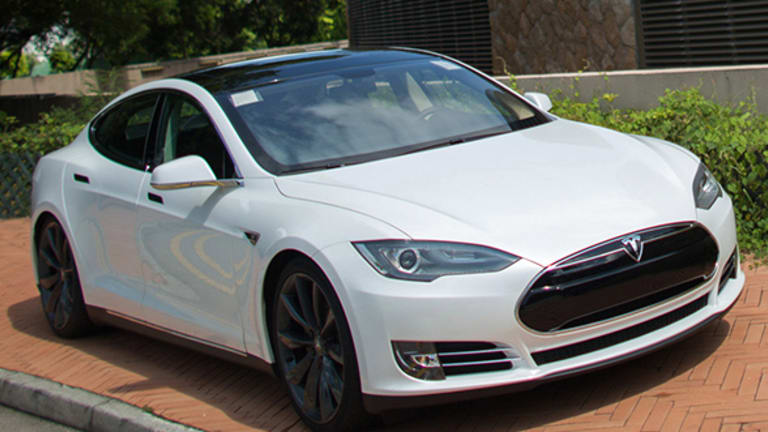 Is Tesla Building Its Own Uber? Morgan Stanley Thinks So
Elon Musk refused to answer whether Tesla was creating its own Uber, but Morgan Stanley gives the as-yet-to-be announced service a name - Tesla Mobility.
Updated from 8:51 a.m. to include comments from Jim Cramer in the seventh paragraph.
NEW YORK (TheStreet) -- Tesla Motors (TSLA) CEO Elon Musk may have refused to answer a question about the company creating its own Uber-like service, but Morgan Stanley has given the as-yet-to-be announced business line a name -- Tesla Mobility.
In a note upping his price target to $465 from $280, analyst Adam Jonas describes Tesla Mobility as a "app-based, on-demand mobility service."
Though Musk has not given any indication of creating such a business, Jonas has noted such a possibility could allow Tesla, the electric carmaker, to "conceivably more than triple the company's potential revenues by 2029." Timing on the service could be within the next few years, perhaps as soon as 2018, after Palo Alto, Calif.-based Tesla launches the Model 3, the company's mass-market electric vehicle.
Speculation about Tesla creating its own Uber-like platform first appeared after Jonas asked Musk a question on the company's second-quarter earnings call about the possibility of Tesla going direct to consumer for ride-sharing and cutting out the middle man.
Jonas: Hey, Elon, Deepak. First question. Steve Jurvetson was recently quoted saying that Uber CEO Travis Kalanick told him that if, by 2020, Tesla's cars are autonomous, that he'd want to buy all of them. Is this a real -- I mean, forget like the 2020 for a moment -- but is this a real business opportunity for Tesla, supplying cars to ridesharing firms, or does Tesla just cut out the middleman and sell on-demand electric mobility services directly from the company on its own platform?

Musk: That's an insightful question.

Jonas: You don't have to answer it.

Musk: I think -- I don't think I should answer it.

Jonas: Okay. Let's move on. Second question is, there's been -- sometimes you can tell more from the non-answer than from the answer.
Tesla recently announced an equity offering of $600 million, with Morgan Stanley as one of the underwriters. As part of the offering, Musk would be buying $20 million in common stock.
Shares of Tesla were surging in early trading on Monday, gaining 3.8% to $252.52.
TheStreet's Jim Cramer, Portfolio Manager of the Action Alerts PLUS Charitable Trust Portfolio, commented on Tesla this morning saying, "I don't like excessive price tags because they cause excessive hope. I thought the idea of Tesla and the shared economy was a good one, but not so good that it merited this kind of price increase."
Not only would the service allow Tesla to generate revenue from selling electric vehicles and its up-and-coming Tesla Energy business, but it may also capture revenue from selling miles, much as taxis do.
The electric vehicle company, whose mission is to further "accelerate the transition to electric and renewable and sustainable energy," would see a shared mobility model as critical, Jonas noted. "Tesla has been the most outspoken auto company on the use of autonomous technology to improve inefficiencies and safety of today's road transport," Jonas wrote in the note.
All of Tesla's cars are connected to the Internet, with the ability to have over-the-air software and firmware updates, which puts Tesla ahead of other automakers when it comes to making changes and updates. "In addition, Tesla is developing a vast proprietary, company-owned charging and service infrastructure -- ostensibly to service its current product offering, but well-positioned for fleet management in a shared mobility model."
In addition to the company's software expertise, Jonas believes that Tesla is well-positioned in four other areas that make the possibility of a shared-car service possible -- vehicle design and engineering; leadership in connected car; battery/electric powertrain expertise; and the company's infrastructure network, including its Supercharger network.