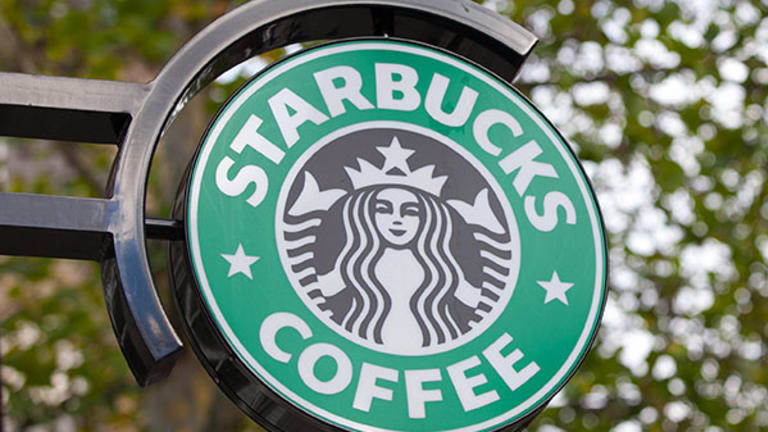 Is Starbucks' Howard Schultz Setting Up a Succession Plan?
Starbucks said late Wednesday that it was promoting CFO Troy Alstead to a newly created position of chief operating officer to oversee day-to-day operations, as CEO Howard Schultz focuses more on company innovation and the next generation for retailing and mobile payments.
NEW YORK (TheStreet) - Starbucks (SBUX) - Get Starbucks Corporation Report shares were rising slightly in post-markets trading to $71.70, up 0.2%, after the Seattle-based company made some changes to its management team. CFO Troy Alstead will become its chief operating officer, a newly created position to oversee day-to-day operations of the company.
The move, along with two other promotions effective Feb. 3, comes as Chairman and CEO Howard Schultz looks to focus on more on "the convergence and integration of our retail and e-commerce, digital, card and mobile assets around the world," according to a statement. Schultz is taking on more "innovation," leaving less time in the way of daily company management.
Shares finished down 3.2% in Wednesday trading, closing at $71.56.
But was the late-Wednesday announcement a nod to what will eventually be the succession line up behind the coffee chain's beloved Schultz? It seemed clear that Schultz, who turned 60 this past July, was signaling something.
"Ever so quietly, Howard Schultz has signaled his intention to hand over the reins to three possible internal candidates within the next three to five years," says Brian Sozzi, CEO and chief equity strategist of Belus Capital Advisors and RealMoney contributor.
Starbucks said in the release Schultz will work closely with others in the senior leadership team, including chief digital officer Adam Brotman and chief strategy officer Matt Ryan, to "expand his focus on innovation in coffee, tea and the Starbucks Experience as well as next generation retailing and payments initiatives in the areas of digital, mobile, card, loyalty and e-commerce to position Starbucks for its next wave of global growth."
"He will also continue to work closely with his senior leadership team to ensure continued disciplined growth and operational excellence around the world."
Last Thursday, Starbucks reported first-quarter earnings of 71 cents a share that beat consensus by 2 cents. Revenue rose 12% to $4.24 billion, however Wall Street was expecting more, looking for $4.29 billion.
Same-store sales in the U.S. also missed consensus expectations for the December-ending quarter, coming in at 5%, versus expectations of 6.4%. It was clear that even darling Starbucks felt some of the same troubles that many retailers felt during the holiday season.
Schultz, in much-talked about commentary after the earnings call, admitted that a huge shift is underway in the retail space that is affecting Starbucks as well.
"Holiday 2013 was the first in which many traditional brick-and-mortar retailers experienced in-store foot traffic give way to online shopping in a major way," Schultz said. "As our solid traffic growth and record Q1 results demonstrate, Starbucks unique combination of physical and digital assets positions us as one of the very few consumer brands with a national and global footprint to benefit from the seismic shift underway."
While everyone knows all good things must come to an end, investors have great confidence in Schultz. Shares of the stock rose the following day even with the missed expectations.
CFO Alstead has been with Starbucks for 22 years, starting in 1992 when the company was still private and operated just over 100 stores. Alstead, 50, has held numerous roles of progressing responsibility in finance and general management at the domestic, international and enterprise levels, the company said. He was also one of the original members of Starbucks international team, which included senior leadership roles in EMEA and China.
In his new capacity, Alstead will continue to report to Schultz and will be responsible for aligning and prioritizing company investments across business units.
Besides Alstead's promotion, Starbucks said that Scott Maw, senior vice president of corporate finance, will replace Alstead as Starbucks' CFO. Craig Russell has been promoted to executive vice president of Global Coffee, it said.
"These organizational moves map our internal talent to the rapidly evolving retail environment and significant strategic and market opportunities ahead of us," Schultz said in Wednesday's statement.
"Each of these experienced Starbucks leaders will be working closely with the entire senior leadership team, and me, to bring even greater financial and operational discipline to our business around the world. They will partner with me as I focus on Starbucks mission, growth initiatives and the convergence and integration of our retail and e-commerce, digital, card and mobile assets around the world. There has never been a more exciting time to be a Starbucks partner," Schultz added.
--Written by Laurie Kulikowski in New York.
Disclosure: TheStreet's editorial policy prohibits staff editors, reporters and analysts from holding positions in any individual stocks.