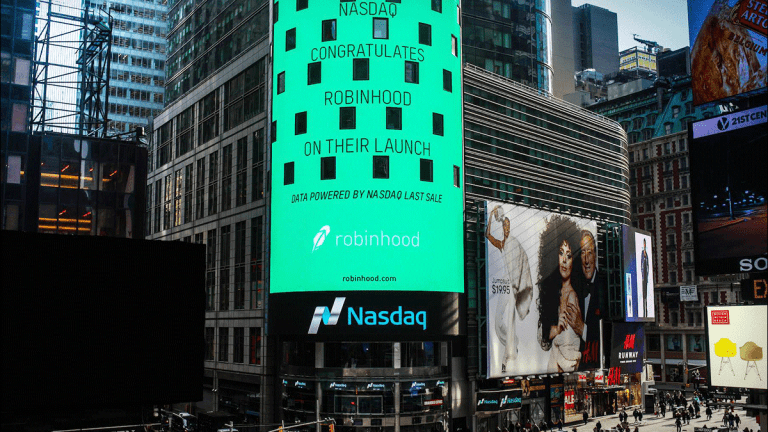 Is Robinhood Safe? What to Know About the Investment App
Robinhood has taken off as one of the most popular, commission-free investment apps on the market. But, is it safe?
When it comes to investing, fintech seems to be dominating the space.
With so many investment apps, online exchanges and brokerages, the options are endless to trade everything from stocks to ETFs to even cryptocurrency.
One of the fastest-growing options for low-cost (or free) online investing is Robinhood - the brainchild of founders Baiju Bhatt and Vladimir Tenev.
Robinhood has seen meteoric growth since its launch in 2013, reporting some 6 million users (trumping that of large online exchange E*TRADE (ETFC) - Get E*TRADE Financial Corporation Report ). As with any fintech company or digital stock brokerage, there always remains the lingering question - is it safe? 
While great measures have been taken by most investment apps and online brokerages to ensure the safety of users' money and information, the question is valid. So, is Robinhood safe, and what are the intangible risks involved with apps like Robinhood? What should you consider before investing with it in 2019? 
What Is Robinhood?
Robinhood is a commission-free investment and stock-trading app that allows users to invest in stocks, ETFs, cryptocurrency and more. The app boasts a fee-free model that allows users to trade stocks and other securities at no cost. Robinhood was first launched with Apple (AAPL) - Get Apple Inc. Report phones and products but has since developed Android versions as well. 
As part of its easily-accessible, trading-for-the-people model, Robinhood doesn't require an account minimum to trade, and offers commission-free trades for users (once a rarity in the fintech space). The app has a variety of offerings, including cryptocurrency and even options trading (although, just like any other brokerage, you need to qualify to trade options). 
Robinhood also offers Robinhood Gold - its premium account that allows users margin to trade.
Overall, Robinhood's commission-free model, a decent range of investment products and easy-to-use app and interface have made it increasingly popular, especially among a younger demographic. 
But, is Robinhood safe? 
Is Robinhood Safe?
Robinhood, as a securities brokerage, is regulated by the Securities and Exchange Commission (SEC) and has several other safety measures in place to protect users' money and data. In addition to regulation, money on Robinhood is protected up to $500,000 for securities and $250,000 for cash claims, ensuring investors can trade with peace of mind. 
Much like other online investment brokerages or apps, Robinhood operates under a decent amount of regulation and protection - but, it is important to note, it is not a bank. And while the regulations and insurance do make Robinhood safer to use, there are other factors to consider apart from mere security when looking at the app's safety. 
In fact, according to Tara Falcone, a financial planner and analyst and the founder of financial education company ReisUP, while Robinhood certainly boasts the benefits of commission-free trading for a younger generation, the app is not without its dangers. 
"Apps like that, especially ones that are reducing trading costs, or in this case having zero commission trades, are great from an accessibility standpoint," Falcone said. "One thing that has previously kept a lot of small investors out of the investing game is the fact that they had to pay a broker. However, I do think that targeting the millennial generation, which is very instant-gratification driven, can be a little dangerous when you're considering the mix of investments and different investment strategies that are available through an app like Robinhood versus through another fintech app such as Acorns or Stash."
What are Robinhood's safety measures or lack thereof? 
Regulation
Given that the app is a securities brokerage firm, Robinhood is regulated by the SEC. Additionally, the app is a voluntary member of the Financial Industry Regulatory Authority (FINRA), a self-regulatory body that many brokerages are members of. 
Money on the app is protected by the Securities Investor Protection Corporation (SIPC), which protects up to $250,000 for cash claims and $500,000 for securities.
However, apart from the regulations and security measures put in place to protect users from any safety concerns, there is the additional concern of the format and layout of the app that might pose more of a danger to beginner or novice investors. And several reports suggest Robinhood might be harmful on that front. 
Dangers to New Investors
While it may not pose a tangible threat to investor's money in terms of security, some experts, including Falcone, claim Robinhood's layout and model might be dangerous for new or inexperienced investors.
The app has largely marketed itself to millennials as the new, young investment tool for beginners. But, according to some, this is precisely the problem. 
In fact, MONEY called Robinhood simply "day trading for the mobile era," citing the app's heavy emphasis on high-frequency trading of flashy stocks compared to low-risk funds or ETFs, among other risk factors.
Robinhood is set up to encourage stock-picking - which, for beginner investors, can be a dangerous game. The app highlights popular stocks like Tesla (TSLA) - Get Tesla Inc. Report , Netflix (NFLX) - Get Netflix Inc. Report , Microsoft (MSFT) - Get Microsoft Corporation Report and more when you sign up - instead of promoting perhaps lower-risk options like ETFs. What's more, the app also highlights cryptocurrencies - a historically volatile investment by any means. 
And for Falcone, who is in the business of increasing financial literacy, the type of strategies promoted and the offerings Robinhood has are potentially questionable.
"The [strategies] that I'm primarily speaking of are not just individual stocks but more so on the side of being able to trade cryptocurrency, to trade on margin, to be able to participate (in some cases) in early mornings of IPOs that I think are much more speculative and get a lot more media and news attention, and are therefore kind of more attractive or enticing for a novice investor who maybe hasn't dipped their toes in the investing waters before or maybe the only experience with investing they've had so far is in their 401(k) - which, for a lack of a better term, is kind of boring," Falcone said. 
In fact, the danger these strategies pose is that they encourage young or naive investors to stock-pick instead of invest in more secure, long-term investments like index funds or the like. 
But even apart from the methodology behind Robinhood, the app also seems to encourage high-frequency trading by "celebrating" trades with things like confetti on the interface, as well as push notifications about changes in the stock.
It is this combination of promoted stocks and constant updates that many experts believe makes Robinhood a bit more dangerous for beginner investors when getting started investing. 
Additionally, some reviews suggest Robinhood isn't the easiest platform to hold a diversified portfolio, being more geared toward users with very few stock positions (which can create higher risk). 
But apart from the kinds of investments offered on the app, Robinhood isn't necessarily the most educational app either, according to Falcone. 
"From a media perspective or what I see them promoting, ... I don't necessarily see a focus on education on their website - it says, in quotes, 'learn by doing,'" Falcone told TheStreet. "Depending on what that first step is or what it is that you're doing, it could be a pretty harsh learning experience from the get-go, whereas other fintech apps like Stash, for example, have a greater emphasis on education and teaching you what you're doing along the way."
Bank Controversy 
In addition to criticism, Robinhood hasn't exactly had a smooth ride. 
The app announced its plans to launch a pseudo-bank service called Robinhood Checking & Savings, which promised a 3% interest rate - despite not being FDIC-insured. The controversy that ensued soon put the idea to bed - but the legal implications still seem to create lingering concerns. 
"If there's any uncertainty about regulatory protection, there is serious potential for people to be misled," former Rep. Barney Frank told CNBC in December. 
Although Robinhood is SIPC-insured, it is not insured by the Federal Deposit Insurance Corporation, or FDIC - a requirement for checking and savings accounts. 
The app quickly issued a "mea culpa" through its company blog, announcing a re-branding and re-working of the new product that would "work closely with regulators as we prepare to launch our cash management program, and we're revamping our marketing materials, including the name."
Still, the bank-masquerading controversy put many regulators on edge - and although Robinhood is a fairly safe platform to trade securities on, the incident seemed to raise questions over the app's intentions for future uses and their willingness to potentially bend the rules to offer new products. 
But, given that Robinhood operates off of a commission-free trading model, how does the app actually make money?
How Does Robinhood Make Money? 
While Robinhood doesn't collect direct fees or commissions from trading, the app does make money through a variety of other channels including marginal interest and lending, premium accounts and rebates. 
Although the regular version is free to use, the app charges a starting fee of $6 per month for Robinhood Gold - their premium service that gives investors up to $1,000 of margin - allowing them to trade over the amount of cash they have in their account. 
Additionally, the app reportedly makes money off of marginal interest and margin lending. According to their site, Robinhood makes money from "interest from customer cash and stocks, much like a bank collects interest on cash deposits" as well as "rebates from market makers and trading venues." 
Robinhood reportedly makes over 40% of its revenues from high-frequency trading and payment for order flow - a practice used by some online brokerages. Robinhood is able to make money off of processing trades through behind-the-scenes parties that provide the other end to the trade, instead of being processed through an exchange or the like. According to the company, Robinhood uses market makers Citadel Securities, Two Sigma, Wolverine, and Virtu - disclosed due to SEC Rule 606.
The Bottom Line
So, should you go ahead with the investment app or steer clear? 
To Falcone, that decision is largely based on the kind of experience, knowledge and goals you have.
"I think it depends on the level of your knowledge," Falcone told TheStreet. "I know plenty of day traders and options traders that do very well and therefore their focus is on keeping their costs down so their net returns are as high as can be. So in their case, something like Robinhood is extremely beneficial because they're paying fewer fees to do the work they're doing on a daily basis."
"However, most novice investors should really be primarily focused on retirement and then for anything outside of that ... I generally recommend a buy and hold strategy," Falcone said.
While Robinhood's infrastructure and regulations have several measures in place to ensure users' money and data is kept safe and insured, the app does pose other risks that may be slightly more intangible - especially to young or inexperienced investors.
With any investment app or brokerage, it is important to do your own research not only on the tools themselves but on the stocks and securities you plan to invest in through those services. Understanding the basics of things like technical analysis and fundamental analysis can help you make better investment choices and protect against the high-frequency trading culture that some apps might encourage (if you're not ready for that).
Still, in terms of its overall safety system and regulatory checks in place, Robinhood is generally rated high for safety and is, in general, a safe service to invest with. 
But when it comes to what and how to invest, Falcone recommends asking yourself some key questions when determining if Robinhood is the right investment app to get started with.
"What are you trying to accomplish? How much money are you willing to put at risk? Do you have an emergency fund? Are you facing student loan debt you need to pay off? Do you have your retirement plan on track?" Falcone suggests asking. "If the answer to those things is yes, then, OK, how experienced are you with investing? What's your risk tolerance? What things interest you? Educate yourself more on those things and then make an educated investment using something like Robinhood maybe."