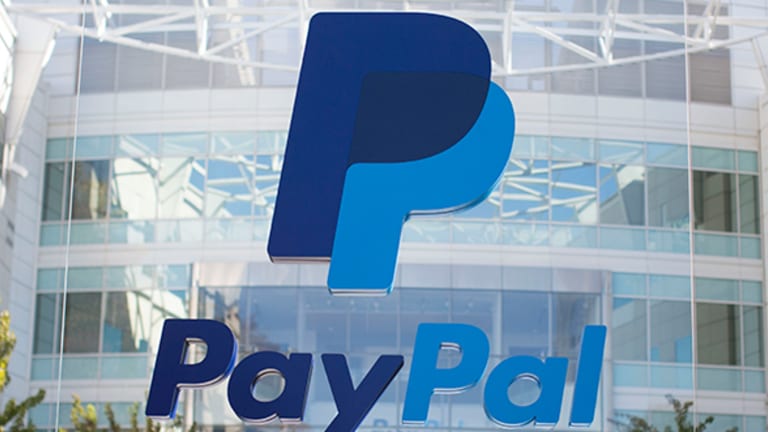 Is PayPal Really That Effective at Enabling Mobile Shopping?
It's not exactly clear if PayPal can solve retailers' struggles on mobile.
It's not exactly clear if PayPal can solve retailers' struggles on mobile.
One of the common challenges that retailers point to on mobile is the "fat fingers problem." On such a small screen, consumers find it frustrating to type in their credit card numbers with their so-called "fat fingers," and they abandon their cart.
PayPal (PYPL) - Get Report would seem to have the solution. With Express Checkout, customers can click on a PayPal icon during checkout and just log in to their PayPal account to pay, instead of having to type in the many numbers of a credit card. And with the newer One Touch solution, which PayPal began rolling out in 2014, users can checkout with just one click. 
"Any option at checkout that eliminates data entry and removes friction will serve to bolster conversion rates," said 451 Research analyst Jordan McKee. "This is especially the case with mobile, and is a key reason why PayPal is investing so heavily in this channel."
Ever since eBay (EBAY) - Get Report announced it was spinning off PayPal, PayPal management has been emphasizing the importance of mobile. "You're going to see a fundamental change over next three, five, 10 years, more of it to mobile and point-of-sale checkout," Dan Schulman, PayPal's president and future CEO, said at an event last year prior to the spinoff.
But as traffic to mobile retail sites grows and actual purchases on those sites lags, it has yet to be proven that PayPal is the miracle worker we may have thought it would be.
PayPal has not released any data on the mobile rates of its One Touch solution, but they have shared numbers from comScore on Express Checkout which claim that 59.1% of consumers that use the solution complete a purchase, versus 27.5% of consumers who don't use Express Checkout. 
"Our One Touch capabilities are driving the highest conversion rates in the industry on both desktop and mobile but we do not have a public breakdown between the two," a PayPal spokesperson said.
A recent report from Moovweb, which helps retailers improve their mobile experience, found that PayPal Express Checkout (not One Touch) was actually turning more customers away on mobile than standard credit card checkouts. Mobile shoppers that selected the PayPal option were 14% less likely to actually complete the purchase compared to those that decided to enter their credit card information.
The report comes with a few caveats -- first of all, it looked at PayPal Express Checkout and not the newer One Touch solution. Second, as the report concluded, many of the issues with PayPal actually stem from the retailer side, not PayPal's.
"The biggest issue is many of the retailers haven't made PayPal integration at its best," said Moovweb's Haresh Kumar. "When it's done right, it's much easier to checkout, but in most of the cases it's not done well. There are bugs with the integration. It's causing increased dropoffs and lower conversion rates."
Whether it's the retailers or PayPal, the report really shows how much is unknown when it comes to mobile commerce.
"The space is moving so fast and there's so much movement in it," said Greg Portell, a partner in A.T. Kearney's Consumer Products & Retail and Media Practices.
While the market is so murky and unclear, it also means that there's tons of flexibility and space for innovation, Portell added.
Perhaps One Touch will offer the ultimate mobile solution for retailers. Maybe that will improve conversion rates. Or maybe it will come from a different player in the space. The one thing we know is that we don't really know much yet.
PayPal is a holding in Jim Cramer's Action Alerts PLUS Charitable Trust Portfolio.
"PayPal recently announced that it expanding the capabilities of Venmo beyond its scope as a social peer-to-peer payment service as users will soon be able to use the app to make purchases at participating merchants within the U.S. (they currently can make in-app purchases)," said Cramer and research director Jack Mohr. "Brick and mortar merchants in particular have struggled to connect with millennial generation, and deciding to add Venmo as a payment option can help bridge that gap."
Added Cramer, "[PayPal] is the one with share take, the one with the greatest momentum and it is one of the few growth stocks that you can buy right now."
Exclusive Look Inside:
You see Jim Cramer on TV. Now, see where he invests his money and why PayPal is a core holding of his multi-million dollar portfolio.
Want to be alerted before Jim Cramer buys or sells PYPLLearn more now.