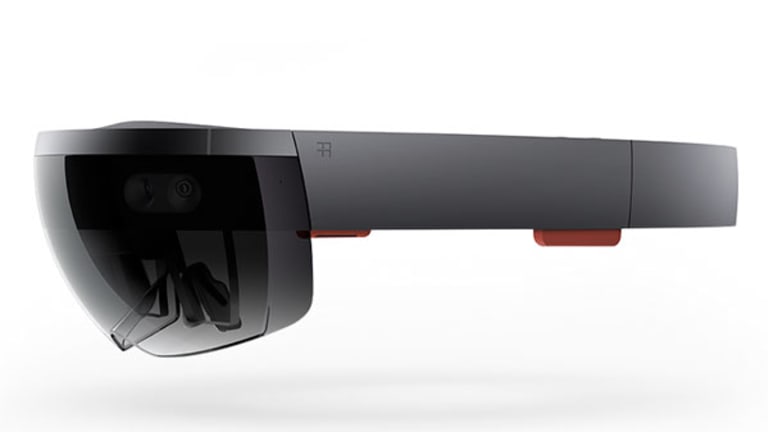 Is Microsoft's HoloLens a Tech Breakthrough or the Next Kinnect?
There is a lot more to the new Windows 10 "augmented reality" goggles than meets than meets the eye.
NEW YORK (TheStreet) -- Microsoft (MSFT) - Get Microsoft Corporation Report surprised all the pundits and experts, on Wednesday, with the announcement of Project HoloLens as a special part of the company's upcoming Windows 10 release. There is a lot more to the new Windows 10 augmented reality headgear than meets the eye.
HoloLens is a head-mounted computer with built-in processors and sensors and translucent lenses. The idea is for the headset to display virtual 3D, "augmented reality" graphics which are displayed as an overlay on the real world. There's also a matching three-dimensional "spatial" sound system to help you determine where to find and place objects in your environment.
It's a goggle-shaped computer but it's unlike other similar-looking headgear such as the soon-to-be-defunt Google's (GOOG) - Get Alphabet Inc. Class C Report Glass, the Facebook (FB) - Get Meta Platforms Inc. Class A Report -owned Oculus Rift or Samsung's (SSNLF) Gear VR. With HoloLens, there's no mouse to manipulate or touchscreen. You use gestures to "create, shape and size holograms" and "your eyes to navigate and explore" and your voice to communicate" with your applications. According to Microsoft, "it puts you at the center of a world that blends holograms with reality."
Stifel Nicolaus analyst Brad Reback isn't so sure. The analyst warned that HoloLens could also turn out to be another forgettable technological products like 3D TV or Kinnect. "It's a very interesting product," Reback told TheStreet in a phone conversation. However, he added that he wanted to see the final product's "hardware, firmware and battery life."
Microsoft shares were up nearly 2% to $46.74 in mid-morning trading in New York.
The device demonstrated Wednesday was a two-piece design - the headset and and a separate box called the "Holographic Processor Unit" which needs to be worn around your neck. It also needed to be tethered to an AC power outlet. Since it's an early prototype expect big improvements in future generational designs.
In one of its first real world tests, NASAannounced, this morning, that it is partnering with Microsoft to develop a computer program for the HoloLens called OnSight that will enable scientists to work "virtually" on Mars. Jet Propulsion Lab Researchers will be able to examine the Mars Curiosity rover's worksite from a first-person perspective.
FBR Capital Markets' Dan Ives told TheStreet the HoloLens system is a big step forward for Microsoft: "We view this as an eye popping technology which speaks to some of the new, next generation R&D focus at Microsoft as the company looks to skate to where the puck is going. Commercialization of this solution and ultimate success is still a question, although we are encouraged to see Microsoft aiming for areas outside of its traditional PC stronghold to get growth and innovate down the road."
HoloLens is designed to work with Windows 10 Microsoft's next-generation operating system. Windows 10 will work on desktop PCs, laptops, tablets, smartphones and also game consoles (think Xbox One).
Morningstar analyst Norman Young put all of Microsoft's latest announcements in perspective, noting it seemed like the showmanship was back for Microsoft. "Wednesday's presentation was one of the best Microsoft has done in a very long time," Young said in a phone conversation. "Everything showed very well. But, what it really showed is that Microsoft will be using the next version of Windows to make inroads in smartphones and tablets as well as applications in gaming and commercial use."
- Written by Gary Krakow in New York.
To submit a news tip, send an email to tips@thestreet.com.
Gary Krakow is TheStreet's Senior Technology Correspondent
This article is commentary by an independent contributor. At the time of publication, the author held no positions in the stocks mentioned.