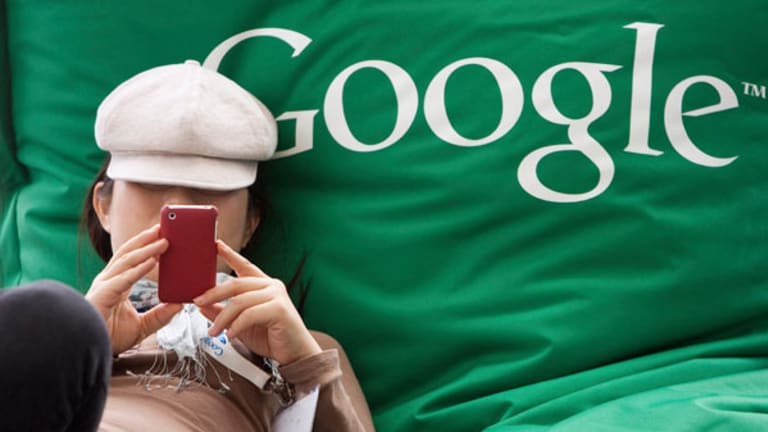 Is Google Crazy for Selling a Desktop PC at $350? Definitely Not
Google partners with LG to deliver a 22-inch desktop PC with everything included for $350 or less. Read it and weep, Apple.
Google partners with LG to deliver a 22-inch desktop PC with everything included for $350 or less. Read it and weep, Apple.
NEW YORK (TheStreet) -- The purpose of this article is to talk about the impact of Google's (GOOGL) - Get Report new radically cheap desktop PC on the competition from Microsoft (MSFT) - Get Report and Apple (AAPL) - Get Report. This product has just become available, and the impact could be huge in the desktop PC segment.
Do you remember approximately one decade ag, when a 50-inch television used to cost $5,000? Yes, me too. Then somewhere along the way came Vizio and the TV aisle at Costco (COST) - Get Report changed forever. Now that 50-inch TV is better, and it costs one decimal point less, $500.
Desktop PCs have not seen the same price reductions. Obviously the PCs keep getting better every year, but the price has not fallen much. People have tended to pay approximately the same for a desktop PC today, as they did many years ago already.
Here are the examples today:
Going to the Apple store, the cheapest iMac today is $1,300 (22 inches).
Going to the Microsoft store (www.microsoftstore.com), the cheapest all-in-one desktop PCs are two models from Samsung (SSNLF) and Sony (SNE) - Get Report for $900 each (also 22 inches).
Those prices are in the same ballpark where people paid for desktop PCs a decade ago, even though most of them at the time were more often a tower plus a separate monitor.
Now, however, Google and two of its hardware partners have decided to throw two very nasty stink-bombs into the desktop PC market:
1. LG Chromebase:
This all-in-one 22-inch PC comes with all the trimmings: keyboard, mouse, etc. It's got WiFi built-in, as all-in-ones usually do. You can even use it as a monitor for another PC, including a laptop.
The price: $350. Amazon (AMZN) - Get Report started taking orders a few days ago at $330, but it stopped the other day because apparently it sold out -- for the moment.

So for the a 21.5-inch all-in-one desktop PC you can pay $1,300 with Apple, $900 with Microsoft and its partners, or $350 or less with Google and its partner, LG.
Which one do you think more people are going to choose? Yes, me too. Clearly we may finally see average desktop prices come down from $900-$1,300 and up, to LG's and Google's price: $350 and less.
This is a radical move in the desktop PC market! Of course we know that more and more desktops have been replaced by laptops, but nearly half of all PCs that sell are still desktops. The worldwide market is over one hundred millions units per year.
But Google doesn't stop there. And that takes me to item number two:
2. The Asus desktop PC, based on Google's Chrome OS:
If you want to buy your display, keyboard and mouse separately from your PC, Google has an even cheaper option. It recently released the Asus Chromebox and it is listed for $179, although Amazon sells it for $174.
Guess which PC tops Amazon's best-selling chart? You guessed right: the Asus Chromebox PC, which is based on Google's Chrome OS. Just like Chromebooks (Google laptops) now dominate the Amazon sales charts with two out of the top three, and seven out of the top 20, Google's new desktop PC price bomb leads in this category as well.
I can hear the objections already: Just because they all have a 22-inch screen they are not the same performance. Yes, I agree. They are not all identical, but they look superficially similar to each other. All of them come with a 22-inch screen, keyboard and mouse.
They all can surf the same Web, run the same online productivity suites such as Google Docs or Microsoft Office online. They all play YouTube, allow you to use Facebook, type emails, play music and run Netflix. You know, the stuff most people actually do on PCs.
The difference is price: $1,300 for Apple, $900 for Microsoft and its partners, and $350 and down for Google and its partner LG. How can this not be extremely compelling for most people and many businesses?
Sure, it is true they all come with different storage and different microprocessors, among other things. The quality of the screen brightness may differ slightly. One might be made in metal and the other in plastic. However, for most of what people do on a PC, they all do the same thing.

These cannot be happy times for Microsoft and Apple. Google has engineered a PC operating system that enables its hardware partners to dramatically undercut its main ecosystem rivals. While there will always be some people who feel compelled to buy the more expensive product and/or has unusual or special needs that can only be resolved on a Windows or Mac PC, most people can now get a desktop PC at a dramatically lower price.
The low price -- whether $350 or $330 -- is not much more expensive than many decent standalone PC monitors, although I would argue that a decent 22-inch monitor can be as little as $180. Then again, you don't need to dial it up too much to pay $1,000 for the Apple monitor that's 27 inches and has the superior 1,440x2,560 resolution. Still, that's $1,000 for just the display, no PC included.
Loss of desktop PC market share will not alone break Microsoft or Apple. However, it is one more drop that inflicts pain on Google's main competition. In the meantime, the consumer is the biggest winner of all, able to buy a big desktop PC for a fraction of what the established players charge.
The $350 all-in-one desktop PC is an industry milestone, by a mile.

WATCH: More tech videos on TheStreet TV
At the time of publication the author was long GOOGL and AAPL.

This article represents the opinion of a contributor and not necessarily that of TheStreet or its editorial staff.
>>Read more: Apple Preparing a Mystery Feast for Hungry Fans