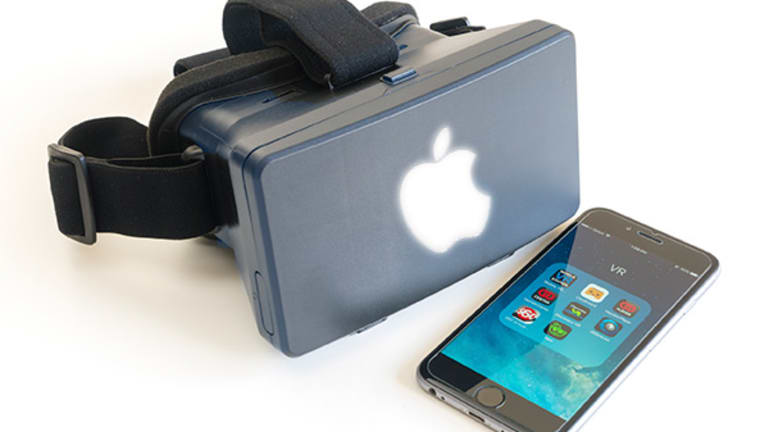 Publish date:
Apple's Virtual Reality Plans Take Shape With Cook Comments, Reports of 'Secret' Team
Comments from Cook put Apple's potential plans for virtual reality into the spotlight, at a time when Apple's sales growth is slowing and VR is about to take off.
Comments from Cook put Apple's potential plans for virtual reality into the spotlight, at a time when Apple's sales growth is slowing and VR is about to take off.
Updated to add information from an FT report, comments from Jim Cramer and to reflect Google, not Google Ventures, invested in Magic Leap. TheStreet regrets this error.
Twenty-six words might not seem like a lot, but when it comes from one of the world's most powerful businessmen, it's enough to raise eyebrows.

On Apple's (AAPL) - Get Report fiscal first quarter earnings call, CEO Timothy D. Cook was asked about his high-level thoughts on virtual reality. While the 55-year old Apple executive didn't sound overly enthusiastic about the platform, he didn't exactly dismiss it, either. "In terms of virtual reality, no, I don't think it's a niche," Cook said. "I think it can be -- it's really cool and has some interesting applications."
On Friday, The FT reported Apple had acquired FlyBy Media, an augmented reality startup, and has a "secret research unit" with hundreds of employees working on the project. According to the report, Apple has been building prototypes of VR headsets for several months and has been assembling its team via acquisitions and by hiring away employees working on VR technologies for rivals such as Microsoft, citing anonymous sources. 
Virtual reality headsets, such as Oculus Rift, from Facebook (FB) - Get Report -owned Oculus, Samsung Gear VR, HTC Vive/Steam and to a lesser extent, Alphabet's (GOOG) - Get Report (GOOGL) - Get Report  $25 headset Google Cardboard, have captured much of the attention of tech enthusiasts, media and the investment community as the next big platform.
There are also augmented reality platforms, such as Microsoft's HoloLens and Magic Leap, which Alphabet, then known as Google, led a funding round in. With augmented reality, images or graphics are "open," meaning they actually emerge from a device into the real world. By comparison, virtual reality is often seen as images that are "closed," or inside a device, usually a headset.
(The above video is an example of the openness of augmented reality.)
How the market shakes out between augmented and virtual reality is yet to be determined, but it's clear there's anticipation the markets will be extraordinarily large, regardless.
Tech M&A advisory firm
Digi-Capital
expects the augmented/virtual reality market to explode, hitting $120 billion by 2020, with the large majority going towards augmented reality. 
Creative Strategies analyst Ben Bajarin noted Apple's propensity for owning the entire ecosystem, both hardware and software, as well as designing its own chips, would give them a leg up in designing a virtual or augmented reality product.
Apple could not be reached for comment on this story.
Though Apple never publicly confirms products before they are announced, Cook's comments seem to suggest that Apple is at least intrigued by the VR/AR market. Digging deeper confirms that line of thinking.
Cupertino, Calif.-based Apple has filed several patents related to virtual reality over the years.
Patently Apple, a website focused on Apple patents, uncovered an update in July 2015 to a patent that shows Apple added a touch sensor and speaker to a head-mounted carrier, with a speaker, tools to detect a user's head movements, a camera on the head-mounted carrier and new configurations to integrate the headset with a cellular telephone. The headset is designed to give users the feeling of three-dimensional viewing. There have been other patents granted to Apple for augmented reality recently, including one for an augmented reality projector.
An eventual move into virtual/augmented reality could help reignite Apple's sales, which would be welcome news for investors.
After reporting first quarter results that saw iPhone units grow just 0.2% year over year, Cupertino, Calif.-based Apple said it expects fiscal second quarter revenue to be between $50 billion and $53 billion, below the $58 billion it generated in the same time frame last year.
Apple cited a number of factors, including pent-up demand last year for the iPhone 6 and 6 Plus, exceptionally strong currency headwinds and a shifting macroeconomic environment, the likes of which Apple hasn't seen in some time.
Apple is a holding in Jim Cramer's Action Alerts PLUS charitable portfolio. "I think the analysts are missing the entire story," says Cramer in the above video. "Apple is becoming a Procter & Gamble/Gillette story. They have a billion devices -- when you get a device, suddenly you're starting to use different services whether it be music, iTunes...and that whole service revenue has gone from $25 billion to $31 billion...I think you should buy it and buy it right here."
Exclusive Look Inside:
You see Jim Cramer on TV. Now, see where he invests his money and why Apple is a core holding of his multi-million dollar portfolio.
Want to be alerted before Jim Cramer buys or sells AAPL?Learn more now.

Jackdaw Research analyst Jan Dawson categorized Cook's comments on virtual reality as "about as vanilla as they could be," but noted that Apple is at least "likely looking into but not yet committing significant resources to" the category.
In 2013, Apple acquired PrimeSense, the maker of the technology behind the original Microsoft (MSFT) - Get Report Kinect, for a reported $345 million, one of Apple's larger acquisitions to date. In 2015, the company acquired Metaio, an augmented reality startup for a reported $34 million.
The Financial Timesrecently reported Apple has hired Doug Bowman, one of the world's leading virtual reality researchers.
Rene Richie, editor-in-chief of another Apple-focused website, iMore, believes it's important for Apple to be at least exploring virtual reality. This is in addition to projects like the oft-rumored Apple Car and the Internet of Things because they "are all trendy technologies right now," Richie opined via email.
Coming on the heels of the Consumer Electronics Show, where virtual/augmented reality has never been buzzier, products are starting to come to the forefront of more consumers' minds, moving beyond just the arena of first adopters and tech enthusiasts.
Samsung's $99 Gear VR was one of the top sellers on Amazon this holiday season, while the $600 Oculus Rift is back-ordered until July. Google Cardboard, which was introduced in 2014 at its developer conference, has aided the education market, thanks in part to its low cost and also to Google's continued push to expand its software capabilities, including Google Expeditions, its education-focused virtual reality curriculum.
(Earlier this week, Google noted more than 5 million Cardboard viewers have shipped, with more than 25 million Cardboard apps installed from Google Play.)
Virtual reality is likely going to cater towards games as well as content, such as movies and TV shows, with price points similar in nature to game consoles, such as the Xbox or Playstation, Digi-Capital noted, potentially reaching tens of millions of hardware units sold.
By contrast, augmented reality could reach hundreds of millions of users, with hardware prices near those of smartphones or tablets. Neither the Microsoft HoloLens, nor anything from Magic Leap, are available commercially yet, but the $3,000 HoloLens is slated to ship the developer edition in the first quarter this year.
Even though there's significant promise about the pending augmented/virtual reality revolution, it's gotten off to a particularly rocky start.
Google Glass, an optical headset that went on sale in April 2013, was widely castigated because of privacy concerns, particularly when they were worn in public. There were fears people could be recorded unknowingly or be able to identify strangers using facial recognition technology or have their picture taken without their consent.
In Feb. 2014, a woman in San Francisco was assaulted at a bar for wearing the device. In Jan. 2015, Google announced it would stop producing the $1,500 prototype device. On Dec. 28, 2015, Google filed for a new application for Google Glass with the Federal Communications Commission, but the company shut down several social media accounts associated with the device earlier this week.
The chart below details where the money is likely to be spent on both augmented and virtual reality, with hardware capturing a significant portion of each submarket.
Cook's comments, which some saw as just a mention in passing, are likely to continue fueling speculation about what the Cupertino, Calif.-based Apple has up its sleeves for this market. That is of course, assuming Apple ventures into the arena at all.