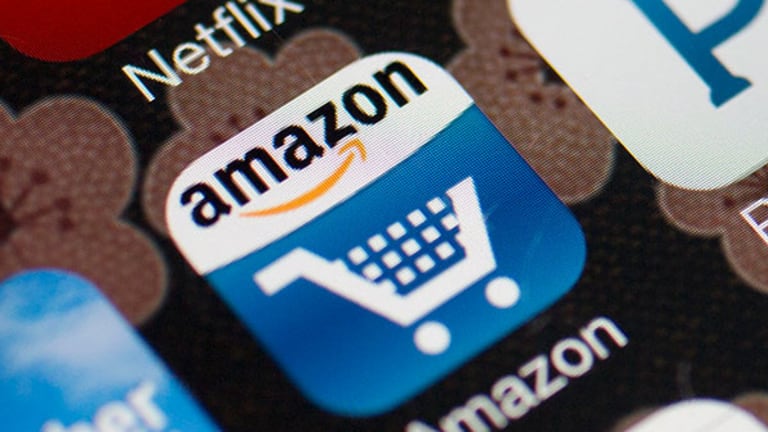 Is Amazon Trying To Do Too Much?
The giant online retailer sells hardware, software - nearly everything you can think of and more. But, has Amazon lost its focus?
NEW YORK (TheStreet) -- This morning's announcement about 3D printing and Amazon's (AMZN) - Get Free Report new online 3D Printing Store underscore the fact that Amazon is still continuing to expand, no matter what investors think. 
B. Riley & Co. analyst Scott Tilghman said while the company's recent earning numbers were disappointing, he thinks Amazon shows it's willing to try different ideas - and that's a good thing. "Amazon is innovative in its approach to building its business and is willing to be a leader rather than a follower," Tilghman said in a phone interview. He said Amazon is in the process of shifting some investments from domestic to foreign initiatives. (Today, Amazon also announced it was opening five new warehouses in India.)
Last week, Amazon announced net sales were up 23% from the previous quarter but the company reported a net loss of $126 million or 27 cents per share. Analysts polled by Thomson Reuters had expected a loss of 15 cents a share. Shares fell nearly 11% on Friday, following the results, and were off another 2% to $317.97 in Monday trading.
Read More: Amazon Plunges: What Wall Street's Saying
Amazon blamed the second quarter loss due to the large number of new investments it had made. On the earnings call, CFO Tom Szkutak said, "The increase in capital expenditures reflects additional investments in support of continued business growth consisting of additional capacity to support our fulfillment operations and investments in technology infrastructure including Amazon Web Services."
Amazon also gave third-quarter guidance that fell short of estimates, as it expecting net sales in the third quarter to rise to between $19.7 billion and $21.5 billion, but continued investments will cause the company to have an operating loss between $410 million and $810 million, up from $25 million in the same quarter last year. Analysts surveyed by Thomson Reuters expect the company to lose 66 cents a share in the third quarter on $20.88 billion in revenue.
Read More: Here's What It's Like Inside Tesla's Massive Factory
Amazon also warned that it would be spending more than $100 million on the new video shows it had recently announced. That's more than it spent on original content in the last quarter or even one year ago.
Though Tilghman thinks Amazon's willingness to venture is a good thing, he did admit that some new services, such as Amazon's grocery delivery businesses are taking longer to catch on than Amazon would have liked. "We are finding no end to the company's spending this time around as losses mount, estimate revisions continue to be downward-biased, and as mid-term returns remain uncertain," Tilghman wrote in a research note. "We therefore believe investors are best advised to await clearer signs of spending slowdowns (i.e. operating profit improvement) before committing new capital to AMZN shares." B. Riley downgraded Amazon shares to "neutral" from "buy."
The news about a 3D printer store comes on the heels of Amazon's reported entry into the mobile payments market. According to a leaked internal report from Staples (SPLS) Amazon will begin selling a $10 mobile credit card reader for smartphones, starting Aug. 12. It will be similar to devices from Square, PayPal (EBAY) - Get Free Report and Intuit (INTU) - Get Free Report. Amazon has also recently announced a digital wallet app for Android phones. 
Square, which has been trying to diversify its business away from just payments, generates more than 90% of its revenue from financial transactions, taking a 2.75% cut from credit card transactions, according to a source close to the situation.
San Francisco-based Square could not be reached for comment. When asked for comment, Amazon said, "We don't comment on rumors and speculation."
Amazon has been busy in recent months, announcing not only new software initiatives, but hardware as well. Amazon recently launched its new Fire smartphone, as well as its own set-top box, the Fire TV. Amazon has also refreshed its Kindle e-readers and Kindle Fire tablets in the past 12 months, in addition to adding the Prime Music service to Amazon Prime accounts, as well as the Kindle Unlimited bookstore and more. 
These initiatives follow the aforementioned grocery business (Amazon Fresh and Prime Pantry, its cloud computing arm, Amazon Web Services, Amazon Art for paintings and sculpture, Amazon Publishing for books, the company's own app store, a potential drone courier service, Audible.com, IMDb and the increased spend on content, some of which it is producing on its own, it's easy to see why investors may begin to lose patience with Amazon. 

Despite all of this, The Benchmark Company analyst Daniel Kurnow said that even though investors may not be happy with Amazon's most recent numbers, the company is doing all the right things. "They're diversifying into digital and they're dominating in the marketplace," Kurnow said in an interview. "There's not much they're doing wrong managing their expansion this year."
Read More: How Amazon Drones Will Become as 'Normal as Seeing Mail Trucks'
-- Written by Chris Ciaccia and Gary Krakow in New York.
To submit a news tip, send an email to tips@thestreet.com.