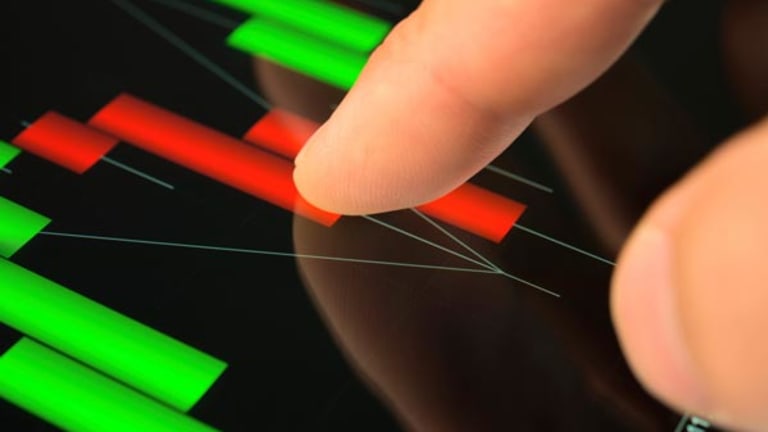 Publish date:
iPhone, iPad Loom Large for Investors
Apple investors are likely to quiz the company on plans for the newly-launched iPad at Apple's annual shareholder meeting today.
Apple investors are likely to quiz the company on plans for the newly-launched iPad at Apple's annual shareholder meeting today.
CUPERTINO, Calif. (
) --
Apple
(AAPL) - Get Report
investors are likely to quiz CEO Steve Jobs on his
plans for the newly-launched iPad
as well as Apple's
at the company's
annual shareholders' meeting
today .
Jobs, who was absent from last year's event due to medical leave, is expected to attend the meeting, according to
Reuters
. Apple has not yet responded to
TheStreet's
request for confirmation.
The iPad and iPhone are expected to be hot topics at the shareholder meeting.
There is a big question mark hanging over Apple's exclusive deal with
AT&T
(T) - Get Report
to sell the iPhone. There has been plenty of talk in the media that the deal will end this year, with Apple said to be switching its iPhone allegiance to AT&T rival
Verizon
(VZ) - Get Report
.
However, earlier this week, multiple industry sources and Wall Street analysts said that the iPhone may be
staying exclusively at AT&T for longer than expected
, with Verizon not shipping it until next year.
Apple, which has not revealed its specific iPhone plans, stunned the tech sector when it recently chose AT&T as its iPad partner, tying the two companies even closer together despite concerns over the telco's network quality.
The notoriously secretive Apple nonetheless gave investors a glimpse into its strategy earlier this week when COO Tim Cook addressed the Goldman Sachs technology conference in San Francisco. Cook, who took the company's reins while Jobs was out on leave last year, cited simplicity and the ability to work on new features as the biggest benefits of Apple's exclusive relationship with AT&T for the iPad and iPhone, according to the blog
.
Cook also explained that in Apple's top ten iPhone countries last year, five were single-carrier deals and promised continued enhancements to the iPhone operating system.
Apple, which competes with
Palm
(PALM)
,
Research In Motion
(RIMM)
and
Nokia
(NOK) - Get Report
in the smartphone market, is enjoying an
explosion in demand for its popular iPhone
.
During Apple's recent first-quarter results, iPhone shipments climbed a massive 100% compared to the same period last year, helping grow the company's overall revenue by more than 30% to $15.68 billion.
Up to this point, consumers have largely driven Apple's iPhone growth, although Goldman Sachs analyst David Bailey says that the technology is making its presence felt in corporate America.
"Apple also sees positive momentum behind iPhone adoption in the enterprise side, with 70% of Fortune 100 companies either deploying or testing iPhones," he wrote, after a meeting with Cook at the San Francisco event.
The iPad is also likely to be a hot topic at today's shareholder event.
Unveiled in a blaze of publicity last month
,
on the eagerly-anticipated Tablet device, with critics questioning
where exactly it will fit in the technology landscape
.
Apple itself, not to mention its many zealots, have high hopes for the iPad. With high-definition video and touchscreen capabilities, the device has been lauded, among other things, as a high-end e-reader, and Apple appears keen to
the likes of
Comcast
(CMCSA) - Get Report
and
Time Warner Cable
(TWX)
as a media hub.
There has already been talk of the iPad revolutionizing the newspaper industry, with
Steve Jobs said to have held a secret meeting with
top executives from the
New York Times
(NYT) - Get Report
to discuss the technology.
Speaking at the Goldman Sachs event, Apple COO Tim Cook described the iPad user experience as "absolutely incredible", according to the
Website, and does not expect the iPad to eat into sales of other Apple products. Rather, the executive predicted that the new device will draw users away from netbooks with its $500 entry price.
"Apple highlighted that the company has seen significant interest in the iPad so far, and does not anticipate any meaningful cannibalization from it," wrote Goldman Sachs analyst David Bailey, in a note released on Wednesday. "While iPad's business model will likely evolve as the iPad ecosystem matures, the company will initially distribute the iPad at the Apple stores and then likely add high-touch outlets such as the 'Store-in-Store' at
Best Buy
(BBY) - Get Report
and premium resellers in international markets."
Bailey predicts that Apple will sell 6 million iPad units in this calendar year and will likely see a slight cannibalization of the high-end iPod Touch, and, to a lesser extent, entry level MacBooks.
Despite all the attention currently focused on the iPhone and iPad, Apple's Mac business looks set to continue being a
major growth driver for the company
, increasing the pressure on PC makers such as
Dell
(DELL) - Get Report
and
Hewlett-Packard
(HPQ) - Get Report
.
Apple shares dipped $3.16, or 1.57%, to $197.50 on Thursday, mirroring the broader retreat in tech stocks that saw the Nasdaq fall 1.34%.
-- Reported by James Rogers in New York
RELATED STORIES:
>>Apple Shareholders Want Facts
>>Apple Primed for Mac, iPhone Boost
>>Apple, N.Y. Times Talk iPad: Report
Follow James Rogers on
and become a fan of
TheStreet.com
on