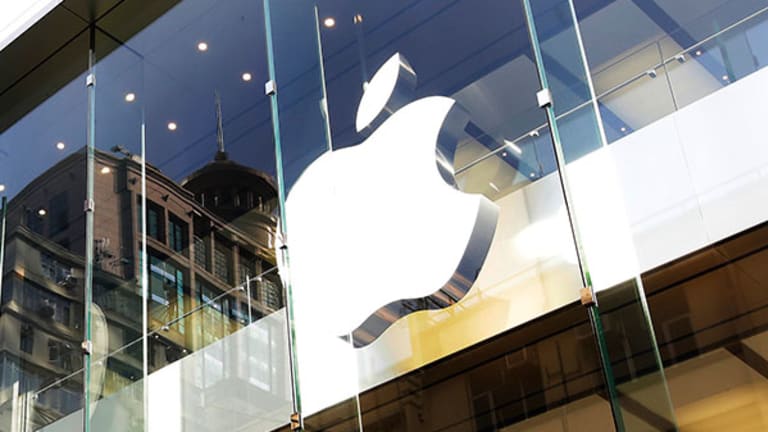 iPhone Beat Causes Apple Surge: What Wall Street Is Saying
For now, Apple has its mojo back. Its stock mojo, anyway. What's the cause of it? The iPhone, of course.
Updated from 10:13 a.m. to include comments from Pacific Crest analyst.
NEW YORK (TheStreet) -- For now, Apple (AAPL) - Get Free Report has its mojo back. Its stock mojo, anyway.
Apple reported fiscal second-quarter results that topped Wall Street expectations, as iPhone shipments blew away consensus estimate. Cupertino, Calif.-based Apple reported second-quarter earnings of $11.62 a share on $45.6 billion in revenue. The company shipped 43.7 million iPhones, 16.4 million iPads, and 4.1 million Macs during the quarter. Gross margin, a highly watched level for Apple, came in at 39.3%.
Wall Street consensus was around 37 million iPhones for the quarter, but strength in several markets, including China, Japan and others really drove the results.
"iPhone was key in driving our stronger-than-expected results," CEO Timothy D. Cook said on the earnings call Wednesday. He noted that demand for each of the three iPhones (4S, 5c, and 5s) was stronger than their predecessors, and helped Apple in a variety of different geographies. "We gained smartphone share in many developed and emerging markets including the U.S., the U.K., Japan, Canada, Germany, France, Vietnam and Greater China, just to mention a few. In fact, we established a new all-time record for total iPhone sales in the BRIC countries."
On the conference call, Cook also noted there are more than 800 million iTunes accounts, up from a previous number of around 600 million.
Analysts surveyed by Thomson Reuters expected Apple to earn $10.18 a share on $43.53 billion in revenue in the quarter.
Shares of Apple were surging in early Thursday trading, gaining 8.1% to $567.03.
For the fiscal third quarter, Apple said it expects revenue between $36 billion and $38 billion, with gross margins between 37% and 38%. Operating expenses will be between $4.4 billion and $4.5 billion, and it will have a tax rate of 26.1%.
Apple also announced that it was upping its capital allocation program to more $130 billion by the end of calendar year 2015. As part of the program, Apple's board increased its share repurchase authorization to $90 billion from $60 billion, and boosted its quarterly dividend by 8% to $3.29 a share. "The company also plans to increase its dividend on an annual basis. With annual payments of $11 billion, Apple is among the largest dividend payers in the world," the company said in the release.
From August 2012 through March 2014, Apple has spent $66 billion in cash on its capital return program.
The board also announced a seven-for-one stock split, effective June 2, 2014. Shares will will begin trading on a split-adjusted basis on June 9.
On the conference call, Cook noted Angela Ahrendts, the former CEO of Burberry, would be joining Apple's executive team next week, as she helps to lead Apple's retail stores.
Following the earnings results and the better-than-expected guidance, analysts were exceptionally bullish on Apple as it appears to be back on track, thanks in part to the iPhone and its strength in various geographies. There were a few upgrades to Apple, with several price target raises. Here's what a few analysts had to say:
UBS analyst Steve Milunovich (Buy, $625 PT)
"Apples quarter was far better than we expected and June guidance not as weak as we feared. It appears there is more life in the iPhone opportunity than recognized. In addition, Tim Cook indicated that Apple is expanding the things it is working on and has room to monetize services, suggestive of new product categories. The Mar/Jun dip in the road has turned into a downhill run with new products likely in fall. We have increased our estimates to $44.21 in F14 and $47.97 in F15."
Barclays Capital analyst Ben Reitzes (Equal Weight, $590 PT)
"Hats off to Apple and that iPhone figure - and being able to guide pretty close to consensus with demand slowing ahead of a new product cycle. Long term, we continue to believe that the overall smartphone subsidy structure could be challenged and we are not sure any new categories move the needle like the iPad did. Also, we'd like to see Apple assert itself more in web/social/payments and other services to meet the long-term challenges presented by Google. Our estimates and target move modestly higher ($590) based on higher iPhone units near term - and we also now include some assumptions for the iWatch starting in C4Q13 in our estimates. Maintain EW."
BMO Capital Markets analyst Keith Bachman (Outperform, $610 PT)
"We are maintaining our target multiple range of 12x-13x our FY15 EPS estimate, and increasing our target price from $565 to $610. We are going to the high-end of our target multiple range, since we think the wearable category will be introduced before year-end, and we have not included this in our estimates. A P/E multiple of 13x would be between 1.0-1.5 standard deviations above Apple's average multiple since the beginning of 2012. We maintain our Outperform rating. We believe catalysts include a new large screen iPhone, wearable category, and (longer-term) more services, including payments."
Oppenheimer analyst Ittai Kidron (Perform, No PT)
"Apple delivered strong March-quarter upside on the back of better than expected iPhone sales. The iPhone strength more than offset disappointing iPad shipments and suggests Apple can ride emerging market expansion through at least one more product cycle. Near-term focus however is likely to be on Apple's shareholder friendly capital moves, increasing its buyback authorization and dividend and announcing a 7-for-1 stock split. We're incrementally positive on these moves and see good support for the shares until June's WWDC. That said, the onus is still on successful TAM expansion into new product areas (TV, wearables) to extend investor enthusiasm. Maintain Perform w/positive bias. Raising estimate on better results/guide."
Cantor Fitzgerald analyst Brian White (Buy, $777 PT)
"Last night, Apple reported a strong 2Q:FY14 with significant upside in the iPhone and offered up a muted 3Q:FY14 outlook; however, we believe the market had factored in a much weaker forecast and thus we believe was pleasantly surprised last night. As we indicated going into the call, we thought the rollout of the iPhone 6 and entry into a new product category with the iWatch this year would prove more important than last night's financial results. With Apple's print out of the way and WWDC on the horizon in June, we believe investors will be getting more actively involved with the name ahead of this product cycle during what we have dubbed as the "Year of Innovation.""
CLSA analyst Avi Silver (Buy, $695 PT)
"We upgrade Apple from Outperform to BUY: 1) earnings momentum is poised to accelerate as the 300m+ iPhone installed base (including 131m 3.5" screens) drives upgrades to iPhone6; 2) we forecast mid-teens EPS growth in the next three quarters; 3) near-term earnings risk is low as an expanded iPhone lineup mitigates iPhone6 anticipation risk; 4) iWatch could yield an incremental $4-5, if successful - not in estimates; and 5) upside from an expanded services platform if Apple can execute (a big IF, but still optionality). Our EPS estimates rise for the first time since last summer, aided by improving iPhone trends and the $30bn buyback. Further upside is possible with iWatch and a higher priced iPhone carrying better ASP/gross margin (5.5"). These two factors could lift EPS by another $5-9 (bull case) in CY15 above our current $51 estimate. We raise our target from $610 to $695 applying an 11-12x multiple on 2015 EPS and backing out tax-effected cash (2015 cash, after buybacks)."
Pacific Crest Securities analyst Andy Hargreaves (Outperform, $650 PT)
"We continue to believe Apple is well positioned to gain unit share in the iPhone 6 cycle and maintain or increase gross profit per iPhone by raising prices. If Apple raises prices by $50 at the high end and waterfalls that through the lineup, we estimate it could add $2.5 billion or more to our current F2015 EBIT estimate. Management commentary seemed to support this view, as Tim Cook repeatedly said that they would price products commensurate with the value delivered. Management also firmly reiterated that it would be expanding into new product categories, which could provide a source of upside to our estimates and investor sentiment over the next year."
-- Written by Chris Ciaccia in New York
>Contact by Email.