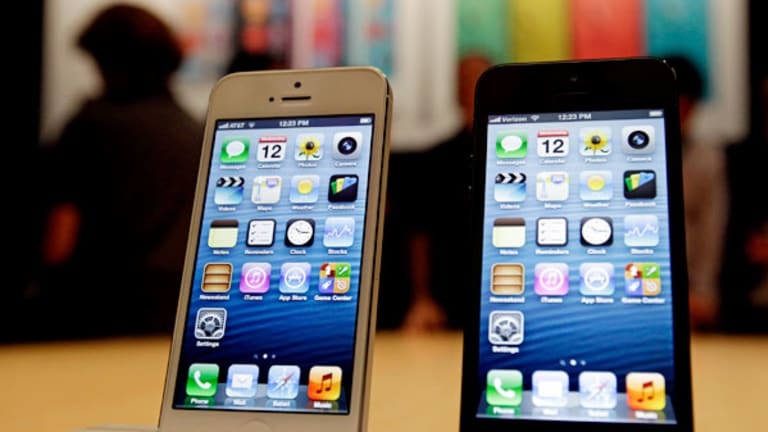 iPhone 6: Will People Even Care?
Reports suggest that Apple is already testing the iPhone 6 and a new version of its mobile operating system. Will consumers want it, though?
NEW YORK (
) --
Apple
(AAPL) - Get Report
is one of the few tech companies that repeatedly pushes the envelope with its hardware and software. The tech titan's reportedly testing the next iPhone, but will consumers clamor for it like previous versions?
The Next Web
that developers have started to see logs with an 'iPhone6,1' identifier, using iOS 7, which could be Apple's next mobile operating system.
Apple has traditionally announced the next version of its OS at its Worldwide Developers' Conference in San Francisco during the summer, with the next iPhone coming shortly after, but given the recent market sentiment towards anything Apple, demand could be tepid.
Sentiment has changed towards Apple, especially at the end of 2012, as the company released a slew of new products, including the iPhone 5, iPad mini, fourth-gen iPad, and a host of new Mac computers. I was impressed with the
and the
, but the iPhone 5 offers incremental changes to the iPhone 4S, at best. It wasn't a drastic change, save for a slightly larger screen, thinner design and a new operating system.
The markets reflected that shifting sentiment, particularly after Apple's last earnings report. In the final three months of the year, Apple fell 19.29%, compared to a decline of just over 3% for the
NASDAQ
. That's a massive change for the world's largest tech company, and something that won't be easily altered by a slightly thinner screen or an enhanced version of Siri.
Apple bulls will claim that the hardware has already been perfected, and Apple is just tweaking it. That may be true, but consumers are always dazzled by the latest and greatest gadgets, which Apple has done so often in the past. There's a reason why the iPad, which revolutionized the tablet market, outsells offerings by
Amazon
(AMZN) - Get Report
,
Google
(GOOG) - Get Report
, and
Microsoft
(MSFT) - Get Report
. It's a relatively new product, whereas the iPhone has been around for half a decade, and has largely dominated mindshare.
Topeka Capital Markets analyst Brian White believes Apple could move away from the traditional black and white iPhone color schemes, and also offer different sizes. "Our checks are pointing to more choices on the way with the next iPhone with expanded color options and screen sizes," he wrote, in a note. "By providing customers with greater choices with the same high quality performance of the iPhone, we believe Apple has the potential to further expand its market share in the rapidly expanding smartphone world."
I'm highly skeptical Apple would have multiple sized phones, as the company likes to keep its SKUs relatively small, but adding to the color scheme (perhaps pink, green or red) might freshen it up a bit. Of course, this is just a cosmetic change, and not anything drastic.
One thing Apple could offer is wearable technology, perhaps making the iPhone wearable, or even moving into watches, as some have speculated. Piper Jaffray analyst Gene Munster wrote in a recent note that he believes wearable computers could replace the iPhone and smartphones, as consumers become more comfortable with wearing their devices. "We believe technology could progress to a point where consumers have a tablet plus wearable computers, like watches or glasses, that enable simple things like voice calls, texting, quick searches, navigation, etc. through voicecontrol," Munster wrote, in a note.
I firmly believe that Apple has to do something big in the next couple of years, perhaps as early as the iPhone 6, to keep consumers coming back to
around the world, and filling up the company's coffers with billions and billions in cash. Perhaps it's the Apple TV, perhaps it's wearable devices, or maybe it's something we haven't even thought of yet. That said, Apple does need to do something to show the world it has the best innovative minds in technology, pushing the envelope further than any company before it.
Apple must also be mindful not to piss off the consumer by releasing a new iPhone so close to the previous version. A minority, albeit a very vocal one, were upset that Apple announced the third-gen iPad in March, only to announce a fourth-gen in October. People have come to expect a new phone every twelve months or so, and with cell phone contracts running on average two years, the status quo might be best here.
The boys and girls at Cupertino have never been a group to accept status quo, but they must also be mindful that ultimately making the best products in the world only matters if the consumer isn't angry at you.
As we've all learned, never bet against the U.S. consumer. Every company, not just Apple, is wise to heed this lesson.
--
Written by Chris Ciaccia in New York
>Contact by
.
Follow @Commodity_Bull