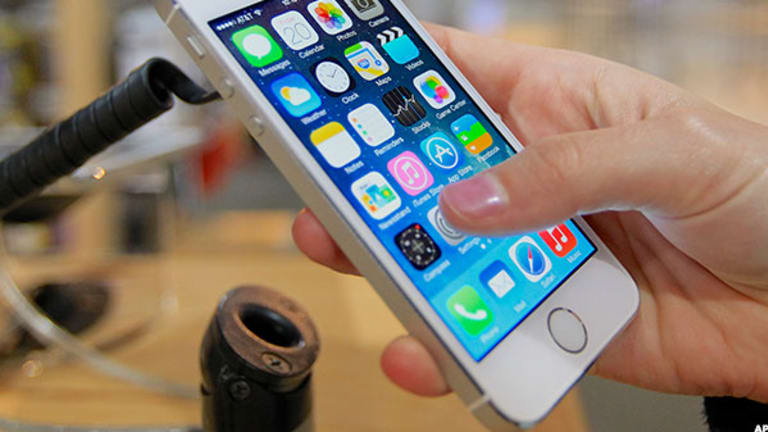 iPhone 6 Coming At Right Time As World Moves to Large Smartphones
A new sew survey shows users, worldwide, are opting for handheld devices with screens 4-inches and larger.
NEW YORK (TheStreet) -- Consumers are increasingly moving towards larger smartphones, according to a new global survey from Netbiscuits,  which should be welcomed news for Apple (AAPL) - Get Free Report and its upcoming iPhone.
According to the Q2 Global Web Trends report, U.K.-based Netbiscuits found the average physical size of mobile phone screens in use has been increasing worldwide. All segments over 4 inches increased share compared to last quarter. The survey shows the fastest growth came in the 6-inch and larger category which, it concludes, is a good indicator of how the industry is likely to evolve over the next 12 months.
The 242-country survey found that while South Koreans are most likely to be using the largest screens - and Kenya and South Africa the smallest - the greatest shifts towards phablets (5 to 5.9 inches) came from the United States, Canada and Australia. 
The results are right on target for Tim Cook-led Apple, who is reportedly preparing two larger iPhone models for release later this year. One version of the iPhone is said to have 4.7-inch display with a 5.5-inch screen model following shortly thereafter. Apple is expected to announce the new phones as soon as the middle of September.
In Apple's most recent quarter, it generated $37.4 billion in revenue, as it shipped over 35 million iPhones during the period.
Apple shares were off 0.46% to $98.56 in early morning trading in New York.
The results of the global popularity of specific phone models also turned out to be great news for Apple. In the second quarter, the iPhone 5 models (5, 5s, 5c) topped the usage chart with a 17% worldwide share replacing its own second-place iPhone 4 devices (4, 4s) 14%. The next five leaders were Samsung Galaxy phones: Galaxy S III (4%), Galaxy S4 (4%), Galaxy S III Mini (3%), Galaxy S II (3%) and Galaxy S4 Mini (3%). Rounding out the top ten models were Apple's iPhone 3GS (2%), the HTC One (1%) and Samsung's Galaxy Note 3 LTE (1%). Phones based on Microsoft's (MSFT) - Get Free Report Windows Phone platform - especially Nokia Lumia models - failed to register on this new top-25 list.
In am email to TheStreet, Netbiscuits COO and CMO Daniel Weisbeck said, "The rapid shift towards screen sizes of four inches and larger in our latest report can be partly attributed to upgrades of the latest Samsung Galaxy. Consumers have clearly demonstrated an appetite for larger screens and the figures suggest they are not afraid to upgrade versions of their smartphone to get the big screen experience."
He added that larger iPhone models are coming at the just right time. "While many have called on Apple to up the stakes in terms of innovation on the iPhone 6, if they are looking to maintain their connection with consumers, screen size is one place start."
The survey found in China, the world's largest smartphone market, local manufacturers scored a number of big successes. Xiaomi captured traffic share from both Apple and Samsung, with more than 10% of the traffic from the top 100 devices, while Oppo and Coolpad both saw higher market shares compared to their first quarter results. In Japan, Japanese-based companies such as Sonyundefined, Sharp, Fujitsu, NEC and Panasonic (PCRFY) all placed on the top devices list.
The report also shows that in addition to Apple, Samsung, HTC, LG and Sony a number of new, small companies are beginning to make inroads with buyers in overseas markets. France's two-year old Wiko is now one of that country's top-three vendors and Spain's bq has been successfully marketing it's popular Aquaris 5 HD device.
When it comes to mobile operating systems, Android still leads the way. Google's (GOOG) - Get Free Report Android continued to grow its share of traffic, reaching 57% of all web traffic from mobile phones worldwide this quarter - up slightly from 55% in the previous quarter, while Apple's iOS remained unchanged at 32%.
Gary Krakow is TheStreet's Senior Technology Correspondent.