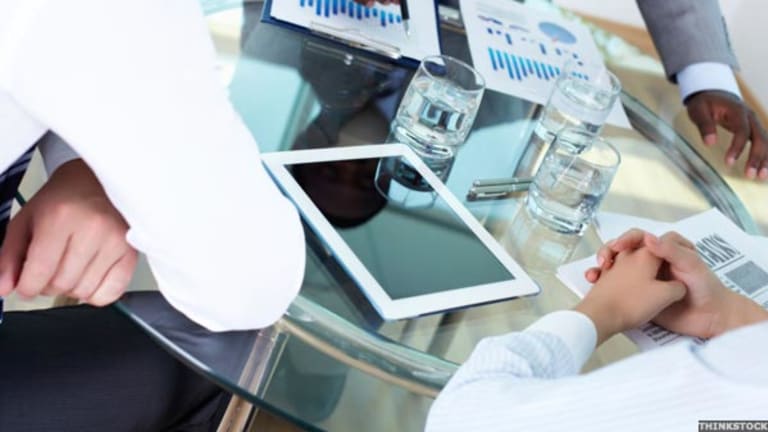 Publish date:
iPhone 5 Creates Trade-in Frenzy
Electronics resellers are seeing a surge of activity in anticipation of the iPhone 5 launch on Tuesday.
Electronics resellers are seeing a surge of activity in anticipation of the iPhone 5 launch on Tuesday.
NEW YORK (
) - Weeks before
Apple's
(AAPL) - Get Report
iPhone 5 was rumored to be officially announced, Josh Kwolinski was already prepared.
The student and part-time
AT&T
(T) - Get Report
employee from Sacramento, Calif. had traded in his iPhone 4 to an online reseller called
Gazelle
, which offered him $300 for the device. He plans to use the funds to purchase Apple's fifth generation smartphone after its launch on Oct. 4.
"I'm an Apple nerd," Kwolinski said. "I deal with phones all day every day and constantly see problems with other phones, but not the iPhone."
Kwolinski is just one of thousands looking to trade in their smartphones in anticipation of the iPhone 5 release.
The device, expected to be a lighter, slimmer version of its predecessor with a better camera and faster processor, has created frenzy among consumers who are ditching their old phones in droves.
Gazelle, a Boston-based consumer electronics reseller, has seen a 20% increase in smartphone trade-ins across all platforms in the last three weeks when rumors about the iPhone 5 launch date started circulating.
Used iPhones have gained the most traction, said Gazelle's chief gadget officer Anthony Scarsella, who has seen trade-ins double within the last two weeks.
In the last week alone, around 4,500 people tried to sell their iPhones, up nearly 30% from the prior week. And after press invites for the iPhone 5 launch event in Cupertino, Calif. started circulating across the Web, one iPhone was being traded in on Gazelle every 10 seconds.
"It's been a lot more aggressive this time than when the iPhone 4 launched," he said. "There's been more hype around the phone since it got delayed."
Gazelle predicts more than 20,000 people will try to sell their used phones on the site following the iPhone 5's launch -- more than 10 times what it saw with the iPhone 4.
Gazelle, which pays consumers around $170 for a 32GB iPhone 4 in good condition, is just one of several sites looking to help consumers sell their unwanted electronics like phones, digital cameras and laptops. Smaller companies like Billerica, Mass.-based
NextWorth
and Ann Arbor, Mich.-based
ReCellular
have joined the fray, while giants like
eBay
(EBAY) - Get Report
,
RadioShack
(RSH)
and
GameStop
(GME) - Get Report
have also launched trade-in programs.
They're all hoping to capitalize on the multi-billion dollar used electronics space that has consumers scrambling to ditch their old gadgets as quickly as possible for newer and shinier products.
This mad rush has resounded with the iPhone in particular, which has seen a surge of people looking to replace their phones even before their contracts are up.
"Apple has the most demand from phones off the upgrade cycle because of the brand they're built and its ability to resonate with consumers," said James Ragan, an analyst with Crowell, Weedon & Co. "The early adopters just need to have something."
According to a recent study by mobile ad network
InMobi
, 41% of mobile users in North America plan to buy an iPhone 5. This figure incudes over half of current iPhone customers.
To accommodate this swell in demand, Gazelle rolled out two weeks ago a so-called "red carpet" experience for customers to sell their iPhones, which includes a mobile app, a special iPhone processing team and a concierge customer care group answering questions about SIM card removal and hacking.
Once customers receive a quote for the items they're looking to sell, they'll get a free shipping label from Gazelle. After Gazelle receives the item, the gadget is inspected and personal data deleted. The company aims to send a check to consumers within a week. It then resells the items on marketplaces such as
Amazon
(AMZN) - Get Report
and
eBay
(EBAY) - Get Report
, as well as wholesale partners.
Sites like Gazelle make swapping phones easier -- and safer -- than ever for consumers who might ordinarily turn to unmonitored marketplaces like Craigslist, Scarsella said.
"In the past, you'd have to know how to list your products, wait to get paid and go meet some random guy somewhere," he said. "It's not secure, not safe and not fast."
In a sign of confidence in the sector, Gazelle announced a $22 million funding round in July.
"Tech product cycles for years have been getting shorter and shorter and carrying the latest and greatest gadgets is a status symbol," said Mike Tyrell, a partner with Venrock Associates and a member of Gazelle's board of directors. "We're trying to make trading in an old iPhone to get an iPhone 5
Netflix
(NFLX) - Get Report
simple."
--
Written by Olivia Oran in New York
.
Readers Also Like:
10 Stocks That May Outperform Through 2011