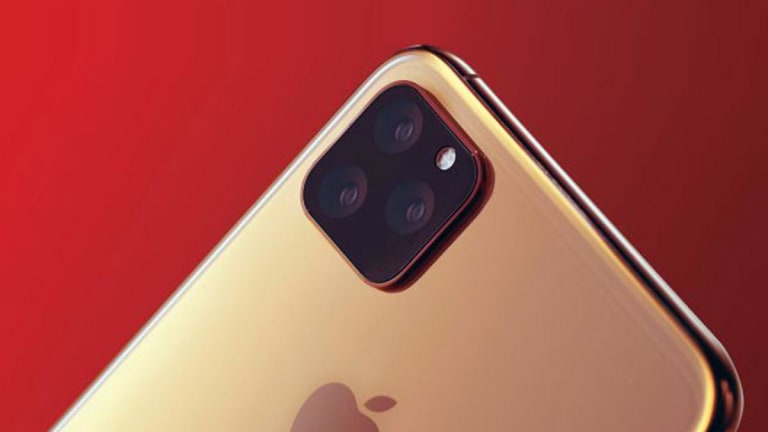 Publish date:
iPhone 11: Release, Specs, Features, Cost and Rumors
Apple's has announced its next line of iPhones: the iPhone 11, 11 Pro and 11 Pro Max. What do we know about them so far?
Apple's has announced its next line of iPhones: the iPhone 11, 11 Pro and 11 Pro Max. What do we know about them so far?
Apple (AAPL) - Get Report hosted their annual event earlier today and announced, among other things, the newest iPhone.
A lot of rumors and speculation surrounding the iPhone 11 had been floating around the internet for weeks, and thanks to Apple's giant event we now know what was true, what wasn't and some features that had not been reported on prior to this. In classic Apple fashion, they tried to keep things as discrete as possible leading up to the announcement; the media invite for the event primarily features a multicolored Apple logo and the tagline "By innovation only."
One rumor that did end up being true was the names of the new models: the iPhone 11, iPhone 11 Pro and iPhone 11 Pro Max will be in stores soon, touting new and improved features, albeit hefty prices as well. Apple is hoping its faster CPU and innovative new camera technology, among other features, will help produce a big boost in sales upon release.
Here is what is known and what is rumored so far about the upcoming iPhone.
iPhone 11 Release and Announcement
The event itself took place Tuesday, Sept. 10 at 10 a.m. PST (1 p.m. EST). Apple detailed various upcoming products and services before finishing on a lengthy detailing of the new iPhones. Included were the official release dates for the iPhone 11, Pro and Pro Max, which are as follows:
Preorder date: Friday, Sept. 13
In-store release date: Friday, Sept. 20
Both of these dates are in line with the releases of past iPhones in relation to their launches. Last year's Apple event that announced the iPhone XS and XS Max took place Sept. 12, 2018; preorder for those models began Sept. 14 and were released on Sept. 21.
iPhone 11 Cost
Apple enthusiasts are likely hoping for more affordable phones this time around; last year's iPhone XR was priced at $749. The iPhone XS started at $999 while the XS Max was announced at $1,099. Smartphone prices are skyrocketing, and in the case of the iPhone, sales are declining.
During the announcement CEO Tim Cook said that the iPhone 11 would start at $699, $50 less than the iPhone XR's original price last year. Analogus to the XS and XS Max, the iPhone 11 Pro will start at $999 while the iPhone 11 Pro Max will start at $1,099.
With these prices, Apple looks to stay in line with (and occasionally under) contemporary smartphone prices to remain competitive; the newest Samsung  (SSNLF) Galaxy Note 10 Plus costs $1,099.99 and the Galaxy S10 Plus can cost as much as $999.99 depending on where you purchase it.
iPhone 11 OS
One of the big questions surrounding the upcoming iPhone is: does this mean iOS 13 is coming soon?
Apple announced the latest update to their operating system back in June at the Worldwide Developers Conference (WWDC), promising a number of new safety measures with it. These include:
The ability to silence unknown callers
Alerts about apps tracking your location when not being used
The option to only allow an app location data once
Sign In With Apple, a feature that has you sign into apps with your Apple ID in an attempt to prevent tracking
These are far from the only new features that have been or will be announced for iOS 13. Many expect its release to coincide with that of the iPhone 11, and for more information to be released during Apple's event.
In fact, a beta release of iOS 13 caused speculation that the iPhone event would be on Sept. 10. Within the beta of the operating system was an image with the file name HoldForRelease; the image was an iPhone home screen with the date Sept. 10. The expectation at this point is that new iPhones will include iOS 13.
Apple did, in fact, confirm that the iPhone 11 will come with iOS 13. The operating system will launch the day before the phone itself on Thursday, September 19. It will be compatible with all modern iPhones dating back to the iPhone 6S/6S+ and iPhone SE, as well as the 7th generation iPod Touch. One new confirmed feature of iOS 13? The long-awaited Dark Mode, which changes the hues on your apps at night to make it easier to read and prevent overwhelming brightness.
iPhone 11 Specs
Here are just a few of the rumored specs of the upcoming iPhones.
Resolution
The screens of the new iPhone 11 models are expected to have the same dimensions as that of the iPhone X models.
In other words, the iPhone 11 will to have a 6.1-inch LCD display (similar to the XR), the iPhone 11 Pro will have a 5.8-inch OLED display (similar to the XS) and the iPhone 11 Pro Max will have a 6.5-inch OLED display (similar to the XS Max).
RAM and CPU
In addition to more information on the new iPhone and iOS, Apple's event divulged more details about the A13 Bionic processor, promising the fastest CPU and GPU a smartphone has ever had.
The A13's power efficiency was a major talking point during the event. The company claims the CPU cores will consume 30% less power, while the GPU will consume 40% less power.
Battery
The iPhone 11 is analogous to last year's iPhone XR, while the 11 Pro and 11 Pro Max are analogus to last year's XS and XS Max, respectively. So fittingly, when boasting about the iPhone 11 models' respective battery lives, they were compared to those same previous models.
In doing so, the iPhone 11 is said to have one more hour of battery life than the iPhone XR. More impressively, they claim the iPhone 11 Pro will have four more hours of battery life than the iPhone XS, while the iPhone 11 Pro Max will have five more hours than the iPhone XS Max battery.
iPhone 11 Features
There are several new and improved features rumored to be integral to the iPhone 11 launch, with many more to be announced on Sept. 10. The biggest rumor, right now, is what may be happening to the iPhone camera.
Camera
The most buzzed-about feature of the iPhone 11 models has been what they may be doing to the cameras, and today Apple finally let its fans know.
The iPhone 11 will have a dual-camera system using two 12-megapixel cameras and allowing for both wide camera and ultrawide camera views. The ultrawide camera will have a 120 degree field of view, and the cameras will allow for a 2x optical zoom.
The iPhone 11 Pro and Pro Max, meanwhile, will have a three-camera system. Like the dual-camera one of the iPhone 11, all cameras will be 12-megapixels and one will have 120 degrees for the field of view. The three-camera system allows for 4x optical zoom, and three shots can be taken at once.
Something all 3 upcoming iPhone models share with regards to the camera is 4K video recording technology, as well as slow-motion and time-lapse recording.
The cameras on the iPhone 11 models will also have the Night mode option, which adjusts to create better shots in areas with low light.
Face ID
Apple has promised faster speed when unlocking your iPhone with Face ID, but how?
In August, Bloomberg reported that the upcoming iPhone 11 models may utilize updated Face ID technology. With this technology, the sensor can identify faces from multiple angles, dramatically increasing the field of vision and allowing iPhone users to more easily unlock their handsets. Part of Apple's event was confirming that Face ID should work from multiple angles.
Charging
The iPhone 11 will come with the same old 5W charger that has been included with iPhones for some time now.
If you plan on getting the iPhone 11 Pro or Pro Max, however, are finally going to come with the high-powered USB-C 18W chargers that Apple fans have been clamoring for. Apple began including these with iPad Pros. The box for these will include the charger and the USB-C to Lightning cable.
3D Touch
3D touch has been a part of the iPhone since the 6S, but was missing from the iPhone XR last year (though it remained on the XS and XS Max). This led many to wonder if it was going to be a part of future models.
And indeed, you wont be finding 3D touch in the 2019 iPhones. In its place will be Haptic Touch. This technology similarly lets the user see more functions, but in place of pressure sensing, it is triggered by how long you are pressing down for.
Resistance
Smartphones have continued to make drastic improvements in terms of both water resistance and shatter resistance, and the new models look to do this as well. The aforementioned Bloomberg report claims that the new models are expected to have "shatter-resistant technology," though details are scarce.
Bloomberg's report also claimed improved water resistance as well, expecting new iPhones to be able to last longer than current iPhone models, which can be submerged for 30 minutes. And with Apple alluding to improved shatter and water-resistance during today's event, clumsy iPhone fans look to be in luck.
Colors
The iPhone 11 is going to be available in six different colors upon release: black, white, green, purple, red and yellow. The iPhone 11 Pro and Pro Max will be available in midnight green, space gray, silver and gold.
In addition to these shiny new colors, the iPhone 11 Pro and Pro Max are going to have a matte finish, a shift from current iPhones - though, interestingly, not a shift from one of their competitors, the Google (GOOGL) - Get Report Pixel.
WiFi 6
Something that may pique the interest of iPhone fans is the reveal that the iPhone 11 models will feature something called WiFi 6. This is essentially just the newest form of WiFi, and is supposed to be a faster WiFi with a more efficient connection to networks. WiFi 6 is the default of multiple new technological devices.
Will the iPhone 11 Have 5G?
One of the biggest questions surrounding the new iPhones in advance of their launch is whether they will be able to support 5G. As more providers begin rolling out 5G and some of the biggest smartphone manufacturers like Samsung launch devices with it, Apple having a 5G iPhone feels like an eventual inevitability.
2019, however, doesn't look to be the year for an iPhone with 5G. This likely is due to an extended lawsuit with Qualcomm (QCOM) - Get Report , which was settled in April of 2019. This settlement makes it far more likely that Apple will launch iPhones with 5G in 2020, but for this year it most likely won't be happening, barring a massive surprise at the Apple event.
What Is the iPhone SE?
Perhaps when you were searching for information on the newest iPhone, and instead of iPhone 11 information you were seeing the name "iPhone SE." That's because there are rumors of the iPhone SE - or a similar product - hitting the market sometime next year.
The iPhone SE was originally launched in 2016 as a low-cost iPhone option, priced at $399. That's over half of the launch price of the iPhone 7+, released in the same year and priced at $869 for the 128 GB version. There hasn't been a name put to it yet, nor has there been confirmation from Apple itself, but reports have circulated that Apple plans to release a new low-cost iPhone option next April. While we're not sure if the iPhone 11 models will be priced lower than the XS and XS Max, a low-cost iPhone could be a response to the sizable decline in iPhone sales over the past year and the subsequent loss of their market share. Overall, iPhone sales are predicted to decline 15% over the entirety of 2019.
What Else Is Being Announced at Apple's Event?
The announcement of the new iPhones is sure to be the most anticipated moment of Apple's upcoming event. But Apple also made many other exciting announcements, including:
Apple Arcade, the gaming service that will be available on major Apple devices, launches Thursday, September 19 at the price of $4.99 per month.
Apple TV Plus, the company's upcoming streaming service, launches November 1 at $4.99 per month. Customers who buy a new iPhone, iPad, Mac, iPod Touch or Apple TV will get a free year of the service. So far Apple has announced nine original shows, and premiered the trailer for See, an upcoming original starring Jason Momoa, at their event.
Apple Watch Series 5 is officially available for preorder and will be in stores Friday, September 20. Watches with 4G connectivity start at $499 while ones with GPS-only ones start at $399. They will be available in aluminum, stainless steel and titanium, and feature always-on display,
A new, larger iPad (10.2 in.) starting at $329 that is currently available to order and will be in stores on September 30
INTRODUCING: Bull Market Fantasy with Jim Cramer
Jim picks stocks on Wall Street, now he's picking NFL players for fantasy football! TheStreet and Sports Illustrated Fantasy are teaming up to unveil our new Bull Market Fantasy channel.
Check it out at BullMarketFantasy.com or watch his latest videos below:
Bull Market Fantasy Live With Jim Cramer: Week 1 Matchups and Lineup Advice
Damien Williams Fantasy Football Stock Sinks With LeSean McCoy On The Roster
Cowboys Owner Jerry Jones Calls Jim Cramer 'Smart' for Taking Zeke With First Pick