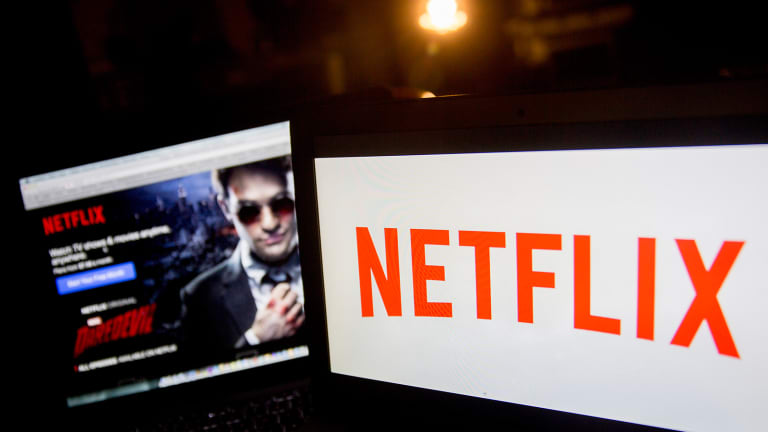 Investors Tune Out Netflix, Twitter Falls Below IPO Price, NetApp Jumps -- Tech Winners & Losers
Many technology stocks were hit hard Thursday as the market suffered its worst selloff of the year.
NEW YORK (TheStreet) -- Netflix (NFLX) - Get Netflix, Inc. Report shares dropped by 7.8% Thursday, seemingly not immune from investors' wrath as mainstream media stocks got hammered during the day. Twitter (TWTR) - Get Twitter, Inc. Report dropped below its IPO price for the first time, losing another 5.8% of its value. NetApp (NTAP) - Get NetApp, Inc. Report shares jumped by 3.4%, the day after the company released quarterly revenue results that beat analysts' estimates.
Overall, the market suffered its worst, one-day selloff so far in 2015. The Dow Jones Industrial Average closed at 16,990.69, down 358.04, a loss of 2.1%. The S&P 500 closed at 2,035.73, down 43.88 for the day, also a 2.1% decline. The Nasdaq finished at 4,877.49, a loss of 141.56, representing a 2.8% drop.
Netflix, the 18-year-old online television network that operates both streaming and DVD businesses, saw its shares close at $112.49, a decline of $9.57, or 7.8%. The company, which has 57 million customers and is headquartered in Los Gatos, Calif., lost another $1.08 in after-hours trading, or 0.9%.
Analysts, who remain positive on Netflix's business strategy and future prospects, said they could not point to any specific reasons for the stock's decline Thursday, other than the market's overall drop and investors' general skittishness about media stocks.
Shares of Walt Disney (DIS) - Get Walt Disney Company Report closed at $100.02, a 6% drop. CBS (CBS) - Get CBS Corporation Class B Report finished the day at $46.03, a drop of 5.1%. Viacom (VIAB) - Get Viacom Inc. Class B Report shares ended Thursday at $40.42, shedding 6.3% of their value.
Twitter shares closed Thursday at $26, down $1.61 for the day, a decline of 5.8%. Earlier in the day Twitter shares were trading below the company's IPO price of $26. The San Francisco-based micro-blogging site was taken public in November 2013. Twitter shares traded as high as $73.31 at the end of 2013.
Twitter CEO Dick Costolo resigned last month in the wake of a disappointing earnings report. Company co-founder and Chairman Jack Dorsey has stepped into the CEO job temporarily as the company continues to look for a permanent chief.
Analysts remain concerned because the company is having difficulty adding users, according to the Associated Press. The company's stock has declined by 29% since its July 29 earnings report, the Associated Press reported.
Shares of NetApp, based in Sunnyvale, Calif., jumped by $1 to close at $30.78 Thursday, a gain of 3.4% for the day.
Still, NetApp has some ground to recover as its shares were trading at almost $43 at the end of last year. But Piper Jaffray on Thursday raised its price target on NetApp to $31 from $30. 
NetApp provides software and services to companies to help them manage and store their computer data. It recently reported layoffs and a 10% drop in revenue, according to Yahoo! Finance. It reported non-GAAP earnings of 29 cents a share, Yahoo! Finance said, which beat analysts' estimates.
This article is commentary by an independent contributor. At the time of publication, the author held no positions in the stocks mentioned.