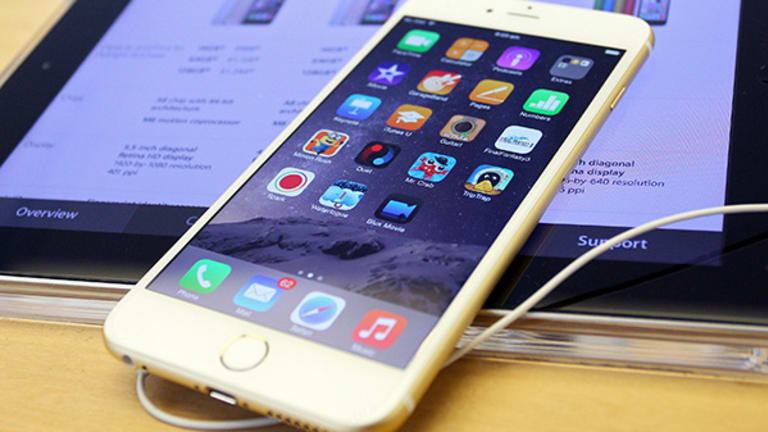 InvenSense Dip May Be Buying Opportunity for Long-Term Investors
Investors were relieved after InvenSense's chip was used in the latest iPhones, but concerns over its future have caused a downturn in shares, which may be a buying opportunity.
NEW YORK (TheStreet) –– InvenSense (INVN) investors may have breathed a sigh of relief after the company's Gyroscopes and Accelerometer Combo chip was used in the latest Apple (AAPL) iPhones, but concerns over the company's outlook have caused a recent downturn in shares, which may provide a buying opportunity for investors.
InvenSense, headquartered in San Jose, Calif., is run by CEO Behrooz Abdi, who has helped get the company's chipsets into the iPhone. Investors have rewarded InvenSense, sending the stock up 13.7%, compared to a 20.1% loss for STMicorelectronics (STM) , one of its closest competitors.
Last week's iFixitteardown of the iPhone 6 revealed the InvenSense MP67B 6-axis Gyroscope and Accelerometer Combo inside Apple's latest smartphone. Despite that, R.W. Baird analyst Tristan Guerra downgraded InvenSense shares on Monday. Guerra cut his rating to neutral from outperform, noting that large smartphone manufacturers could switch to a competitor or dual source the gyroscopes and accelerometers, which are used to help the iPhone flip and rotate the screen, flipping back and forth between portrait and landscape mode.
However, another teardown from Chipworks saw a Bosch accelerometer in the iPhone, which means Apple may be dual sourcing this feature.
Baird analysts noted that smartphone manufacturers could start sourcing more components from competitors, potentially privately held Bosch-Sensortec, or use chips from STMicroelectronics. A "global smartphone OEM may be switching to a dual-sourcing strategy for certain components, including gyroscopes," Guerra wrote in a note to clients on Monday.
Pacific Crest Securities analyst John Vinh noted that the recent selloff in shares since the teardown (a drop of 14% vs. a drop of 2% for the S&P 500) may be overdone, noting that the Bosch chip is only an accelerometer, and not a combo chip.
The company declined to comment for this article, citing the quiet period before earnings.
In the fiscal first quarter ended June 29, InvenSense generated $66.7 million, up from $55.9 million in the first quarter of fiscal 2014. On an adjusted basis, the company earned 8 cents a share, compared to 14 cents a share in fiscal 2014.
For the second quarter, analysts surveyed by Thomson Reuters expect InvenSense to earn an adjusted 16 cents a share on $89.97 million in revenue, compared to 21 cents a share on $70.94 million in the year-ago quarter.
"We do not view the presence of the Bosch accelerometer in the new iPhones as a suggestion of performance issues with InvenSense's 6-axis gyroscope," Vinh wrote in a note. "We believe a stand-alone accelerometer provides the iPhone 6/Plus with low-power functionality, such as for fitness tracking or multitasking (i.e., health monitoring in addition to screen orientation). Performance concerns with the accelerometer in InvenSense's gyro are unlikely, given the maturity of the 6-axis gyro (it is third generation) and the maturity of accelerometers, which are a commodity." Vinh rates InvenSense "outperform" with a $28 price target.
InvenSense has a dominant position with its dual-combo chip, appearing in smartphones made by Apple, as well as Samsung and Chinese-smartphone juggernaut Xiaomi.
The potential for a design win (or dual sourcing) for future phones made by these companies is a threat, but not one that worries Canaccord Genuity analyst Matthew Ramsay. "However, we remain confident in our F'15/'16 estimates and anticipate strong sales and earnings growth, even should modest share losses occur at sole-source customers," Ramsay stated. "We note management acknowledges multi-sourcing risks and InvenSense's growth strategy is not reliant on holding current absolute market share."
--Written by Chris Ciaccia in New York
>Contact by Email.