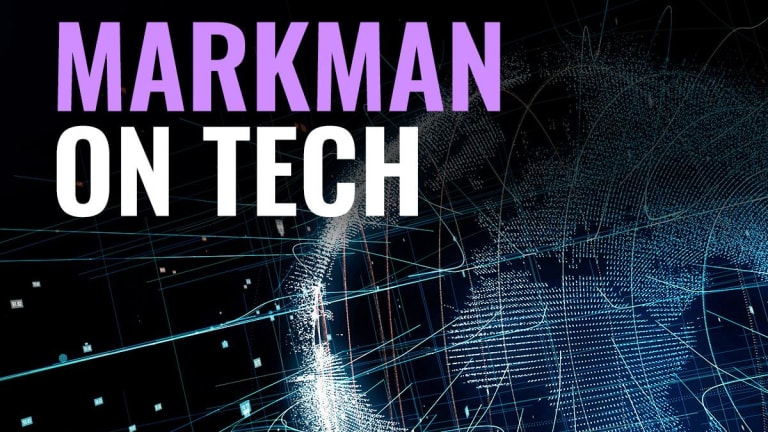 New Internet Privacy Laws Could Help -- Not Hurt -- This Tech Giant
Pundits say privacy is under assault, while politicians claim new regulations and walls around existing violators will help. They are both wrong, and one company in particular could benefit from changes.
Pundits say privacy is under assault. Politicians claim new regulations and walls around existing violators will help. They are both wrong.
Sundar Pichar was in Washington two weeks ago. The chief executive officer of Google was grilled about Internet privacy by House politicians. The consensus view is new regulations are coming.
New legislation might be a huge opportunity for investors. Let me explain.
The Pichai testimony was hard to watch. The Indian-born engineer struggled with questions that bordered on the absurd. In one surreal episode, an Iowa congressman asked repeatedly why unflattering political messages showed up on a granddaughter's iPhone. When Pichai politely explained that iPhones are made by Apple, the lawmaker asserted that Google probably had a liberal bias because its headquarters is located in California.
The exchange was a perfect summation of the entire testimony. It foreshadows where oversight of big technology companies is headed, lawmakers' level of tech literacy and the potential windfall for smart investors.
Lawmakers believe they can achieve the outcomes they desire by regulating what information can be collected, and how it is distributed. They want to build walls around big technology, building barriers to entry to reign in what is possible online.
Věra Jourová, the EU justice commissioner, traveled to Silicon Valley to meet with representatives from Alphabet and Facebook in 2017. She expected them to be nervous. Instead, "they were more relaxed, and I became more nervous," she toldThe Wall Street Journal.
At the time, Jourova and the EU were contemplating enacting the General Data Protection Regulation, legislation that mandated prior consent for corporations to collect personal data online. Privacy advocates rejoiced. It was a high barrier to every ad technology, online publisher, data broker and analytics firm harvesting personal data.
For smaller firms with minimal brand name recognition, this is a tough ask. That is not the case for Facebook (FB) - Get Meta Platforms Inc. Class A Report , and Alphabet (GOOGL) - Get Alphabet Inc. Class A Report , the parent company of Google. Consumers understand -- and have come to depend on -- Instagram, WhatsApp, Facebook, YouTube, Gmail and Google Maps.
Since the GDPR went into effect May 2018, smaller digital firms in Europe have been dropping like flies.
Erecting barriers to entry didn't penalize large tech companies -- it helped them. It forced smaller competitors to grow larger, faster. It forced them to endure greater marketing costs, and change business strategies. And all of this came with increased costs.
Now, U.S. lawmakers are set to journey down the same path.
It's already a tough business. Verizon (VZ) - Get Verizon Communications Inc. Report  is no small fry when it comes to brand recognition. Since 2015, the telecommunications company has been busy trying to build scale in its digital-advertising business. It bought AOL and Yahoo for a total of $9.5 billion. Managers then mashed the combination, and other digital assets, into a company called Oath.
The experiment failed. Verizon will write down the value of Oath by a whopping $4.6 billion, according to a Dec. 11 report from Bloomberg.
Alphabet, meanwhile, has seven digital products with more than 1 billion users. YouTube, its flagship network, has 1.9 billion monthly active users, and reaches 96.1% of global Internet users. Spreading fixed costs across so many users is a powerful competitive advantage.
Smaller companies will not get this luxury. They also will not get the benefit of entrenched brands and the network effects.
eMarketer, a digital advertising research company, forecast global digital ad spend would climb 17.7% in 2018, to $273.3 billion. Alphabet and Facebook accounted for 70% of total sales and 90% of the growth. eMarketer believes the total market will reach $393.5 billion by 2021.
There is one important caveat. In the past investors have been willing to pay dearly to invest in the growth of Alphabet's advertising networks. Regardless of regulation, growth should continue. However, as positive sentiment diminishes, the multiples investors are willing to pay for growth may contract.
The stock currently trades at 20.9 forward earnings, and 5.2 times trailing sales. The market capitalization has fallen back to $680 billion. Longer-term, the stock remains attractive because of its dominant position.
Patient growth-focused investors should consider buying Alphabet stock into weakness.
My new book is out, just in time for the holidays! It's called, "Fast Forward Investing: How to Profit from AI, Driverless Vehicles, Gene Editing, Robotics, and Other Technologies Reshaping Our Lives". Click here to buy a copy at Amazon, where it is listed as the #1 New Release in Business. And if you like it, please leave a review and rating.
To learn more about my recommendations at the crossroads of culture and technology, check out my daily newsletter Strategic Advantage.
To learn about my practical research in the short-term timing of market indexes and commodities, check out my daily newsletter Invariant Futures.
Facebook and Alphabet are holdings in Jim Cramer's Action Alerts PLUS member club. Want to be alerted before Jim Cramer buys or sells FB or GOOGL? Learn more now.
The author owns shares of Alphabet.