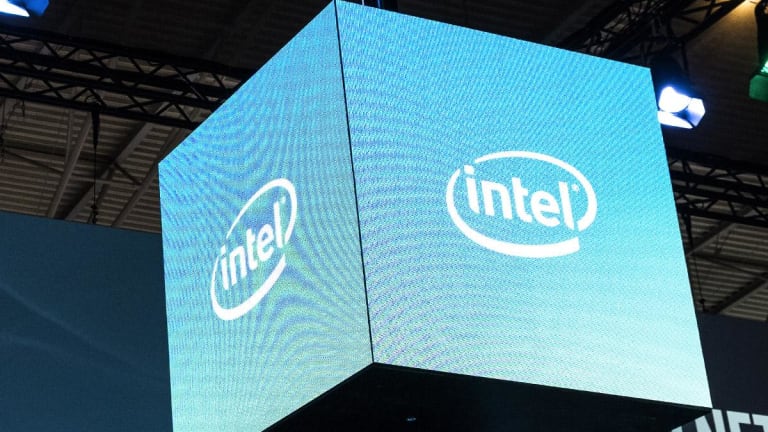 Intel Announces New Chips for PCs, AI and 5G Base Stations at CES
Intel demonstrates how far the chip giant can extend its reach when it cares to.
Intel demonstrates how far the chip giant can extend its reach when it cares to.
If Intel's (INTC) - Get ReportDecember Architecture Day event was a good reminder of its engineering strengths, its CES press event was a good reminder of how far the chip giant can extend its reach when it cares to.
Intel started off its event on Monday evening by announcing that it's adding six more CPUs, including some low-cost offerings, to its 9th-generation desktop lineup, and stating its first 9th-gen mobile processors will arrive in Q2. The first 9th-gen desktop CPUs -- three fairly powerful chips for Intel's overclockable "K" series family -- were announced in October.
On Tuesday morning, Intel shares were up 1% to $47.90.
After announcing its 9th-gen lineup, Intel then shared details about the first PC CPUs based on its much-delayed 10-nanometer (10nm) process, which it still expects will arrive on shelves by the 2019 holiday season. The CPUs will be based on a platform called Ice Lake, rely on Intel's next-gen Sunny Cove CPU architecture and Gen11 integrated GPUs (both were discussed in December) and feature specialized instructions (known as DL Boost) meant to improve the performance of AI inference workloads (the running of trained AI/deep learning algorithms against real-life content).
A Dell exec showed off an Ice Lake notebook that's promised to arrive later this year. AnandTech suggests the first Ice Lake solutions will be for Intel's U-series mobile processor family, which targets mainstream thin-and-light notebooks and 2-in-1 systems.
Also announced for the notebook market: Project Athena, an industry effort that Intel declares will help enable "a new class of advanced laptops designed to enable new experiences and capitalize on next-generation technologies, including 5G and artificial intelligence." The first Athena devices are scheduled to be available during the second half of 2019.
Turning its attention to the data center, Intel announced that Xeon CPUs based on its 14nm Cascade Lake architecture (officially unveiled in November) have begun shipping, and that Alibaba (BABA) - Get Report is an initial client. Alibaba is also using main memory modules based on Intel's Optane next-gen memory, and is partnering with Intel to perform 3D athlete-tracking at the 2020 Tokyo Olympics.
Intel also announced the Nervana Neural Processor for Inference (NNP-I), a solution that takes aim at a burgeoning market for server-based AI inference accelerators, and is being developed with Facebook's help. Like a Nervana processor meant to handle the demanding task of training AI workloads, the NNP-I is due later this year.
The NNP-I represents fresh competition for inference accelerators from the likes of Nvidia (NVDA) - Get Report and Xilinx (XLNX) - Get Report . Meanwhile, Snow Ridge, a new 5G base station processor, aims to give Intel a chunk of a large market in which firms such as NXP Semiconductors, Texas Instruments and Marvell Technologies (via recently-acquired Cavium) are notable players.
Intel capped off its CES event by bringing Amnon Shashua, the CEO of its Mobileye vision processor unit, on stage. Shashua disclosed that Mobileye has begun production for its powerful EyeQ5 chipset, which is declared to be capable of powering fully autonomous vehicles, while reiterating that the EyeQ5 is due to go into commercially-available cars by 2021.
Shashua, whose firm has already been teaming with automakers and others on creating advanced maps for autonomous vehicles, also announced a partnership with U.K. mapping agency Ordnance Survey to gather and share mapping data in order to "offer a new, accurate and customizable location information service" that would be provided to Ordnance's corporate customers.