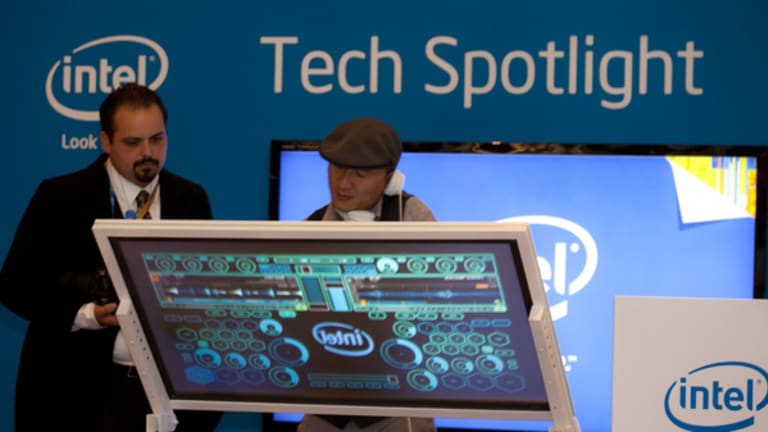 Intel Surges: What Wall Street's Saying
Intel shares surge in early trading after the world's largest semiconductor company raises its second-quarter revenue outlook as well as its gross margin outlook, noting higher PC unit volume as the primary cause.
Updated from 11:11 a.m. to include thoughts from BMO Capital Markets.
NEW YORK (TheStreet) –– Intel (INTC) - Get Intel Corporation (INTC) Report shares surged in early trading Friday after the world's largest semiconductor company raised its second-quarter revenue outlook and its gross margin outlook, noting higher PC unit volume as the primary cause.
Santa Clara, Calif.-based Intel said that it now expects second-quarter revenue to be $13.7 billion, plus or minus $300 million. That's up from a prior outlook of $13 billion, plus or minus $500 million. The company also boosted its gross margin outlook, a closely watched level for Intel, to 64%, plus or minus a couple of percentage points. That's up from a prior outlook of 63%.
Driving the growth is the rebound in the PC market, particularly as Microsoft (MSFT) - Get Microsoft Corporation (MSFT) Report has stopped support for Windows XP forcing enterprises to upgrade their systems.
"Intel now expects some revenue growth for the year as compared to the previous outlook of approximately flat," the company said in a press release. "The change in outlook is driven mostly by strong demand for business PCs." Intel noted that it would provide additional commentary when it reports second-quarter earnings on July 15.
Shares of Intel surged in Friday trading, gaining 6.9% to $29.87, after hitting $30.06 intra-day, a new 52-week high.
Intel also noted that R&D plus MG&A spending will be about $4.9 billion, $100 million more than initially expected. The company also noted that its tax rate will now be 28%, as opposed to a prior outlook of 27% "due to higher profits in higher tax jurisdictions."
Following the guidance boost, analysts on Wall Street were largely positive, noting the positive read-through for Intel, as well as the PC industry as a whole. Here's what a few of them had to say:
"What's the holy grail of tech? That's when Intel lifts sales, earnings and gross margins because of enterprise demand. Anyone who has followed Intel as long as I have knows that when you get that mid-60s gross margin and more orders than you can handle then the leverage is MONSTROUS and the guidance conservative, simply because it can't keep up with the momentum."
RBC Capital Markets Doug Freedman (Sector Perform, No PT)
"Intel is revising Q2 revenues higher by $700mil (representing an incremental 5.3% of growth) to $13.7bil at the mid-pt, along with GMs driven by better PC volumes (enterprise). We believe at the mid-pts, this suggest $0.52 in EPS vs. cons/$0.47 and RBC/$0.46. In addition, company is raising FY14 revenue guidance for "growth" vs. prior expectation of flat. The positive data points in PCs are encouraging and are in support of commentary we recently heard in Asia at Computex, suggesting that demand is slightly better than feared, with notebooks flat to down single digits for the year and desktop growth roughly flat for 2014."
Morgan Stanley analyst Joseph Moore (Equal-Weight, $28 PT)
"We have seen signs of stronger PC demand over the course of 2q, but are still surprised at the magnitude of upside, with the 2nd best June qtr q/q revenue comparison in a decade and likely over 5% y/y PC unit growth. We still think the stock is expensive on free cash flow, but it's hard to see large underperformance with no imminent negative catalyst."
Canaccord Genuity analyst Matthew Ramsay (Hold, $31 PT)
"Intel updated JuneQ guidance well above the prior revenue range driven by strength in PCCG, particularly enterprise-focused PCs. While these stronger than anticipated trends in
PCCG have proven more sustainable than we had anticipated, we build our long-term investment thesis on unchanged views toward growth prospects in Intel's other businesses. That said, stronger and more sustainable trends in PCCG provide a more firm foundation for and flexibility to those businesses. We adjust our estimates higher to reflect this enterprise PC strength and the positive impact to margins from leverage. We maintain our HOLD rating, but raise our target to $31."
Cantor Fitzgerald analyst Brian White
"Last night, Intel positively pre-announced its June quarter with sales now expected to come in at $13.7 billion (plus or minus $300 million) compared to the company's original revenue outlook range of $13 billion (plus or minus $500 million) and the Street's (FactSet consensus) estimate of $13.02 billion. Last week during our Computex trip, we highlighted improved PC demand at our contacts in Taipei and this also showed up in the stronger-than-seasonal May sales performance for our ODM Barometer this week. In our coverage universe, AU Optronics (33%), LG Display (32%), Hewlett-Packard (30%), Corning (14%), and Apple (12%) have the most exposure to the PC market."
BMO Capital Markets analyst Ambrish Srivastava (Outperform, $33 PT)

"When we had raised our rating on the stock we had highlighted, among other points, that we expected estimates to be revised upward, after many quarters of downward to sideways revisions. Our 2015 estimates have been higher than consensus for some time now. As part of our ongoing Asia trip, we have also picked up that inventory in the PC chain continues to be pretty lean as well, largely due to low expectations for overall demand. Our 2014 and 2015 estimates go up on higher revenues and gross margin, partially offset by higher opex and a higher tax rate. For 2014 EPS goes to $2.02 from $1.87. For 2015 EPS goes to $2.26 from $2.15."
How Sony Won E3 and Recaptured the Video Game World
Apple and Nintendo: A Match Made in Purgatory
-- Written by Chris Ciaccia in New York
>Contact by Email.