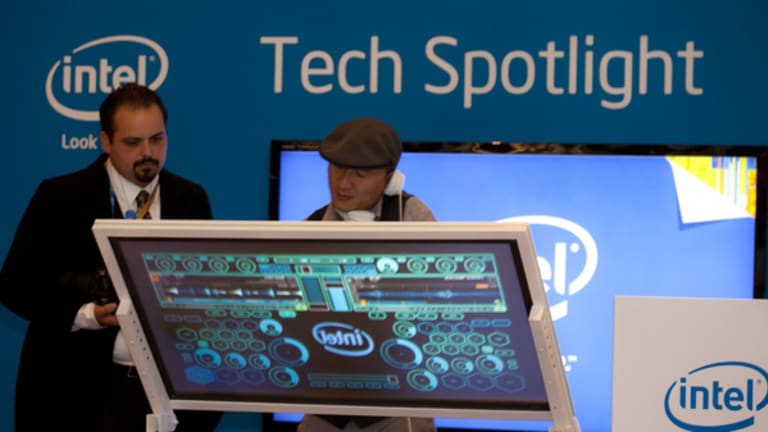 Intel Soars: What Wall Street Thinks
Intel shares soar after the world's largest chipmaker blows past its pre-announced second-quarter results and the company announces plans to buy back $20 billion in stock.
Updated from 8:26 a.m. to include thoughts from Pacific Crest Securities analyst.
NEW YORK (TheStreet) –– Intel (INTC) - Get Report shares soared after the world's largest chipmaker blew past its pre-announced second-quarter results and the company announced plans to buy back $20 billion in stock over the next few years.
Santa Clara, Calif.-based Intel reported second-quarter earnings of 55 cents a share on $13.83 billion in sales. Gross margins, a closely watched level for Intel, came in at 64.5%, at the high-end of company forecasts. In June, Intel had expected second-quarter revenue to be $13.7 billion, plus or minus $300 million, up from a prior outlook of $13 billion, plus or minus $500 million. It also expected gross margins to be 64%, up from a prior outlook of 63%.
Analysts surveyed by Thomson Reuters expected the company to earn 52 cents a share on $13.7 billion in revenue.
How Intel Wants to be More Than Just a Chip Company
Intel Surges: What Wall Street's Saying
How Apple's iWatch Can Help Wearables
"Our second-quarter results showed the strength of our strategy to extend the reach of Intel technology from the data center to PCs to the Internet of Things," Intel CEO Brian Krzanich said in a press release. "With the ramp of our Baytrail SoC family, we have expanded into new segments such as Chrome-based systems, and we are on track to meet our 40 million unit tablet goal. In addition, we hit an important qualification milestone for our upcoming 14nm Broadwell product, and expect the first systems to be on shelves during the holidays."
Shares of Intel gained 6.2% in early Wednesday trading, to trade at $33.66.
Intel noted rthat evenue from its PC Client Group, its biggest division, rose 9% sequentially and 6% year over year to $8.7 billion, as PC sales have rebounded over the past 12 months. The company also noted its Data Center Group saw a 14% sequential rise and 19% year-over-year gain in revenue to $3.5 billion, and the Internet of Things Group saw a 12% sequential and 19% year-over-year rise to $539 million.
For the third quarter, Intel said it expects revenue to be $14.4 billion, plus or minus $500 million, with a 66% gross margin rate, plus or minus a couple of percentage points.
Intel also boosted its full-year 2014 outlook, saying it now expects revenue growth of approximately 5%, "slightly higher than prior expectations." Gross margins for the full year are expected to be 63%, plus or minus a few percentage points, and the company still expects capital spending to be $11 billion, plus or minus $500 million.
The world's largest chipmaker also announced that its board boosted its buyback program by $20 billion. Intel expects to buy back approximately $4 billion in the third quarter with "additional share repurchases in the fourth quarter." Intel Chief Financial Officer Stacy J. Smith said this continues to reinforce confidence in Intel, returning additional cash to shareholders. "This change in our capital structure is the continuation of a multi-year focus on creating value and returning cash to our shareholders, and reinforces our confidence in the business," Smith said in a press release.
Following the report, analysts were exceptionally bullish on Intel's prospects, noting the growth in the PC  sector. Here's what a few of them had to say.

WATCH: More tech videos on TheStreet TV | Intel Shares Surge on Q2 Results Beat
Jefferies analyst Mark Lipacis (Buy, $45 PT)
"Our Moore Stress thesis says that Intel stays on the transistor cost curve while its competitors fall off. Said another way, we expect a shakeout in MPUs, share gains in tablets/mobile and higher profitability. Near term Intel is benefiting from a PC upgrade cycle, but signals of our secular cost structure and capital return theses came through in its 2Q14 report. Our bull case price target is $60."
Deutsche Bank analyst Ross Seymore (Buy, $40 PT)
"INTC posted strong 2Q results and guided for a better than expected 3Q on both revs & GM. INTC's report left us confident in our bullish thesis that is based on improving NT demand (PC, DCG etc.), conservative out-qtr guidance (4Q revs flat, GM down) and increasing cash generation. INTC hammered home this final point by significantly ramping its share repo authorization ($20b, ~13% of mkt cap), a move we expect to be well received by LT investors. Consequently, we reiterate our Buy rating and raise our P/T to $40."
JMP Securities analyst Alex Gauna
"We reiterate our Market Perform rating on Intel Corporation after it reported solid F2Q14 revenues of $13.8B (+8% q/q, +8% y/y, Street $13.7B) and a GAAP EPS beat of $0.55 (JMP $0.55, Street $0.52) on broad-based strength (except for mobility) that included a 480bps q/q improvement in GM, to 64.5%. The company guided 3Q revenue to $14.4B (+4% q/q, +7% y/y, Street $14B) with gross margins advancing further to 66%, but full-year expectations were raised more modestly and imply slightly subseasonal 4Q14 prospects."
Sterne Agee analyst Vijay Rakesh (Neutral, $30 PT)
"INTC reported a solid JunQ, guiding to a stronger than consensus SepQ. INTC also raised full-year revenue and GM expectations given a stronger 1H14. INTC noted strength in PCs primarily from corporate (consumer weak) and Datacenter strength. We believe the Server-PC strength is positive for MU (55% revenue exposure) and AVGO (50% exposure). Raising our INTC estimates and PT to $30. While Corporate PC strength is positive, it is a limited upgrade pool with a longer refresh cycle."
Pacific Crest Securities analyst Michael McConnell (Outperform, $37 PT)
"Revenue was $13.8 billion, slightly above our estimate of $13.7 billion. Gross margin of 64.5% was higher than our estimate of 64.0%, equating to EPS of $0.55, higher than our estimate of $0.52. PCG grew 9% q/q and 6% y/y in Q2, due to strong corporate PC demand partly offset by weakness in consumer sales. Intel stated that corporate PC strength would continue through 2014, while the consumer market remains weak, particularly in emerging markets. DCG grew 14% q/q and 19% y/y, with all segments up more than 15% y/y, supporting our view that traditional enterprise IT spending is beginning to recover. We believe the upcoming Grantley platform and Windows Server 2003 end-of-life (EOL) will be major tailwinds for DCG growth in 2015."
-- Written by Chris Ciaccia in New York
>Contact by Email.