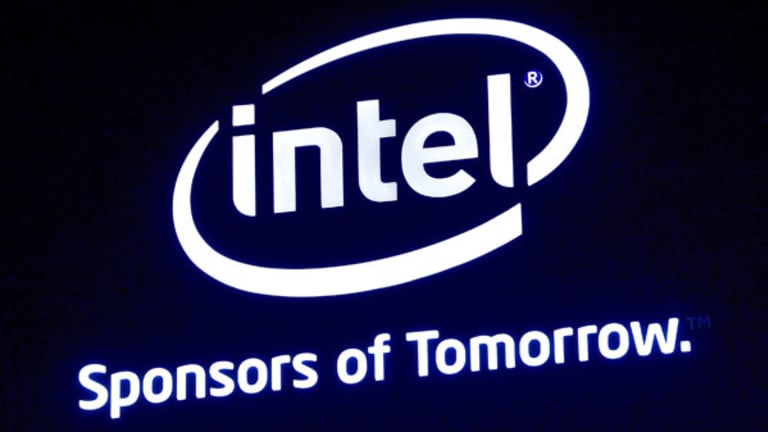 Intel Shifts Focus, Feels the Love
Intel has had a busy start to 2014, expanding its focus into areas beyond traditional desktop and laptop components. The no.1 chipmaker has also been attracting positive sentiment from tech analysts.
NEW YORK (TheStreet) -- Intel (INTC) - Get Intel Corporation Report has had a busy start to 2014, expanding its focus into areas beyond traditional desktop and laptop components. The world's largest chipmaker has also been attracting positive sentiment from tech analysts.
"In a market with a modern penchant for business agility, Intel is transforming from a process-laden behemoth to a swift challenger ready to fill gaps as quickly as possible," wrote Christian Perry, senior analyst at Technology Business Research, in a note released this week. "Based on recent conversations with Intel, TBR believes the company will become more aggressive in product launches and precisely target customers' needs by creating solutions around emerging - and existing - chipsets to adjust to this change."
Perry noted that as Intel faces increased competition from chips using intellectual property from ARM Holdings (ARMH) , and other chipmakers such as AMD (AMD) - Get Advanced Micro Devices, Inc. Report, Qualcomm (QCOM) - Get Qualcomm Inc Report and others, Intel's willingness to act swiftly and decisively will boost its image as an IT innovator, rather than simply a silicon supplier.
"Core tenets of Intel's business, including what it calls a 'relentless' pursuit of Moore's Law with faster and more power-efficient processors, will remain intact amid this shift," added Perry. "What has changed is Intel's desire to quickly step into markets where it does not have a strong presence - or a presence at all - even if it means correcting mistakes early on."
This, according to Perry, means providing silicon and platforms across multiple areas, from PCs, mobile devices and enterprise IT to emerging technologies such as wearables and Long Term Evolution (LTE) wireless technology.
Intel was certainly banging the wearable drum during the Consumer Electronics Show (CES) in Las Vegas in January, with CEO Brian Krzanich demonstrating designs for wearable devices such as smart earbuds with biometric and fitness capabilities and a smart headset.
While there is some skepticism about the potential for the wearable market, this is clearly a space that Intel is committed to. Earlier this month the company won what was described as a bidding war for smartwatch maker Basis Science. "Intel executives have noted the wearables market is littered with gimmicks, rather than products that solve problems," wrote TBR's Perry. "However, Intel is working to determine how wearables will make life more convenient for customers."
Last month, at the Mobile World Congress (MWC) in Barcelona, Intel also targeted the 'Internet of Things' - an emerging tech buzzword for a vast array of intelligent devices that can communicate with each other and the cloud. At MWC, Intel launched two Atom processors and the XMM 7260, an LTE-advanced communications platform. The company also announced agreements with mobile device giants Lenovo and ASUS, as well as handset manufacturer Foxconn.
Long perceived as a laggard in mobile, Intel is doing a good job of emphasizing its commitment to the space, according to Charles King, principal analyst at Pund-IT. The company, he says, fully understands the importance of its public appearances, where it can discuss "elemental changes" in focus and direction.
"In our view, Intel has spent much of 2014 with that goal in mind and has largely succeeded in clarifying its strategy," he wrote, in a note released this week.
Intel CEO Krzanich has also vowed to quadruple the company's sales of tablet processors this year. With the company experiencing recent weakness in its data center business, there's a pressing need to tap into growth markets.
The Santa Clara, Calif.-based firm, however, has also been busy in the desktop space. At the Game Developers' Conference in San Francisco this week, Intel laid out its roadmap of new desktop products, including an unlocked fourth-generation Core processor, an 8-core, 16-thread Core processor Extreme Edition and an Anniversary Edition of its Pentium processor.
The role of Krzanich, who was promoted from COO to CEO last May, will prove crucial. Krzanich, then a 31-year veteran of the company, took the company's reins from the retiring Paul Otellini. Pund-IT's King notes that Intel has often used its leadership changes to institute broader changes.
"While obviously successful and influential, Intel is a manufacturing concern at heart and CEO Brian Krzanich's previous roles in the company's fab organization mean that he understands its strengths and weaknesses on a level that would be beyond most C-level executives," he wrote, in a note released this week. "That understanding is likely to ensure the success of new and future strategic shifts, bolster the company's adaptations to technology and market evolution, and help place Intel inside virtually everything."
Intel shares, which have gained 18.95% over the last 12 months, closed up 1.62% at $25.42 during Thursday trading.
--Written by James Rogers in New York.
>Contact by Email.