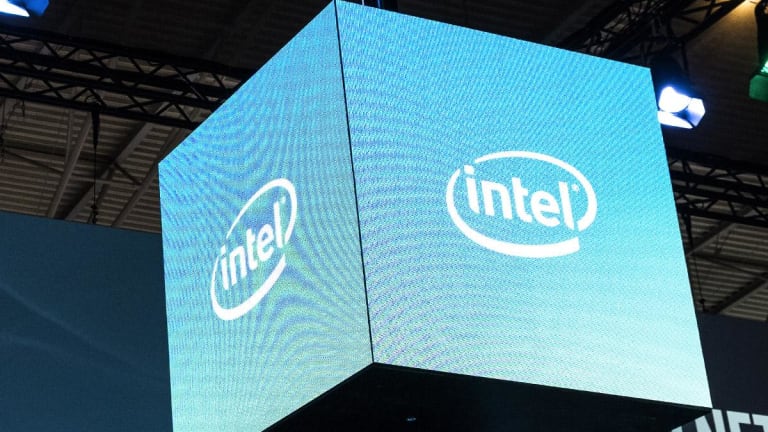 Intel's Latest Announcements Are a Good Reminder of Its Competitive Strengths
While its manufacturing process delays remain a cause for concern, Intel's latest moves show that its chip engineering teams continue to execute well.
Judging by Intel's (INTC) - Get Free Report latest announcements, products relying on the chip giant's next-gen manufacturing process will pack a decent punch -- that is, once the products finally arrive.
Intel's Latest Moves
At its 2018 Architecture Day, which was held on Tuesday, Intel unveiled Sunny Cove, a CPU core architecture that will be used by chips relying on Intel's 10-nanometer manufacturing process node. Relative to the Skylake CPU core architecture that has been used in some form since 2015, Sunny Cove promises more instructions per clock (IPC), the ability to perform more operations in parallel and larger memory caches per core. Sunny Cove also features new instructions that yield better performance for cryptography, compression and machine learning workloads, among others.
Also unveiled: A 3D chip-packaging technology called Foveros (it apparently means "awesome" in Greek). Unlike existing packaging approaches such as Intel's EMIB or the "chiplet" approach that AMD (AMD) - Get Free Reportrecently unveiled, Foveros allows multiple logic chips (for example, a CPU and an I/O controller chip) to be stacked on top of each other, rather than side-by-side.
Intel argues this approach saves space, while giving it the flexibility to use different manufacturing processes for the stacked logic chips. The first Foveros product, which combines a small 10nm CPU with a memory chip package and a "base die" featuring complementary logic circuitry, is due in the second half of 2019.
Also announced by Intel at its Architecture Day. Gen11, a next-gen architecture for the integrated GPUs that ship with many Intel PC CPUs. Intel, whose integrated GPUs have often lagged AMD's in performance, states Gen11 GPUs are expected to deliver twice the computing performance per clock of Intel's Gen9 GPUs.
Gen11 GPUs will be built into 10nm processors starting in 2019. They'll arrive ahead of Intel's re-entry into the discrete GPU market, which is still set for 2020.
The Competitive Backdrop
As has been widely discussed, the rollout of Intel's 10nm process node has seen major delays. Though Intel once promised to start 10nm volume production in 2016, it now aims to do so in 2019. Hardware featuring 10nm PC CPUs is promised to be available during the 2019 holiday season, while the first 10nm server CPUs are only promised to arrive at some point in 2020. Until then, the company has to make do with its 14nm process node, which it has gradually refined over the last few years but is clearly getting long in the tooth.
With Taiwan Semiconductor (TSM) - Get Free Report having already started volume production for a 7nm process that's seen as competitive with Intel's 10nm process in terms of performance and power efficiency, Intel's 10nm delays have created an opening for Intel rivals relying on TSMC.
AMD plans to launch 7nm PC and server CPUs next year based on its next-gen Zen 2 CPU core architecture -- it wouldn't be surprising to see the first PC products unveiled next month at the CES trade show -- and claimed in November that its 7nm Epyc server CPUs will deliver twice the performance per socket of its first-gen Epyc CPUs, which launched in mid-2016. AMD has also signaled that it plans to eventually launch CPUs relying on TSMC's 7nm+ process, which is expected to enter volume production in 2019 and yield some incremental improvements relative to standard 7nm.
Qualcomm (QCOM) - Get Free Report , for its part, recently showed off a 7nm processor for Windows notebooks (the Snapdragon 8cx) that's due in Q3 2019 and is promised to deliver performance that's on par with an Intel Core i5 notebook CPU (it didn't say which one), while also enabling multi-day battery lives. Qualcomm's move could be a sign of things to come from Apple (AAPL) - Get Free Report , which is reportedly developing a processor for Macs that could debut in 2020.
And though it appears to be made using an older 16nm TSMC process, Amazon.com (AMZN) - Get Free Report is just a couple weeks removed from unveiling Graviton, an ARM-architecture server CPU that it claims can deliver major cost savings for some cloud computing workloads running on AWS.
The Big Picture
Intel's 10nm delays are going to spell some competitive headaches in 2019 and 2020. And even if the company makes good on its current plans for 10nm and the 7nm that will succeed it, TSMC's success at quickly rolling out new processes could mean that Intel is just on roughly even footing with rivals in terms of process nodes in future years, rather than one or two steps ahead as it quite often was in the past.
However, as Intel's Architecture Day announcements show, there's more to this fight than just manufacturing processes. Intel's giant R&D budget, together with the improved chip engineering execution it has shown in recent years, is helping it push the envelope in areas such as CPU core design, packaging technology and instruction set development. This R&D budget has also helped Intel develop complementary products such as its Optane next-gen memory and Omni-Path server interconnect fabric, and design a variety of custom server CPUs for cloud giants.
All of this only gets Intel so far if manufacturing setbacks give rivals major advantages in power consumption and/or raw price/performance. Or, for that matter, if manufacturing setbacks push back the arrival date for new solutions such as Sunny Cove, Foveros and Gen11. But investors have to be pleased that in some respects at least, Intel's execution is looking pretty good right now.
Amazon.com and Apple are holdings in Jim Cramer's Action Alerts PLUS member club. Want to be alerted before Jim Cramer buys or sells AMZN or AAPL? Learn more now.

Correction: This article has been corrected to remove a reference to Intel's EMIB and AMD's chiplet packaging technologies as 3D packaging approaches.