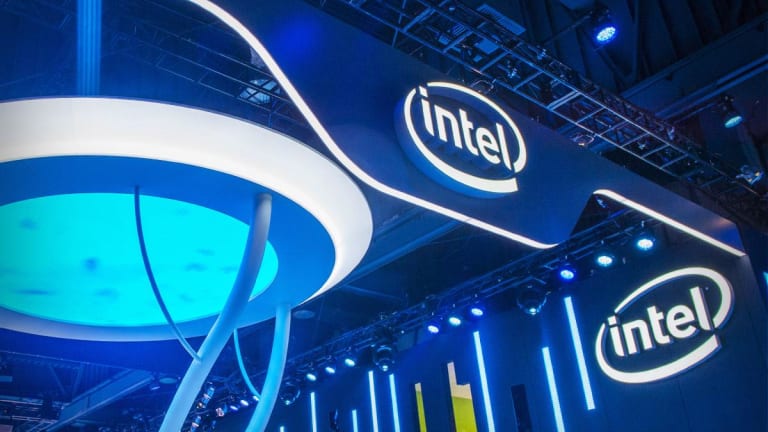 Intel's New CEO Promises to Be 'Bold and Fearless' in Meeting Challenges
Intel's Swan has got the wind at his sails, with relatively strong financial results, but also challenges in the data center from manufacturing stumbles and the changing nature of chip design.
Intel (INTC) on Thursday morning named its former chief financial officer, Bob Swan, as its new chief executive, after he served seven months in an interim fashion, concluding a months-long search by its board of directors that considered both internal and external candidates. 
The appointment comes at a pivotal time in Intel's fifty-year history, as its traditional manufacturing leadership in the industry has eroded, and the company is pursuing diverse new markets beyond its dominant PC franchise, including artificial intelligence chips, where new competition looms.
Swan, 58, who had been CFO at eBay (EBAY) for nine years before joining Intel in 2016, formally replaces former Intel CEO Brian Krzanich, who resigned in late June of last year after the company learned Krzanich "had a past consensual relationship with an Intel employee" that it deemed violated Intel's non-fraternization policy. 
Intel said Swan was not available to talk to TheStreet. 
Swan has been serving as both CEO and CFO during the search period. The role of CFO will now be taken over by finance vice president Tom Underwood, Intel said. While CFO, Swan also oversaw the M&A transactions side of the business, which means that he has had a role in a couple of important deals for Intel, the biggest of which was last year's $13.7 billion purchase of Mobileye, the maker of chips for autonomous driving.  
In its press release, Intel chairmen Andy Bryant said Swan had done an "outstanding job" as interim CEO. Swan said that when approached for the role, "I jumped at the chance to lead this special company."
Intel's stock has lagged the market since Swan's appointment as interim CEO on June 21, falling by 11% versus a 2% decline in the Standard & Poor's 500 index. And on Thursday after the CEO announcement was made, Intel shares were down 1.4% to $46.86.
Intel's recent lackluster stock return comes despite relatively strong financial results under Swan. Intel's revenue last year surged, rising 13% to $70.8 billion, the company announced last week, well above the 6% growth rate in 2017, boosted both by its "client" computing products, chips for running PCs, but even more so by its "Data Center Group" that includes its Xeon line of server processors, where sales rose by 21% for the year.
Intel has clearly benefited from ongoing build-outs of cloud computing, as sales into that market rose by 24% in the fourth quarter. Both server and PC have been helped by the combination of rising volumes of sales and rising prices for Intel's chips.
However, Intel's traditional manufacturing lead versus competitors has vanished. The company has had repeated delays in moving its chips to the newest chip "process technology," where the smallest features of a semiconductor measure 10 billionths of a meter, or 10 nanometers. Back in 2017, 10-nanometer chips were expected to be in volume shipments across products by the holiday season of 2018. Instead, they are now expected to ship in products in volume by the end of this year, according to Swan and his team's statements on last week's Q4 earnings conference call. 
That delay in 10-nanometer product production has opened a window for competitors. Contract manufacturers serving other chip makers, such as Global Foundries and Taiwan Semiconductor Manufacturing (TSM) , have been able to proceed to production of 7-nanometer chips. Intel's chief rival for microprocessors in PCs and in the data center, Advanced Micro Devices (AMD) , expects to ship a 7-nanometer version of its Ryzen processor for PCs by the middle of this year, and a 7-nanometer version of its Epyc server processor that goes up against Intel's Xeon, later this year.
That turn of events is unprecedented: In the decades-long battle between the two companies, Intel's smaller rival has never had the manufacturing edge on Intel that it currently enjoys.
During last week's call, Intel said it had made a lot of progress recently with its 10-nanometer manufacturing. Intel's chief engineering officer, Venkata "Murthy" Renduchintala, told analysts that "10-nanometer is looking better now than at the last earnings call," and that it's "broadly deployed across our portfolio," meaning that designs for chips have been made in the various product lines, in advance of volume manufacturing.
Intel's other big challenge is the enormous diversity flooding into the chip market because of AI and cloud computing. Intel faces challenges from both its own customers, the cloud computing operators such as Amazon (AMZN) and Alphabet's (GOOGL) Google, who are designing some of their own chips for machine learning tasks, as well as dozens of startups that are building novel processors to handle the unique computing efforts. 
In response, Intel has added AI features to the forthcoming version of Xeon, dubbed Cascade Lake, and it is expected to ship a novel neural network processor sometime this year based on its acquisition of Nervana Systems in 2016. That product had been delayed during the past two years.
The stakes couldn't be higher: in an essay published this month by the Association for Computing Machinery, two legends of chip design, John L. Hennessy and David A. Patterson, wrote that the entire chip industry is going to have to respond with novel chip designs to deal with the manufacturing struggles that hobbled Intel's 10-nanometer progress.
The decades-old rule of thumb, "Moore's Law," which says transistors get smaller and cheaper on a regular and predictable basis, no longer holds. Hennessy and Patterson argue that a major new wave of "domain-specific" computing chips, such as Google's Tensor-Processing Unit for machine learning, will replace much of the general-purpose chips that have been Intel's franchise. 
Intel has interesting opportunities that may help to bolster its position, especially in data centers. The company is moving forward with its Optane memory product, after splitting with longtime design and manufacturing partner Micron Technology (MU) last year. That product could have a bright future in PCs and servers, though Intel has yet to quantify its sales from the product. 
None of those specific challenges are mentioned in an email to employees sent today from Swan. Instead, he lays out four "critical imperatives." 
One is to be "bold and fearless," to meet what Swan refers to as "the largest addressable market in Intel's history." Swan did not specify that market, but his remarks about "data-centric" computing echoes remarks made by Krzanich before he departed. That could be taken as a reference to cloud computing and AI.
Second, Swan says the company will continue the process begun under Krzanich of moving away from being a "PC-centric" company to a "data-centric company." He said Intel must "listen closely" to change how it serves its customers. Third, Intel must improve its execution, according to Swan. 
And fourth, Intel must evolve, he writes, to encourage every employee to be "bold and fearless" and to form "One Intel."
How well Swan is able to get his company to respond to these imperatives will go a long way towards determining Intel's future prospects.  
Score a Touchdown with Jim Cramer's Big Game Special
Get access to the best stock picks in Jim Cramer's investment portfolio by executing a two-minute drill on our Big Game Special on Action Alerts PLUS, Jim's VIP club for investors. Sign up now through Feb. 4 and receive 58% off of the normal subscription price. Now that's a real touchdown!
Tiernan Ray owns no shares nor does he trade shares of stock of any companies mentioned in this article.