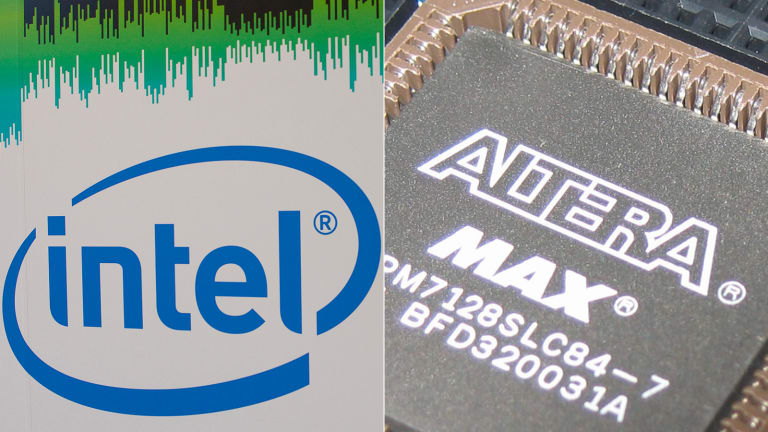 Intel Needed to Buy Altera but the Chipmaker Is Still Lagging Behind
Intel, the world's largest chipmaker, is zigging when everyone else is zagging with its agreement to buy Altera for $54 a share, or $16.7 billion.
NEW YORK (TheStreet) -- The chip industry's recent consolidation is about getting more chips inside smart devices, the Internet of Things, connected cars and any other technology-laden buzzword you can think of.
Yet, Intel (INTC) - Get Intel Corporation (INTC) Report, the world's largest chipmaker, is zigging when everyone else is zagging. It formally announced its agreement to buy Altera (ALTR) - Get Altair Engineering Inc. Class A Report for $54 a share, or $16.7 billion, on Monday morning, sending both stocks higher. While other chipmakers are focusing on smart phones and other devices, this deal is all about strengthening Intel's Data Center Group, which sells chips that go into servers.
The purchase of Altera, which is similar to the price talked about as recently as last month, will help Intel's most profitable segment, even if it isn't its largest.
In the first quarter, Data Center Group revenue rose 19% year over year to $3.7 billion, generating operating income of $1.7 billion in the quarter. The company's largest segment its newly formed Client Computing Group, which includes both PC and mobile chips, saw revenue fall 8% year over year to $7.4 billion, generating $1.4 billion in operating income.
"Intel's growth strategy is to expand our core assets into profitable, complementary market segments," said Intel CEO Brian Krzanich in a statement, hammering home the point that this deal is about data centers. "With this acquisition, we will harness the power of Moore's Law to make the next generation of solutions not just better, but able to do more. Whether to enable new growth in the network, large cloud data centers or IoT segments, our customers expect better performance at lower costs."
With the PC market declining, as research firm IDC cut its 2015 forecast for the PC market in April, and the company almost non-existent when it comes to smartphones and tablets (when was the last time you bought a phone powered by Intel?), CEO Krzanich and his team have to do something to strengthen the company's prospects for the future.
Intel still dominates the market in servers and data centers, owning more than 90% of the market. But Altera, its rival Xilinx (XLNX) - Get Xilinx, Inc. (XLNX) Report and other companies that use intellectual property from ARM Holdings (ARMH) are starting to chip away, with the use of customized chips, something Intel only offers in limited scale.
Though Intel's server chips, known as Xeon, are competitive in terms of power and speed and energy efficiency with what its competitors offer, the company may have a difficult time keeping up with industry's move towards putting multiple processes on a single chip, known as system-on-a-chip.
And that makes the Altera purchase that much more important for Intel.